RPG Life Sciences will add products in chronic and specialty segments in FY22: Yugal Sikri, MD
Yugal Sikri, Managing Director – RPG Life Sciences, talks about FY21 and March quarter numbers, growth guidance in domestic and international markets, APIs, new products and CapEx among others during a candid chat with Zee Business Executive Editor Swati Khandelwal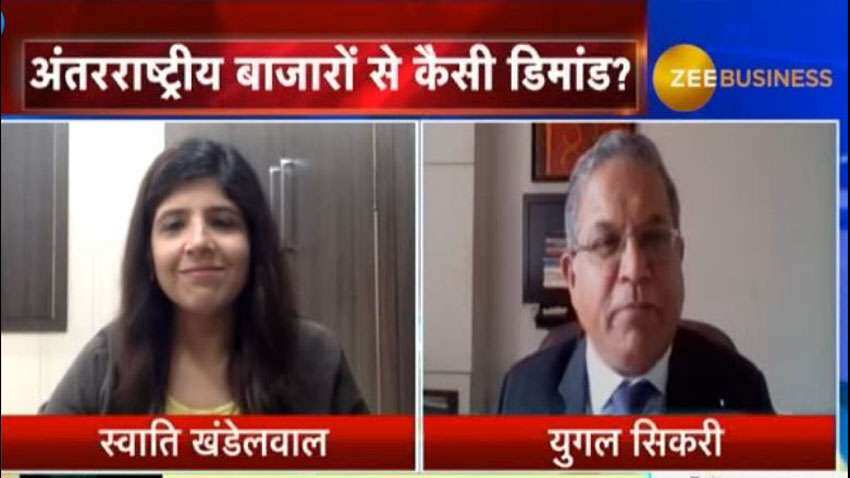 "I have always said that my goal is to keep the company's growth above the market growth. I can say that in the coming years, our growth will be better than the market's growth," Yugal Sikri
Yugal Sikri, Managing Director – RPG Life Sciences, talks about FY21 and March quarter numbers, growth guidance in domestic and international markets, APIs, new products and CapEx among others during a candid chat with Swati Khandelwal, Zee Business. Edited Excerpts:  
Q: Congratulations on the good numbers. This time the results showed decent growth on a YoY basis but sequentially your PAT declined from Rs 12.9 crore in Q3FY21 to Rs 6.9 crore in Q4FY21. What has been the reason and how will you summarize the overall numbers?
A: First I would like to talk about year-on-year numbers and then proceed to quarter-on-quarter. In the context of annual numbers, I am very happy to tell you that we have been performing consistently from the last eight quarters. We are focusing on consistency, sales, margin and profit. Due to that focus, we have been able to achieve this number. If I will talk about the focus then sales growth is positive, PBT growth if compared with the last year then has grown by 4%, if you will compare our margin with the last three years then it has improved from 4% to 10% and this year it stands at 14%. In the context of EBITDA margin then it has grown from 11% to 16% and this year it is 18%, consistently.
See Zee Business Live TV Streaming Below:
We have become a cash surplus company and are a debt-free company now. Our leakages that occurred in profit due to sales hygiene has moved to a healthy zone now. If we will talk about the return of capital employed then there is also a consistent increase year after year. So, I am happy to tell you that we have been successful to a great extent in carrying our agenda of being consistent. Due to the COVID, we faced certain issues last time but we had our focus on 4-5 factors in the domestic formulations and we focused on it. The first focus was on product portfolio rejuvenation. We launched new products. We launched monoclonal anti-bodies.
We also talked about the focus on the chronic segment and specialty segment and we consistently launched new products in those areas only. Secondly, our strategic brand asset that is term as a textbook brand has been expanded through line extension. Thirdly, the segments that we identified of chronic specialty in that we expanded the customer segment through it. Fourth, we increased the effectiveness of the sales force and focused on productivity. Lastly, wherever expenses were there, we closely looked at the OPEX as well as manufacturing efficiencies, due to which consistent improvement in the margin was seen by you. As far as the fourth quarter is concerned, some specific items came out in this quarter on which we increased our sales and marketing expenses. We also invested a bit in field force expansion. These investments were made for long term growth and this is why you are seeing a slight decline. As far as PBT margin is concerned, we have kept the PBT margin at 10% and it continued to be at the same level even in this quarter. All these expenses have been incurred in view of the long term gains. 
Watch Full Interview Here:
Q: Going forward, what will your growth guidance in domestic and international markets and what will be the growth strategy? A lot of opportunities are available in terms of APIs, especially after the COVID. So, which kind of growth do you anticipate in the next three years and what turnover do you expect for your company? 
A: I have always said that my goal is to keep the company's growth above the market growth. I can say that in the coming years, our growth will be better than the market's growth. I want to inform you this specifically because the acute portfolio has its dominance in our business and COVID has impacted that acute portfolio. This year also you will see that our growth in every segment has been more than the market growth. So, it depends on the COVID, whose second and third wave is going on.
I would like to inform you that our customer coverage has improved before the COVID wave struck and we were going pleasantly. This wave of COVID led to the closure of transplant centres, dialysis centres, chemotherapy centres due to which we will face some temporary impact. But I can confidently tell you that our growth will be 3-4% more than the market growth. We have faith in this and we are working on the same roadmap. As far as APIs are concerned, I would like to inform you about our business composition. Two-third of business in our company, which is almost 62%, comes from the domestic, 21% comes from the international formulation and 17% comes from APIs.
So, API has the lowest contribution. In the context of the international formulation, strategically we have thought to globalize our strategic assets and products and take them ahead. One of such products is Azoran as an Azathioprine and there is a consistent growth in it and its profitability is also good and we are focusing on it. Also, there are few products in which we have a competitive edge, which is termed as a complex product at our place, and we are focusing on those. Also, we want to increase our footprints in the ROW (Rest of the World) market. Right now, a log of business comes from Myanmar but going forward we are expanding in markets like Vietnam, Egypt, and Sri Lanka. Our product registration is going on in these countries and it will bring growth to us. As far as API is concerned, it is our backward integration and we make APIs in our plants for our formulation products with which our profitability and supply continuity is maintained. Secondly, we have certain products in our niche markets and we have an assurance of business with them as they are present in the niche market. So, business continuity is the theme for API. And this is how the three business segments will pan out for us. 
Q: How many major launches can we see in FY22 and what is your CapEx and expansion plans for this fiscal?
A: From an expansion perspective, new products as I said that we are focusing on the chronic segment as well as specialty segment. So, our new products like Adalimumab, Rituximab, Bevacizumab, which are specialty products, have been launched and we have to increase them. Going forward, we expect sales growth from all these products and businesses and this is going to be our growth drivers. As far as CapEx is concerned, we have a good CapEx plan. We have a formulation factory at Ankleshwar and we have a three years plan related to the upgradation and refurbishment of the factory to bring it to a standard of PICS, which is an amalgamation of 70-80 countries. If the plant gets approval from PICS then the products being manufactured at our plant can be exported. So, we have set a CapEx for the upgradation of that plant. The remaining CapEx will be used in the expansion of our strategic assets. Every CapEx item is for the growth of the company. Secondly, as a pharma company has an eye on exports, we have to look forward towards compliances and standard of the plant, which should be equal to the international regulatory standard. So, CapEx has been directed to the growth of the business and ensure that our plants are compliant as per the regulator.
Get Latest Business News, Stock Market Updates and Videos; Check your tax outgo through Income Tax Calculator and save money through our Personal Finance coverage. Check Business Breaking News Live on Zee Business Twitter and Facebook. Subscribe on YouTube.
Written By:
Jitesh Kumar Jha
Updated: Tue, May 04, 2021
04:51 pm
New Delhi, ZeeBiz WebDesk