Rolling Stock manufacturer & Operator would be interested in private train operations: Mahendra Pratap Mall, CMD, IRCTC
 IRCTC has posted really good results in Q4FY20 with profits up almost 80%.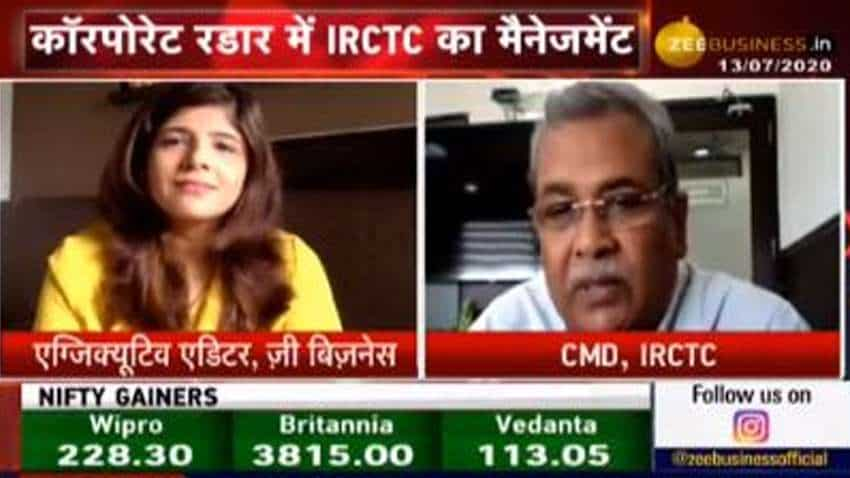 How the overall business has been because a lot of cost hampering has happened due to COVID-19 in every sector?
Written By:
Jitesh Kumar Jha
Updated: Mon, Jul 13, 2020
07:34 pm
ZeeBiz WebDesk
Mahendra Pratap Mall, Chairman & Managing Director (CMD), Indian Railway Catering and Tourism Corporation (IRCTC) Ltd, spoke about Q4FY20 results, main contributors to the growth, impact of COVID-19 on the business, cost-cutting measures and the government's plan to run private trains among others during an exclusive interview with Swati Khandelwal, Zee Business. Edited Excerpts: 
Q: IRCTC has posted really good results in Q4FY20 with profits up almost 80%. What has been the major contributor when revenue is just up 18%?
A: If we talk about the result and profit of the fourth quarter then it is primarily on account of the service charge that has been imposed on the internet ticketing. It was not there in Q4 of the last financial year. We are getting compensated for cost by the ministry of finance. It had an impact of around Rs 110 crore in quarter four. In future, they are going to remain there, which means it is sustainable and will continue to move in the same manner. 
Q: How the overall business has been because a lot of cost hampering has happened due to COVID-19 in every sector? Also, tell us about the COVID-19 impact on your business and how it is going to impact on your financials in future?
A: Unlocking is primarily a local and social phenomenon. Basically, we are into the travel-related sector, where much unlocking hasn't happened and if it has happened then people are not travelling yet because still there is a fear. So people are not travelling due to which our tourism is badly affected and numbers of the issued ticket are much less, they are around 20-25% of what we have been doing. Thus, there is no tourism, ticketing and obviously, there is no catering because passengers are not available. In catering too, we see a major change because almost 230 trains are running in which we have ensured that hygiene and proper safety is maintained by our staff members while serving to the passengers. There too, we are serving ready to eat and packed items instead of cooked items but people are afraid of it too. On the one hand, the number of passengers is less and the number remains low even if things are counted on the basis of sale per person, as most people are bringing food from their homes. The impact will continue as the emerging scenarios are suggesting as the number of cases is going up. Thus, it will be here until this fear doesn't end among people, which may take time. It is difficult to predict because every week two new types of research predicting this spread in different changing magnitude are coming out. So, it is difficult for us to guess that what will happen in future. 
Q: Your margins have doubled in Q4FY20. So, what is your outlook on it should we consider that the margins will continue to improve in future as well? 
A: The convenience fee primarily also had an impact on the margins. Because when we were meeting all our expenses through ticketing without charging the convenience fee and the finance ministry was reimbursing the cost, then we were meeting our expenses through other means, i.e. non-convenience means. Thus, this entire convenience fee has gone straight to EBITDA, which helped in the betterment of the results. Besides, we have changed our model for catering. Earlier, we were running a few trains departmentally, where merchants were low and in that we have switched over from departmental operation to licensee operation, where we got licensees. We have adopted a supervision mechanism in it. These are the two major components and Rail Neer also contributed to it because 4 new plants of the Rail Neer were commissioned in the third and fourth quarter of the financial year 2018-19, which increased the production. Similarly, 4 new plants were also commissioned in 2019-20 and they also contributed to it. 
Q: Cost-cutting measures were adopted in Q4 and we have seen that your other expenses have been halved. Can you tell us about the areas where cost-cutting measures were adopted and plan related to it in future? 
A: As far as cost-cutting is concerned, then we have changed our departmental operations to PPP-mode operation to reduce our cost. You also spoke about other expenses then it happened due to provisioning. We have made a policy of provisioning for any expense that lasts for more than 5 years and we did the provision of almost Rs 46 crore and it is low this year. 
Q: We have seen a muted service of the regular passenger trains in the first quarter of the financial year 2020-21 and it is being said that these trains are shut till August 12, 2020. So, let us know about the kind of recovery you are expecting and the segment where maximum recovery will be seen?
A: As I told earlier that when the travel area will recover, we will also recover and all the segments will recover, namely tourism, catering, packed drinking water and ticketing, as everything is travel related. So, once the fear comes to end, it ended a bit a few days back and now the travel has gone down now because the numbers are going up in other states. It has come down in Delhi but is going up in other states. Until the travel is restored, it is really difficult for us to predict even the biggest research institutes and bodies are not able to give any real prediction 
Q: Government is out with Rs 30,000 crore Indian Railways privatization plan. How much important role IRCTC will play in it as we have leant that you have also shown some interest in participating in it? Also, let us know about the business prospects that you are seeing in this in terms of activity?
A: To date, if there is someone who did a private train operation in the country and has some similarities to it, then it is just IRCTC. As IRCTC, we are running three trains, which are taken in lease from the railways and we have the freedom to run them on nominated sectors. We have full freedom to fix the fares and onboard services and off-board services. We have been successfully running three trains. The first train, Tejas Express between Lucknow and Delhi and it started on October 4, 2019, and it has given good results. The response was quite good and there was an appreciation for this train. Second Tejas was started between Ahmadabad and Mumbai and this was started on January 17, 2020. It had picked up very well, in fact, better then Lucknow Tejas as occupancy was at a higher level. It was showing good results but due to this COVID-19, we had to cancel its services. The third train we started was Kashi-Ujjain-Mahakal Express. It was primarily a passenger cum tourist train and was on the Humsafar rates sleeper, AC 3 tier and AC 2 tier train. Within one month, I can tell you that the frequency started picking up. So as on date, IRCTC is the only entity which has the experience of running private trains by fixing its fare, level of service and other things on its own. Obviously, now the railway has come out with a proposal on private train operators in various segments and we are exploring the possibilities. Of course, if you see the private train business, primarily there are two players which would be interested and they are (i) rolling stock manufacturer and (ii) the operator. Third-party may pitch in as the financer if either of the two is not able to finance the project. So, we have our own expertise and experience in operations and we are exploring a tie-up with rolling stock manufacturer and there can be a need for the financer to bring in capital. Many other options can be explored to come on in this field. I am sure that this is going to be a good field. 
Get Latest Business News, Stock Market Updates and Videos; Check your tax outgo through Income Tax Calculator and save money through our Personal Finance coverage. Check Business Breaking News Live on Zee Business Twitter and Facebook. Subscribe on YouTube.