Reliance Jio writes to TRAI, says Airtel 'creates a smoke-screen to hide its ill-gotten profits'
Ongoing wars between telecom operators take a bitter turn as Reliance Jio writes to TRAI Chairman and calls out Airtel's views on IUC as 'malicious and false representation.'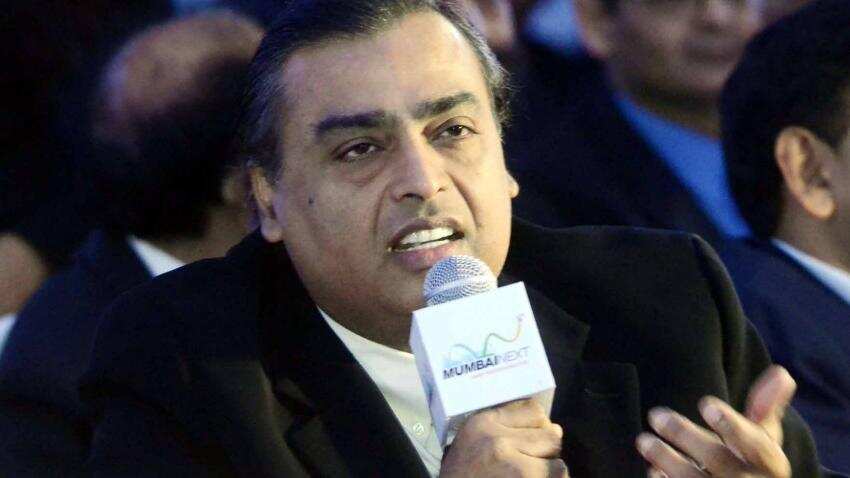 Managing Director, Reliance Industries Ltd, Mukesh Ambani at a press conference. Image Source: IANS
Updated: Tue, Sep 12, 2017
02:30 pm
Mumbai, ZeeBiz WebDesk
Key Highlights

Reliance Jio has written a letter to TRAI Chairman, RS Sharma alleging false representations by Airtel.
Airtel has claimed to have suffered a loss of Rs 6,800 crore in the last five years due to low mobile call connection charges.
TRAI is yet to give out its decision on a cut in IUC which analysts estimate to be a near 100% cut.
It's a David and Goliath parable all over again with the youngest member of the telecom industry, Reliance Jio, taking a dig at industry major, Bharti Airtel in the ongoing war of Interconnect Usage Charges (IUC).
The Mukesh Ambani backed operator - Jio has written to the Telecom Regulatory Authority of India (TRAI) in a letter dated September 11. Jio cited that Airtel was creating a 'smokescreen to hide its ill-gotten profits,' media reports said on Tuesday.
"At the outset, it is submitted that Airtel's contentions are misplaced and devoid of any fact and logic. It is obvious that this misrepresentation of facts and wrong interpretation of data has been carried out purposefully to create a smoke-screen to hide its ill-gotten profits and to support its false pretense of loss under the existing IUC regime," Jio said to TRAI chairman RS Sharma.
"It is evident that most of the tariff plans of a dominant operator i.e. Airtel are predatory and in blatant and contumacious contravention of the provisions contained in the Telecommunications Tariff Order, 1999 ("TTO")," Jio said in the letter to Trai chairman RS Sharma, seeking action against Airtel.
TRAI is yet to unveil its decision over the lowering of the 14 paise per minute IUC that is being debated about.
Last week, Airtel had accused Jio of 'misleading' TRAI and public over the IUC and claimed it suffered a loss of Rs 6,800 crore in the last five years due to low mobile call connection charges.
Jio on the other hand has alleged that Airtel gained Rs 46,958 crore due to IUC not being lowered in the last five years.
"We request that the Authority may take appropriate action against Airtel for such mischievous and frivolous submissions made will post the time allocated for additional submissions by the Authority during the open house discussions," Jio added.
India's second largest telecom operator, Vodafone's CEO, Vittorio Colao has also written to the Telecom Minister, Manoj Sinha appealing against the cut in IUC.
With subscribers of these incumbent telcos reaching a huge number, the earnings of the company would see a change with a cut in IUC.
However Jio has said that voice calling on its network would be free always and it earns most of its revenue from data services and bundled offerings with other services. And so it stands to benefit the most from a cut in IUC.
Jio stands to benefit up to 41% with increase in earnings before income tax deductions and amortisation (EBITDA) margins over four years, a report by HSBC said on August 7.
Also Read: How a 14 paise charge per call is redrawing battle lines between Reliance Jio and others