Reliance Industries: Nearly one-third of income came from treasury
The company has recorded a high net income of Rs 27,680 crore in the fiscal ended March 31, 2016.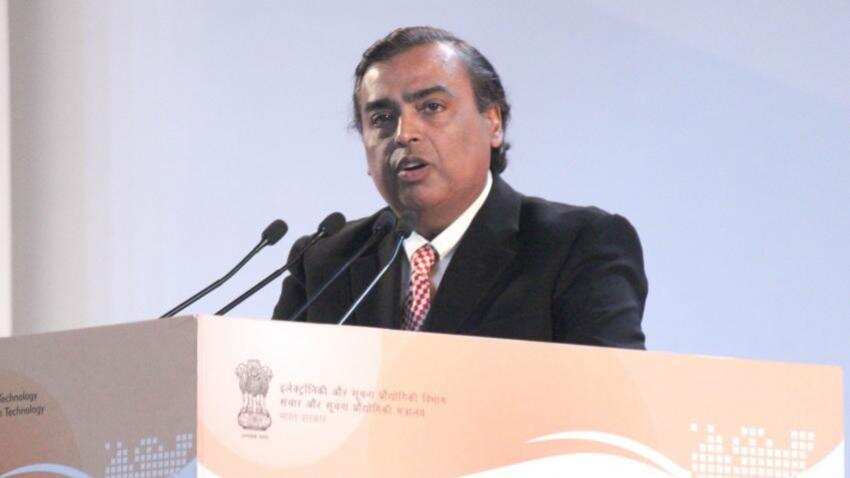 Mukesh Ambani, Chairman and Managing Director, Reliance Industries Ltd Image Source: IANS
Updated: Sun, Apr 24, 2016
04:19 pm
Mumbai , PTI
Treasury income accounted for about 27.55% of Reliance Industries Ltd's (RIL) record high net income of Rs 27,630 crore in the last fiscal ended March 31 even as its share has come down for two consecutive years
In 2013-14, this share was a whopping 40.53%. For the financial year ended March 2015, the share of Reliance Industries' treasury profit stood at a high 36.04%.
As per the audited numbers for 2015-16, announced by the company last Friday, of the Rs 27,630 crore consolidated net for the year -- the highest ever due to seven-year high GRM, in spite of a massive over 23% fall in revenues due to the steep fall in crude price, RIL has netted as much as Rs 7,612 crore from treasury operations.
It is, however, down 10.39% from Rs 8,495 crore in 2014-15, when its net income stood at Rs 23,566 crore.
Of the consolidated net of Rs 21,984 crore in 2013-14 that the company had reported, the treasury income came in at a staggering 40.53% at Rs 8,936 crore, which was its highest-ever, as its core business of crude refining and gas exploration were not doing well.
In 2012-13, the contribution of treasury income stood at 37.14% at Rs 7,800 crore.
On a quarterly basis in March, the Mukesh Ambani-led company had a treasury income of Rs 1,758 crore, down from Rs 2,172 crore a year ago. In the December quarter, its other income, as the company calls it, stood at Rs 2,426 crore.
From a sequential basis, its other income in the March period declined by a tad over 19%, while on a year-on-year basis it was down from 27.53%.
Over the past two years, Reliance Industries has been paring its treasury play and moving its investments to bank deposits, mutual funds, and government securities.
It may be noted that the Reserve Bank of India (RBI) in 2014-15 had frowned upon the large play of big corporates in the treasury markets, at a time when the rupee was bleeding, companies like Reliance, which then was the largest treasury player.
In the first quarter of 2015-16, Reliance's trading profit had narrowed to just about Rs 1,832 crore which is 29.4% of the overall net income of Rs 6,222 crore.
Known for its largest cash balance among the domestic companies, RIL had Rs 86,033 crore in the March 2016 quarter, which was down from Rs 91,736 crore in the December quarter.
The company group deputy chief financial officer V Sriknath had said last Friday while announcing the earnings that the money was parked in bank deposits, mutual funds, certificate of deposits and government bonds.
Due to the massive Rs 1.13 trillion (Rs 1.13 lakh crore) capital expenditure for the ongoing refinery and petrochem expansions and the forthcoming telecom venture, its gross debt also rose to Rs 1,81,079 crore in the March period from Rs 1,78,07 crore in the December period.
Its reserves and surpluses rose to Rs 2,40,695 crore at the end of March 2016, as per the annual numbers from Rs 2,15,539 crore in March 2015, while investments came down to Rs 39,928 crore from Rs 51,014 crore during the period, as per the FY16 annual numbers.
Its interest cost also rose to Rs 813 crore in the fourth quarter (Q4) from Rs 677 crore in the corresponding period of the previous year due to higher average exchange rates.
In the March quarter of 2015-16, Reliance reported its biggest consolidated quarterly net in eight years at Rs 7,398 crore driven by a seven-year best gross refining margin of $10.8 a barrel. The GRM outperformed Singapore benchmark by $3.1 a barrel.
In percentage terms, the net income was up 16%. On a standalone basis, the company's net rose 17.25% higher at Rs 7,320 crore. This was the highest quarterly net profit for Reliance Industries since it clocked Rs 8,079 crore net profit in the third quarter (Q3) of 2007-08.