Real Estate Sector will see a Jump in short to medium term: Ashwini Kumar Hooda, Indiabulls Housing Finance
Ashwini Kumar Hooda, Deputy Managing Director (DMD), Indiabulls Housing Finance Ltd, talks about asset quality and of the company, moratorium, recovery and collection.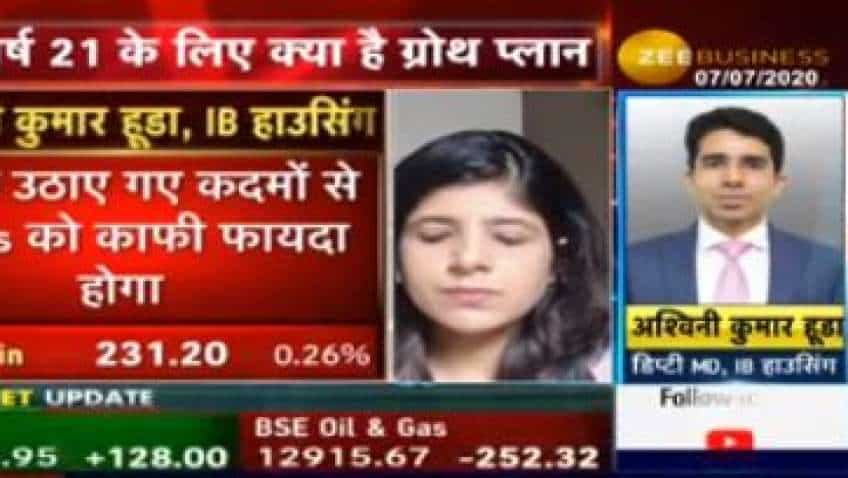 Ashwini Kumar Hooda, DMD, Indiabulls Housing Finance Ltd, talks about RBI's special liquidity scheme for NBFCs and fundraising plans during an interview with Swati Khandelwal.
Written By:
Jitesh Kumar Jha
Updated: Wed, Jul 08, 2020
06:58 pm
New Delhi, ZeeBiz WebDesk
Ashwini Kumar Hooda, Deputy Managing Director (DMD), Indiabulls Housing Finance Ltd, talks about asset quality and of the company, moratorium, recovery and collection, RBI's special liquidity scheme for NBFCs and fundraising plans during an interview with Swati Khandelwal, Zee Business. Edited Excerpts: 
Your asset quality was stable in Q4FY20. How you managed to maintain the numbers and what is your outlook for asset quality for the future? 
We focused on conservative provisioning in this quarter and the company has created provisioning of almost Rs 3,740 crore, which is 5.5% of our loan book. So, we focused on provisioning as much as we can to reduce the weaknesses that may occur in the asset quality in future due to COVID. Profitability was not so important in this quarter and if we would have not provisioned for COVID in the quarter then our profit would have been around Rs 840 crore instead of Rs 140 crore. So, the focus was on provisioning, due to which the asset quality remained stable. Going forward, we will create provisions to make sure that any weakness that comes on the way or any loan with a big developer turns NPA doesn't have any impact on the future profitability and loss account. 
See Zee Business Live TV streaming below:
What percentage of your loan book is under moratorium? How many of your customers have availed the moratorium that has been granted by the Reserve Bank of India?
Our experience has been very good in the case of the moratorium. It stood at 35%, which was a peak in April and May, which declined to 20% at the end of June. So, 20% of our customers are on a moratorium and we are trying our best to keep them updated and incentivize them to make sure that they don't opt for a moratorium in the future because it comes with a cost and they will have to pay an additional cost in the future. Several businesses and salaried people understand the fact and that's why they are not opting for a moratorium. Our figure has declined from 35% to 20%, today. 
Update us about the recovery and collection numbers and how are you managing it? Do you have some pockets where you have concerns or recovery in on track?
We are into the mortgage business, which is the safest loan business as there is a house behind every loan on the retail side. So, 3%-4% of people were delaying payment of the loans but it came back on track after the physical collection process was started in May. The collection has also improved in the case of developers' loan. 
I believe that the relaxations granted on the lockdown in the past few weeks are allowing people to visit the sites of the developers and are looking at the homes. So, the sales of homes have started somewhere, due to which it seems that the trend of collection and recovery will improve in future. 
Earlier you have said that you have plans to raise funds. What is an update on it and what fund will be raised ad how it will be raised?
Fundraising is an opportunistic requirement. No capital is required and the capital adequacy of the company stands at 27%, which means the company is adequately capitalized. But we want to raise confidence capital to Rs 2,000 crore to make sure that it helps the company in case any uncertainty occurs here due to COVID. Overall, when a new capital comes into the company then it had a positive impact on the shareholders, lenders, and rating agency as Indian investors are putting fresh money in the company. So, the funds will e raised to give confidence to all the stakeholders and create a backup for the uncertainty that props up due to COVID. The company does not have any capital requirement at present and I believe that the capital will be raised in the next few months. 
RBI has announced a special liquidity scheme window for NBFCs. What is your view on the scheme and do you have plans to avail the benefits of the scheme?
RBI has created a strong backstop for the non-bank sector and has directly created liquidity light. It has boosted the confidence of the industry. Any weak player whose liquidity situation is tight, especially many of those have provided moratorium due to COVID, due to which a default doesn't, occurs on their end and that's why this liquidity facility is very good for the industry. As far as Indiabulls Housing is concerned then it always keeps cash equivalent to one-year payment in its balance sheet. Currently, the amount is invested in government securities. So, we don't have any requirement to avail a short-term facility from the RBI at least when we have we have the money for repayment of another one year. Even our customers' collection is quite good and repayment is reaching us on time. Thus, I don't think that there is any need to access the facility but it is a very positive development for the industry. 
Real Estate sector has gone through a difficult phase and hasn't bounced back yet. What is your outlook on the sector in the short term and the medium term?
Real estate is one of the biggest investments of life and it takes time in deciding in this regard. But positive patterns are visible at a time when the movement of people is quite restricted. It is a situation in which few people are reaching to the malls, but a lot of people are reaching to the builders' sites. They are reaching because many of those had earlier postponed their decision to buy a house. But now due to COVID – who were living in a small house along with many others but had money to buy a new house but postponed it – they want to buy a new house to make sure that a large number of people doesn't reside in congested homes. So, I can see a positive push at a time when there is a pull factor in which property prices are quite low along with the interest rates. There is a push factor amid several pull factors, where every person who was planning to buy a house is feeling that there is a need to have a home due to COVID and this is why he is going to the builders' sites. Even people have bought homes online in the last 3-4 months. It is a matter to wonder because we never thought that houses will be sold via online platforms but it has happened. So, I feel that there will be a jump in the short term to medium term in the entry-level houses, ranging between Rs 40 lakh to Rs 60 lakhs or in the affordable housing category ranging up to Rs 30 lakhs. That is, a jump can be seen in the category where people buy their first house. Those, whoever postponed their plans today can think because the interest rates are between 7% and 7.5% at present, which is almost 30% less in terms of EMIs when compared to the EMIs that was paid two years ago. Thus, sustainable sales of houses can be seen in a short to medium term, as the EMI has reduced, property prices have gone down by almost 10-15% and there is a need to have a house.
Get Latest Business News, Stock Market Updates and Videos; Check your tax outgo through Income Tax Calculator and save money through our Personal Finance coverage. Check Business Breaking News Live on Zee Business Twitter and Facebook. Subscribe on YouTube.