RCF's future outlook is very strong; its results will be seen in coming days, says SC Mudgerikar, CMD
SC Mudgerikar, Chairman & Managing Director, Rashtriya Chemicals & Fertilizers Ltd. (RCF), talks about Q1FY21 results, the future outlook of the company, current production level, industrial product division and benefit of government schemes for the farmers and fertilizer subsidy dues among others during an exclusive interview with Zee Business Executive Editor Swati Khandelwal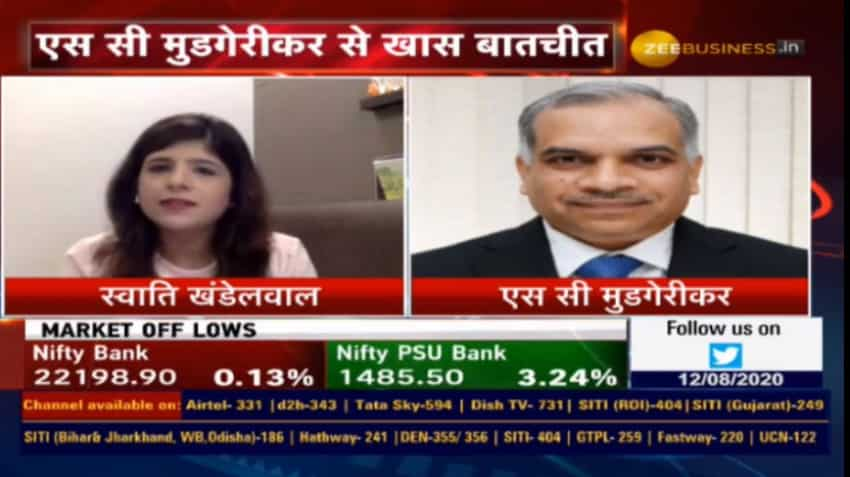 "Whatever impact COVID-19 has had on our logistics supply chain in the first quarter has been regularized to a great extent. We have also tackled the problems that emerged due to it," SC Mudgerikar
Written By:
Jitesh Kumar Jha
Updated: Fri, Aug 14, 2020
01:57 pm
new delhi, ZeeBiz WebDesk
SC Mudgerikar, Chairman & Managing Director, Rashtriya Chemicals & Fertilizers Ltd. (RCF), talks about Q1FY21 results, the future outlook of the company, current production level, industrial product division and benefit of government schemes for the farmers and fertilizer subsidy dues among others during an exclusive interview with Swati Khandelwal, Zee Business. Edited Excerpts: 
Q: Operationally the results of June quarter are good but there is a 33% YoY decline in revenue. So provide highlights of the quarter and what led to this increase in profit and margins when the sales were down?
A: If we talk about income then there is a slight drop in the revenue from operations due to a decline in the gas prices, which is a raw material in manufacturing fertilizers. This fall also has an impact on revenue. Despite this, if you have a look at the profit figures then our gross profit has increased by around 13 per cent, while the profit before tax (PBT) and Profit after Tax (PAT) has increased by 130% and 140%, respectively. Besides, the monsoon has progressed well so far in the Kharif season. Even, the land under cultivation has also increased by around 21 per cent this year. At the same time, the fixed cost was revised last year on the subsidy rates that are provided on fertilizer. The government made certain revisions and increased it. These are certain reasons that led to growth in the profit margins. 
Q: Going forward, what is the outlook and do you think that the growth momentum will continue or there can be an increase in the numbers? 
A: I feel the growth will be even better in the coming quarter and the running financial year because demand is quite strong in this sector. Meanwhile, whatever impact COVID-19 has had on our logistics supply chain in the first quarter has been regularized to a great extent. We have also tackled the problems that emerged due to it. So in the coming time, I believe that there will be strong growth in demand as well as the profit margins. RCF has provided enough capital expenditure in our hands to improve and strengthen our energy efficiencies. 
Based on these factors including the growth of around 21% in the cultivation land in terms of sowing area, I feel that going forward the profit margins and turnover figures will be better. The problems that we faced in the first quarter, like the lockdown followed by a labour shortage, have been normalized to a great extent and in the coming season, we will work more to improve it further. 
Q: Update us about the level of production and the percentage to which you have reached till date and by when the remaining part will be ramped up? 
A: We have two plants and they are located at Trombay in Mumbai and Thal in Alibag area of Raigad district. Both of these plants are fully functional and 100% production level has been maintained in those. Dispatches that happens mainly through the railways, has been normalized to a great extent. We have done good work on the front of trading, which is related to our imports. Going forward, our results will be even better.  
Q: Update us about the industrial product division where you have sold industrial products worth Rs 200 crore? 
A: The industrial products that originate from our chemical industry and the inputs for other industries, namely pharmaceutical, leather industry or bakery products, like ammonium bicarbonate was sold well amid lockdown when industries were closed. In fact, we have sold industrial products worth above Rs 200 crore in these three months. I believe that further growth will be seen in the segment after other industrial units will open leading to an increase in its demand. 
Q: There was a need to move out of the non-core assets and focus just on the core business. So update us on the level to which you have progressed till date?
A: Our main focus has been on increasing our production and to improve our energy efficiencies this time. With this, our focus has been on further smoothen-out the supply chain. 
Q: Update us on how various government schemes have translated for better realization of the farmers?
A: The government has initiated several steps like linking of the Mandis, creation of a national market so that the agricultural products can be sold through a single market in India. Besides, there is an agricultural infrastructure fund and PM Kisan Fund. So the agricultural sector will be benefitted by these things. The pandemic has affected other sectors but the agricultural sector is still out from its impact. Apart from this, the government has launched various schemes not just for the farmers but also to support the industry. I believe that these steps will give a good positive result in the coming days. 
Q: Let us know about the fertilizer dues that are pending at present and by when do you expect them to come?
A: Our fertilizer dues stand around Rs 4,000 crore and the government. The government has also supported us a lot in this in the meantime and the efforts are still on, for instance, in May 2020, a sum of nearly Rs 10,000 crore was paid to the industry under a special banking arrangement. But, the industry is still facing liquidity constraints. But as far as RCF is concerned, our position is quite strong in this matter and our borrowings are quite low as compared to the receivables from the government. 
Q: Are you expecting any big order at present? Also, let us know about the kind of activities that are being carried on at your end and how will you close the financial year 2020-21?
A: With energy efficiency, we also have a special focus on trading. This month, we signed a long term Memorandum of Understanding (MoU) with the manufacturers. Muriate Potash (MOP) is a fertilizer, which is not manufactured in India, and we have signed an MoU for it. This gives me confidence that this will increase our market share even in trading in the overall industry and it will bring good results. With this, we are also focusing on increasing the production levels apart from improving energy efficiency and taking needed steps to boost our production. Apart from this, our research team is working on new fertilizers like organic fertilizer or bio-fertilizer. Interestingly, we have also launched a sanitizer in the market.
See Zee Business Live TV Streaming Below:
So with diversification, the consolidation exercise of the existing business is happening. In addition to this, we are also trying to grow everything that can be grown along with trading. Because of this, I feel that the future outlook of the company is very strong and its results will be seen in the coming days.
Get Latest Business News, Stock Market Updates and Videos; Check your tax outgo through Income Tax Calculator and save money through our Personal Finance coverage. Check Business Breaking News Live on Zee Business Twitter and Facebook. Subscribe on YouTube.