Please bring Universal Healthcare Policy in India: Dr. B. S. Ajaikumar of HCG
Dr Vikram Shah, founder and CMD, Shalby Hospitals Pvt Ltd and Dr. B. S. Ajaikumar, Chairman & CEO, HealthCare Global Enterprises Limited (HCG), talked about the present status of healthcare sector in India and concerns that should be addressed in the Union Budget, during a candid chat with Zee Business.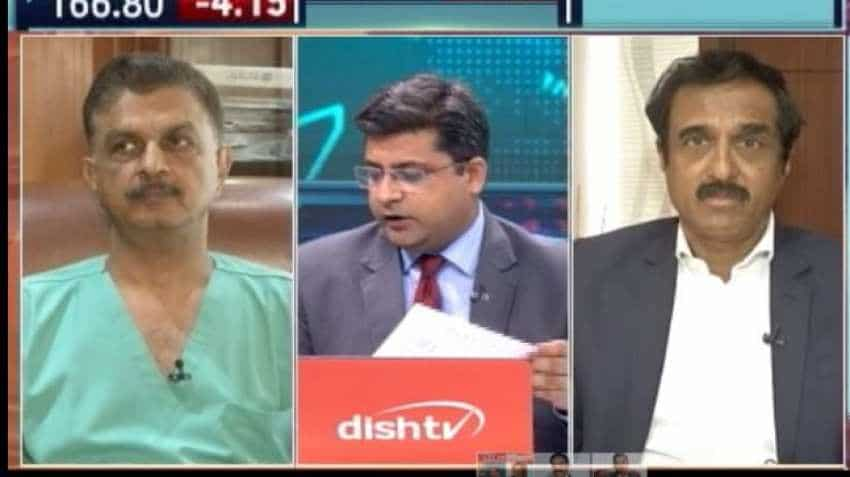 This year's Union Budget will be presented by the newly appointed Finance Minister Nirmala Sitharaman on July 5. Image source: Zee Business
Dr Vikram Shah, founder and CMD, Shalby Hospitals Pvt. Ltd and Dr. B. S. Ajaikumar, Chairman & CEO, HealthCare Global Enterprises Limited (HCG), talked about the present status of healthcare sector in India and concerns that should be addressed in the Union Budget, during a candid chat with Dimpy Kalra, Zee Business. This year's Union Budget, which is ten days away, will be presented by the newly appointed Finance Minister Nirmala Sitharaman on July 5, 2019. She is the country's first full-time women finance minister to present India's budget. Edited Excerpts: 
Q: You have changed a 60-bed hospital into a hospital of more than 200-beds in last two decade and more. So, I want to know how government policies have helped you in your journey and what are your expectations including concession and support from the government in the upcoming budget?
Vikram Shah: First of all, I would like to say that this healthcare sector is a state-level subject. And, the government of Gujarat gave several concessions - five-year ago - under which we signed several MoUs and have opened six hospitals in Gujarat till date. Health care is a subject of the state, but the union government has a special focus on the sector and has introduced schemes like Ayushman Bharat. However, the sector has faced several headwinds in the last 2-3 years. 
When it comes to healthcare requirements then it should be categorised as priority sector because initial investment in the sector is too high, however, the return on investment is slow and it reaches late. Concessions will help the healthcare sector to do well and develop. 
If you have a look at the sector then you will find that plenty of hospitals are available in metros but the same is not a case with tier 1, 2 and 3 cities. Plus, the headwinds – witnessed in the last 2-3 years – have led to the closure of a considerable size of small and medium hospitals. So, the hospital sector should be in encouraged and promoted. This is just not related to healthcare sector but if you have a look on any investment of about Rs100 crore or more then you will find that they are creating jobs, but maximum jobs are created in the services sector. Machines are engaged in manufacturing while computers are used to handle them. So, the service sector generates maximum jobs of which maximum comes from the health care sector. Secondly, the healthcare sector is very important because it employs or provide jobs to unskilled, semi-skilled and skilled people and more than 60 per cent of females are employed in the sector. They, females are provided opportunities to work at a good and safe place to work. So, the healthcare sector should be prioritised for job creation and the requirement of good health across Tier-I and II cities. 
Q: HCG is a leader in cancer treatment. So, I would like to know about the number of functional hospitals that you have and the per cent with which it will grow (expansion plans) in the next 2 years?
Dr. B. S. Ajaikumar​: We have nearly 26 comprehensive cancer centres across India and abroad. As an oncology leader, we see nearly almost 85,000 new patients. So, globally we are one of the largest. We use the 'hub-and-spoke' model and focus mostly on quality and its outcome. Every cancer patient wants a good outcome of the treatment and HCG's main goal is to make sure that the outcome is equal to the best centres in the world. This is a reason that the Harvard Business School had done a study on us showing us as a value-based player. This value-based means, what I practised in the US for 25 years and what costing the US, let's say $10, we are able to do it in India for $2, but the outcome will be the same. That is the goal of any cancer patient.
But today because of the government's good intention but misguided things, we are beginning to suffer because the government has put price control. A lot of things are coming in the way where the cross-subsidy is not happening. So, what I need to say is that Ayushman scheme for below poverty, but the amount of payment is so low that you can't give optimum treatment. So, the outcome for these patients is very low and we are requesting the government to bring universal healthcare. India has so many youths like I am a Medicare recipient of the US, when I was young I paid for the US system like a small tax. For instance, everybody has a mobile phone, why can't we tax mobile phones with Rs100-1000 a year and create a body of universal health care where this fund will so large that reach, and poor will get the same treatment. It doesn't matter but the uniformity must be brought. In my view, the Ayushman scheme will not work because it is very inferior quality treatment. For example, take tobacco, if you ban tobacco than that is a lot more than Ayushman scheme. Interestingly, a cancer care provider is asking for a ban on tobacco. We want farmers to do alternate farming and we are helping. simple banning of tobacco will do, but what the government says, I know that tobacco is harmful but revenue from tobacco is so high that I cannot ban it. Is that the right reason for not banning tobacco? When a poor farmer smokes bidi and suffers some heart attack and cancer when it is highly preventable then why we can't ban tobacco.
Now, we have filed a case to ban it in public places at least. Why can't we talk about an extraordinary tax on tobacco in a way that it becomes inaccessible and use the tax for healthcare so that we can provide proper care even to the smokers? What will happen of the country if you become to socialistic and populistic? In fact, we celebrate poverty instead of making people buy dr things at the right time, we are just celebrating poverty, which is wrong, particularly in the healthcare the government has to do right things for people. Private enterprise is covering 75-80 per cent of healthcare in this country and they have discarded private healthcare and brought regulatory things like drug control, price control. However, no country has ever prospered by bringing drug control and price controls. We have to liberalise and encourage private people to penetrate Tier-2, 3 markets. We know that the government can't do everything like monitoring while doing the treatment. Today, there is some issue in Uttarakhand where doctors are getting kickbacks by sending patients to private. So, these scams can get worse. Thus, this system should be curated and corrected properly, unless we come up with major answers involving private and government, we cannot succeed. It should be addressed in a deep way and the government must look at the GST for healthcare, as there is no input or output. There is suffering going on in private healthcare today and the government is making matters worse. But, their intention is good however they are not going in the right way. 
Q: When it comes to healthcare than India is acting as a tourism spot for other countries like Bangladesh and Pakistan. Does your company/hospital have some plans to promote its services like certain concessions to cancer patients among others? How much growth will you get from cancer?
Dr B.S. Ajaikumar: The growth in our field of cancer stands to around 20-25 per cent and India is becoming a destination for cancer care for international patients due to the price difference. In the past, patients from Africa, Middle-East used to go to the US and Europe. But now with HCG - a dedicated cancer centre and our aspect of treatment where we look at quality and outcome – a lot of patients from these countries are coming to us for treatment and that is growing about 15-20 per cent a year. Particularly, people from countries like Nigeria – 200 million population with no cancer centre – are also coming to us. But, we have also established centres over there. We have a big centre in Nairobi and are looking at centres in other parts of Africa because for me a cancer patient is a cancer patient whether is Indian, African or Middle-Eastern, they have to be treated the same way. Our focus is in emerging markets, where we want to bring the quality of care and we have partnered with Commonwealth Development Corporation, an arm of the British government, to bring this kind of quality care cross emerging market and that is where we are moving towards using the HCG model of our hub-and-spoke. Because today, technology is very important because through it we can develop virtual tumour boats, do digital pathology, teleradiology and telemedicine among others and they are helping us in bringing uniform care across globally.
We have an opportunity in India to become a world leader in cancer care if properly executed. So, using the models like a public-private partnership (PPP) and working with the government I think it is possible for us to become a destination for healthcare and compete with advanced countries, particularly in the area of genomics, genetics. We are becoming leaders and using things like bioinformatics, for example, HCG has 40 PhDs working on research on bioinformatics. Using all this, we can certainly become a global leader and we have published a lot of papers. Recently, we published 25 papers, which was accepted at a global conference. So, this is the way how and where we can shine. In the past, we have been backward in research but today, we are becoming forward and taking it forward to a different level. Indian talent is very capable as you know that when we can run Microsoft, Google, PepsiCo and Mastercard than we can also be the leader in cancer research or any healthcare research. So, we need to create that ecosystem further and that is what HCG is doing today. 
Get Latest Business News, Stock Market Updates and Videos; Check your tax outgo through Income Tax Calculator and save money through our Personal Finance coverage. Check Business Breaking News Live on Zee Business Twitter and Facebook. Subscribe on YouTube.
Updated: Thu, Jun 27, 2019
04:24 pm
Mumbai, ZeeBiz WebDesk