Mission Samadhan has played an important role in reducing net NPA burden: Deenbandhu Mohapatra, Bank of India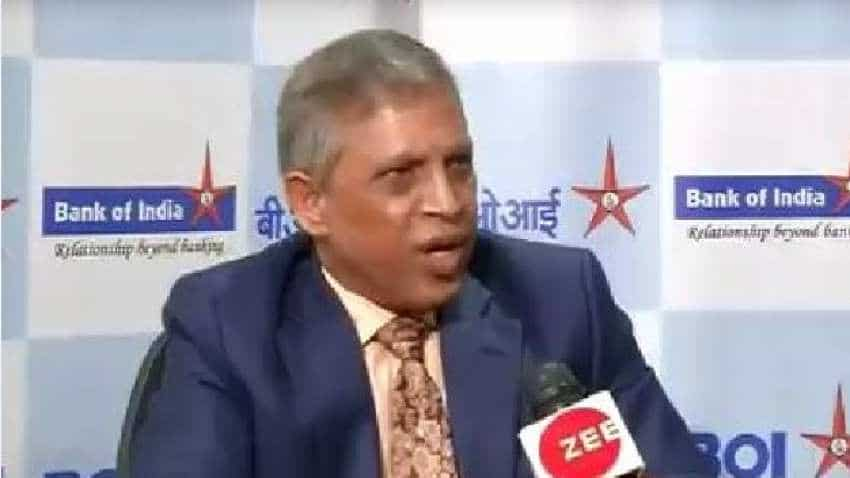 Mission Samadhan has played an important role in reducing this net NPA because it has helped in dealing with big as well as ARC accounts.
Dinabandhu Mohapatra, MD & CEO Of Bank of India, speaks about quarter results and reasons for betterment, provisioning coverage ratio and slippages, NCLT accounts and 'Mission Samadhan' among others during a conversation with Anurag Shah, Zee Business. Excerpts: 
The bank has posted improved numbers in the fourth quarter of fiscal 2019 and there is a decline in net and gross NPA. Tell us about the step that was taken to improve the numbers? 
This is not a result of just one quarter, but it is quarter on quarter progress. In fact, we have improved in all key areas in every quarter of the year. Bringing it into control will help us in improving our asset quality and we will be able to grow. So, several structural changes were introduced in Bank of India to strengthen the recovery mechanism and to strengthen the credit mechanism through DG, so that manual intervention is reduced, and an early warning system is introduced. The ratio of manpower for recovery department was also improved at our end. Similarly, the zones were divided into clusters and manpower was supplied to support them. The fraud management system was also brought under control. So, all these initiatives, which were taken in the last one and a half year, has improved our situation and it will continue. 
There is an improvement in the provisioning coverage ratio and it has gone up to 76 per cent from 65 per cent. What were the reasons for it? And, also update us on the slippages and segments that are contributing to it?
We have always been proactive towards provisioning coverage ratio. Generally, the potential NPA accounts are taken into consideration so that it doesn't have a big impact on the bank. I am happy to inform you that we have 100 per cent coverage in our NCLT accounts. So, the money that we will get from the big accounts that have reached the resolution stage will add to our profit and it helps the bank to grow and strengthen itself. So, it has always been us and the same was done with such potential account in this quarter too so that it doesn't hit the bank. 
Update us on the expected recovery from the NCLT accounts and also provide a timeline for it?
Good recovery is expected in this quarter itself as 100 per cent provisioning has been done on these accounts. The complete money recovered from these accounts will add to our profit. 
I will like to know about the amount?
About Rs2000 crore will be recovered from one-to-two accounts and let's wait and see what happens. 
Talk about the credit growth situation of the bank and the sectors that have a contribution in it? Also, let us know about the expected growth situation under prevalent situation where IIP numbers and auto sales are not too good in itself?
See, all sectors don't perform well at even at best times as some areas in every segment perform well while few remains under stress. So, your selection process, risk management capability, credit underwriting capacity decides how selective you are, how risk mitigation norms are applied from your end and the best cash flow funding is maintained. The holistic approach will help you be in a better position and we have always focused on it and it will continue in future too. Besides, I feel the new government, whosoever comes to power, and stabilisation of reforms may improve the macroeconomic conditions. Our capital position is good, and it is improving but the improvement will help us to grow in a better way. 
There is a growth in the infrastructure sector, but don't you feel that it comes along with a risk?
When it comes to infrastructure that we haven't grown in the old way which is in your mind. But, we have grown where high-rated and established corporate with a good track record is available that too with those with whom we have been in relation for a long time and their cash flow is visible to us. So, all these things have been taken into consideration while growing and that's why we are sure about the quality growth. Similarly, we grew 20 per cent in the retail section and have also grown in retail asset management (RAM). In the case of retail, we have controlled credit exposure to property. Basically, we have focused on risk-free properties. 
But, education loan has gone down by 2.50 per cent?
It is natural that you should grow in the areas where you have good chances of growth and that is why we have given a right approach in growth and have grown in a balanced manner. And, this is a reason that there is an improvement in our revenue, operating profit and interest income and we will keep moving ahead in a selective manner. Improved macroeconomy, if it improves, will give more opportunities. Now, Capability building opportunities have been used to a certain level and that's why there is an improvement in demand from certain sectors. 
When it comes to education loan then there is growth but recoveries through One-time settlement (OTS) of old NPA accounts has resulted in the decline, but we have recovered a lot. 
What is your exposure in IL&FS and has it been provisioned completely?
It is not good to talk about the individual accounts, but I can say that all discussed accounts have been classified in accordance with the guidelines and they have been provisioned to. In fact, it hasn't been done in the recent past, but we have been doing so from previous quarters so that it doesn't hit us. Interestingly, some actions have been taken against certain accounts who haven't crossed the 90-day mark so that it doesn't have a major impact on us. And, this is not something new and that's why our NPA coverage ratio stands at 76-77 per cent. 
Jet Airways is a matter for concern for the banks and your balance sheet shows the presence of an aviation account and its restructuring stands around Rs3,500 crores. Name it?
It is not new, it has been us for a long time and it a government account and that's why it doesn't pose any risk to us. It remains as a distressing account in every quarter for us and slippages cannot be seen in our distressed accounts as it is a government account and thus don't worry us. But, when it comes to private account than efforts are being made to resolve it and let's hope for the best. 
Let us know about the response towards 'Mission Samadhan' and is a fraud monitoring mechanism is going in the right manner?
Mission Samadhan has played an important role in reducing this net NPA because it has helped in dealing with big as well as ARC accounts. the non-discretionary, non-discriminatory policy was adopted to tackle with old NPA and collateral best accounts and in the process, the small, as well as big branches, were empowered to take a decision. And, it has helped us recovering and Mission Samadhan approach is here to stay with us.  
Get Latest Business News, Stock Market Updates and Videos; Check your tax outgo through Income Tax Calculator and save money through our Personal Finance coverage. Check Business Breaking News Live on Zee Business Twitter and Facebook. Subscribe on YouTube.
Updated: Fri, May 17, 2019
04:18 pm
Mumbai, ZeeBiz WebDesk