McDonald's has launched 'On the Go' food delivery service: Saurabh Kalra, COO
Saurabh Kalra. Chief Operating Officer, McDonald's India, talks about the recovery under unlocking, footfalls, food delivery segment, store count, shutdowns during lockdown period, expansion plans and concerns related to fixed costs, among others during a candid chat with Zee Business Executive Editor Swati Khandelwal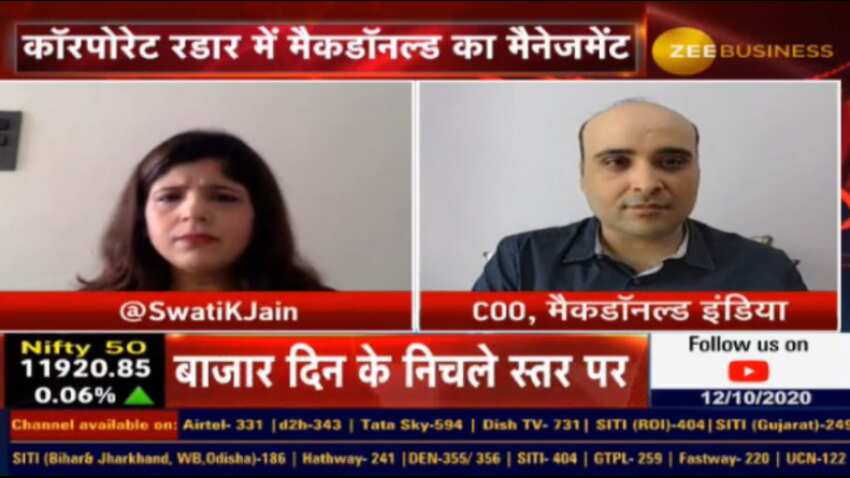 "On October 5, 2020, we received a notice that we can open stores for dine-in in Maharashtra and many of our restaurants are present in this territory, around 90 restaurants are present in Mumbai itself," Saurabh Kalra said
Written By:
Jitesh Kumar Jha
Updated: Wed, Oct 14, 2020
04:18 pm
new delhi, ZeeBiz WebDesk
Saurabh Kalra, Chief Operating Officer, McDonald's India, talks about the recovery under unlocking, footfalls, food delivery segment, store count, shutdowns during lockdown period, expansion plans and concerns related to fixed costs, among others during a candid chat with Swati Khandelwal, Zee Business. Edited Excerpts: 
Q: Dine-in has started in Maharashtra. Tell us about its primary response you are getting and also tell us about the precautions that you are maintaining at your outlets?
A: On October 5, 2020, we received a notice that we can open stores for dine-in in Maharashtra and many of our restaurants are present in this territory, around 90 restaurants are present in Mumbai itself. So, we were quite happy with this decision of the government. The first thing is we are opening with only 33% and progressively the government has said that we will take it to 50%. We are happy with it as things have started, i.e. the opening process. Customers will be comfortable and with this 33% they may come in to see what is going on and whatnot. 
Luckily, a lot of global learning is available with us as with which we have dealt in many countries. So, on the behalf of the McDonald's we have adopted the same in India as well. The government's SOPs are quite clear and following the same implementation, we ran a Golden Guarantee programme, which included 42 checkpoints to make sure that the customer feels that they are safe. If you go to any restaurant in Mumbai then you will not feel that you are unsafe and it feels that a very safe environment is being provided in the restaurant to a level that you can sit and eat there at an ease. Even I am going to the restaurant for the last two days and in a few restaurants, the customers have said to me that they were waiting for the opening. Many customers are not there and it has started with limited customers. We were happy to know that many of the customers were looking forward to that we should open.
Q: Can you provide a ballpark number on the kind of the recovery you have seen in sales and also tell us about the kind of footfalls that is visible in other cities? Have you seen any trend where fastest recovery has been seen, if yes, then let us know about the regions where the good response is visible?
A: I can't provide a direct number as our results will be announced soon, where you will get the numbers. If I will provide a broad sequence than the restaurants - where lockdown has not been in place for the last two-three months – have typically recovered and reached the pre-COVID level. So, it takes around two-three months to reach to the pre-COVID levels. Now we are seeing that the business is being segmented into two things. The convenience channel – it includes takeaways, drive-through, delivery and we have also started an 'On the Go' service where people can place orders while sitting in the cars and we can deliver their order in the cars. I term these services by combining them as a convenience channel and have already exceeded the pre-COVID level. But dine-in, which was not opened at many places and has been opened in Maharashtra a few days back, therefore, continuity was not there. So, its sales depend on the places where they were open for more time and things are improving on a week-on-week basis. We are seeing a week-on-week improvement in every channel. 
Q: Many customers are relying on delivery from your app and various food delivery apps trend has started. So, let us know the way the delivery segment is performing and what is the trend on the takeaway side?
A: Actually, if I look on it than everything was closed for the first 10 days and progressively delivery started gradually April and we were also a part of it. Earlier, the business was restricted just to delivery and takeaways stared when we moved forward to June and July. We have continuously monitored that delivery has increased on a week-on-week basis and is continuing to grow. We expect that it will grow more because IPL has started therefore, we expect growth there. I believe that the delivery will continue to increase as with delivery people will feel comfortable when order is delivered at home. We have a lot of expectations from delivery and feel that delivery will continue to play an important role and has been doing so till date but other convenience channels have grown at a much faster speed then expectations. We had the drive-through facilities for a long time but were not able to do huge volumes but it has increased a lot during the COVID-period. Restaurants located on highways are selling much more than the pre-COVID levels. So, if I see with that perspective than I feel that we have benefitted a lot due to the balanced portfolio that we have like drive-through that we have. Mall stores have not recovered yet but if I have a look on the portfolio then I feel good by seeing that few have recovered completely, few are on the path of recovery and few will take some time. 
Q: What is an update on store count, at present, and have you shut down any store during the lockdown period? During our last talk, you said that the expansion plan has been delayed a bit. What is an update on it?
A: No lockdown related to shutdowns were made and annually we review the stores that are dragging profitability, minimal percentage because we believe that we should be present for at least 20-25 years at a particular location because that builds the business. We haven't made any store shutdowns due to the lockdown but right now are looking forward the type of the new atmosphere that will be created for the eat-out to know the restaurants that will do well and then will deploy our capital on those. But I feel that it is a speed breaker in our big journey towards the vision 2022. So, we have a market of 400-500 stores and we have around 300 stores, so we have to move ahead and grow. If seen from this perspective, then I do not think that there will be a slowdown in terms of the number of stores. In this financial year, probably there will be some softness as everything was closed due to which construction of many stores didn't happen, while some were not completed and, in some cases, deals were not finalized with the landlords. Real estate also comes with a slightly longer gestation period.
When you see a store for the first time then it takes a time of around one year to one-and-a-half-year time between that and its opening, so it will come on a little back foot but over a period I can't see any problem.
Q: During our last talk you displayed some of the concerns related to fixed costs. So, have you reduced your fixed costs, do you have any update there and have you made any negotiations on rentals?
A: At the start of COVID, we clearly understood that we will have to pay attention to three things very well. The first was a customer and for them, we have launched Golden Guarantee. The second is our employees and ensure the ways to take care of all of our employees and they stay with us as in a long-term employee focus creates a difference. And, the third point was about the business, where we understood earlier and as part of global lending also, we knew that we will have to monitor cost closely. In the first quarter also, we have reduced our fixed cost by 25-30% and the focus is continuing and we are taking it as an opportunity in which we should have a second look on every line item and analyse it again to find out at least what it can be.   
See Zee Business Live TV Streaming Below:
We are terming it as a Restaurant Operating Platform 3.0 in which McDonald's will emerge with a new cost structure when the COVID crisis will end. 
Get Latest Business News, Stock Market Updates and Videos; Check your tax outgo through Income Tax Calculator and save money through our Personal Finance coverage. Check Business Breaking News Live on Zee Business Twitter and Facebook. Subscribe on YouTube.