Increased dividend from subsidiaries led to standalone improvements: R Mukundan, Tata Chemicals
Tata Chemicals' revenue growth has been between 10-22 per cent in various segments. EBITDA margin has improved due to a good performance from India, especially in consumer and speciality business, says R Mukundan, Managing Director and CEO, Tata Chemicals.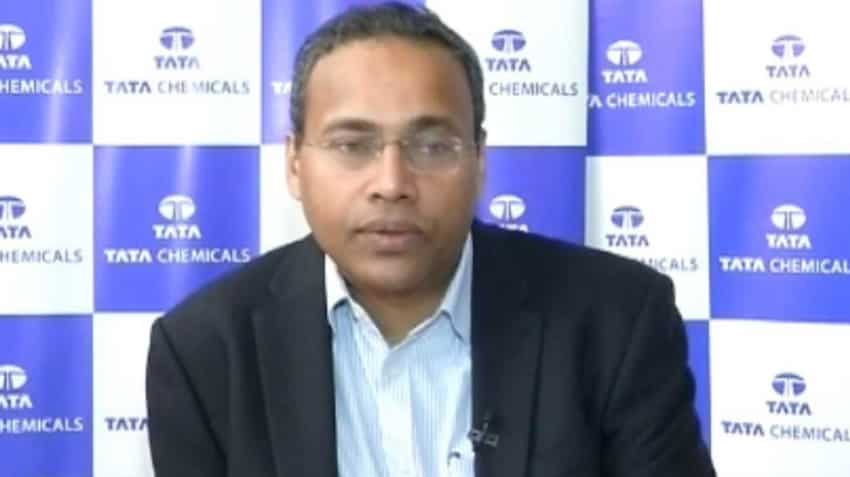 R Mukundan, Managing Director and CEO, Tata Chemicals.
R Mukundan, Managing Director and CEO, Tata Chemicals, in an interview with Swati Khandelwal, Zee Business, talks about the revenues during the quarter, future plans to maintain it and CapEx for different segments. Edited Excerpts: 
Tata Chemicals has posted sound results in September Quarter in terms of revenue, profit after tax (TAX), EBITDA and margins. What were the growth drivers? Are you going to maintain the margins, which stands at 20.3 per cent, or have plans to increase it?
Revenue growth has been between 10-22 per cent in various segments. EBITDA margin has improved due to a good performance from India, especially in consumer and speciality business. Broadly speaking, EBITDA should have been even higher then we have done. We have impacted 3 per cent broadly in terms of margin because of energy cost increase and I feel that energy cost will not have its impact on Q4 results taking the margins above the present levels. 
 
How you managed to increase the cost and revenue on a QoQ basis which increased by 115 per cent and Rs 216 crores respectively? 
Really speaking, the standalone improvements is backed by increased dividends from the subsidiaries, which has come in this quarter and will not continue. Out of 154 crore improvement in standalone margin of about 75 crores is because of the dividends. The other half is because of operations. Going forward the improvements will go down because the dividend income is one-time income. But on the improvement in margins will continue on the consolidated basis, as I explained. 
Liabilities of the speciality segment has gone down by 100 crores. Do you see some spikes in the segment during the H2FY19 that would bring improvements in the segment?
Certainly, I think we will continue to improve. If you look at the speciality segment than Rallis has played a role in it and the issue is related to the increased credit in the marketplace. It occurred due to the pressure on the agriculture sector in India, which was created due to the monsoon, which was uneven. During the period, we increased credit but I think that it should track back to normal. We are focused on collections so the impact of working capital in the speciality segment should trend towards, where it was in the past. 
When it comes to boosting the consumer business then what is your look at the existing salt distribution network and what are your expectations during the ongoing festive season?
See, our consumer business has grown at 22 per cent and the growth is similar to what we achieved in the first quarter. I feel it will continue to grow at an excellent pace because stores are increasing its demand and simultaneously we are focusing on adding the number of stores. Presence of both will drive growth going forward. Broadly in my view, I feel that the consumer business is going to continue to track excellent performance. 
The chemical and chemistry business, both speciality and basic chemistry, the market demand is very strong. So, all three segments are going to display string demand conditions. Today, we are constraint today by the capacity that is why the board has approved the additional investment of Rs 2,400 crores to increase the capacity so that we can meet the market demand. 
What is your debt at present and how do you plan to reduce it?
We don't have debt in standalone, we have a cross cash position close to Rs 3,500crore. The net cash position is almost close to Rs 2,500 crore. So there is no debt in the standalone books. As far as the net debt is concerned on the consolidated basis, it is about Rs 2,500 crore and the debt reduction on the consolidated basis is happening year-on-year. We have said that we will be a net cash positive in domestic and we achieved it last year.
We have also said that in the next four-five years even the global business will tend towards net debt position being positive. I think that it is a track that we are seeing. So, if you look on our balance sheet you will see that our debt ratio is zero in India and it is approximately 0.2 per cent as far as global consolidated debt equity is concerned. So, we are sitting on a very strong balance sheet, we are sitting with a very strong demand in the market and the company has to execute just growth now. 
Can you let us know about the CapEx that will be needed for the next two-three years and how you will raise it? Also, tell about the way the CapEx will be divided between different businesses?
Consumer Business doesn't have a large CapEx. However, the CapEx for the speciality business stands around Rs 500 crores and the investment is underway. It is going to come on stream next year on investments that have been made in Nellore, Andhra Pradesh and Gudalur, Tamil Nadu. As far as the basic Chemistry business is concerned we are investing Rs2,400 crore there in Mithapur, Gujarat and that should come on stream in three phases and we expect the CapEx to be distributed equally across three years, approximately 800-900 crore annually. 
Do you have any plans to introduce something new in any specific vertical? 
In terms of the approvals for new business, the consumer business will continue to grow new categories. We will announce when we enter the category. As far as the basic chemistry business is concerned, the board has asked us to continue to work on the energy storage business, mainly for battery storage for both stationary and mobile application. 
 
Updated: Tue, Nov 06, 2018
10:53 pm
ZeeBiz WebDesk