ICICI Bank's exposure in Videocon: Private lender rebuts rumours, says Chanda Kochhar did not sanction loan
ICICI Bank was not the lead bank for the syndicated consortium management, as it had only sanctioned its share of facilities to about Rs 3,250 crore, which would be less than 10% of the total consortium facility in April 2012.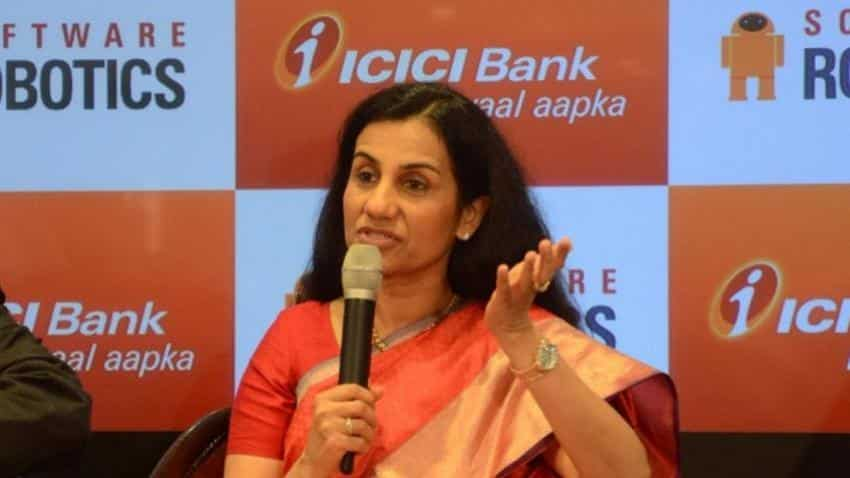 ICICI CEO Chanda Kochhar at the launch of "Software Robotics" at ICICI Bank Head Quarters in Mumbai. Photo: IANS
In a bid to shut rumours related to ICICI Bank's exposure in Videocon, the private largest lender held a board meeting to protect the dignity of its CEO & MD Chanda Kochhar, and to highlight few facts in this case. The development has taken place in the wake of reports that ICICI Bank's CEO & MD backed defaulter Videocon, which has been already been recognised as defaulter in RBI's second list for NCLT.
 
The ICICI Bank released a full-fledged letter on Indian stock exchange stating that the bank's board reposed faith in their leader, and clarified that such rumours are not first time to have stabbed on their top management. In mid-2016, similar malicious and unfounded rumours were surfaced and the bank had appropriately responded to. "Nevertheless, these have resurfaced in the recent past to malign the bank," said the statement.
 
Looking at the current situation, let's try to understand how does ICICI Bank's exposure looks like in Videocon Group, and the bank's own facts.
 
In 2012, a consortium of over 20 banks and financial institutions sanctioned facilities to the Videocon group (Videocon Industries and 12 other subsidiaries of the company) for a debt consolidation programmer and for the group's oil and gas capital expenditure programme aggregating approximately up to Rs 40,000 crore.
 
ICICI Bank's current exposure to Videocon is part of this syndicated consortium management. The Bank was not the lead bank for this consortium, as it had only sanctioned its share of facilities to about Rs 3,250 crore, which would be less than 10% of the total consortium facility in April 2012.
 
After the preparation of the information memorandum and the initial due diligence - laid out by lead arrangers and after the sanction facilities by the lead bank, that was then when the credit committee of ICICI Bank in 2012 provided it's share of facilities in Videocon Group.
 
It may be noted that this committee was chaired by the then Chairman of ICICI Bank, and it included independent working Directors of the bank. Present CEO & MD of the bank, Chanda Kochhar, was not the chairperson of this committee.
 
Also, the terms and condition while sanctioning the loan to Videocon are similar of those offered by the other banks in the consortium, which rules out the possibility of any special benefit to the borrower by ICICI Bank. All banks, including ICICI Bank, disbursed the Rupee term loan into the common escrow pool account being maintained for this purpose by the lead bank.
 
ICICI Bank's exposure in Videocon Group is less than 10%, while around 90% of the loans were sanctioned by other banks and financial institution. ICICI Bank hence says, "On looking above all facts, the board has come to conclusion that there is no question of any quid pro/nepotism/conflict of interest as is being alleged in various rumours."
 
Further, it said, "The board has full confidence and reposes full faith in the bank's MD & CEO Chanda Kochhar," adding "We would urge you not to be misled by these rumours which are being spread to malign the bank and it's top management."
 
As per Reuters report, the  rumours on ICICI Bank emerged when the Indian banking sector is on edge, after state-run Punjab National Bank said last month that it had unearthed a roughly $2 billion fraud. The case has stunned financial markets and led to heightened levels of investor concern around any wrongdoing at Indian banks.
 
ICICI Bank has many exposure in various firms, and reportedly mentioned in the two list of RBI's defaulters which are being forwarded before NCLT for bankruptcy resolution.
 
In August 2017, Videocon was highlighted by RBI among 28 companies which were identified as big defaulters in second list and needed for immediate resolution. Videocon and many other companies in the list were given December 13 deadline for laying out a plan in restructuring their debt, if failed then the matters would be sent to National Company Law Tribunal for Insolvency & Bankruptcy resolution.
 
It may be noted here that lenders have negotiated for extension of the deadline for big defaulters like Videocon and Jaiprakash Associates. The JP was allowed not allowed to move for IBC. This led to State Bank of India (SBI) initiating bankruptcy proceedings against Videocon in January, as the latter owes Rs 29,000 crore to the consortium lenders; of which SBI had extended Rs 3,900 crore.
 
Videocon, therefore, is the largest defaulter in the RBI's second list. The consulting firm KPMG acts as Videocon's resolution professional. At present, Videocon has market capitalization of Rs 437.14 crore, and has a pile of Rs 45,000 crore loan.
 
According to CLSA, consortium lenders will need to make about 60% haircut in Videocon's dues. The rating agency also mentioned that private banks, including ICICI, can see higher haircuts, but are better placed than PSUs due to their additional capital buffers to absorb stress/provisioning.
 
As of December 2017, Videocon's net loss widened to Rs 1,272 crore, compared to net loss recorded in Q2FY18 and Q3FY17 of Rs 1,033.69 crore and Rs 481.94 crore respectively.
 
Videocon spoke about NCLT proceedings in Q3FY18 financial audit report, saying, "There are persistent severe strains on the working capital and operations of the company has been incurring losses. These factors raise significant doubts on the ability of the company as a 'Going concern'."
 
Moreover, ICICI Bank's gross NPAs stood at Rs 46,038.70 crore in Q3FY18, rising by 20.88% versus Rs 38,084.97 crore in Q3FY17, up by 3.48%, against Rs 44,488.54 crore in Q2FY18. In percentage terms, gross NPA was at 7.82% in Q3FY18 versus 7.20% of Q3FY17 and 7.87% in Q2FY18.
 
Get Latest Business News, Stock Market Updates and Videos; Check your tax outgo through Income Tax Calculator and save money through our Personal Finance coverage. Check Business Breaking News Live on Zee Business Twitter and Facebook. Subscribe on YouTube.
Updated: Thu, Mar 29, 2018
03:09 pm
Mumbai, ZeeBiz WebDesk