HDFC Bank's Aditya Puri salary cut by 4%, takes home Rs 9.65 crore in FY18; all details here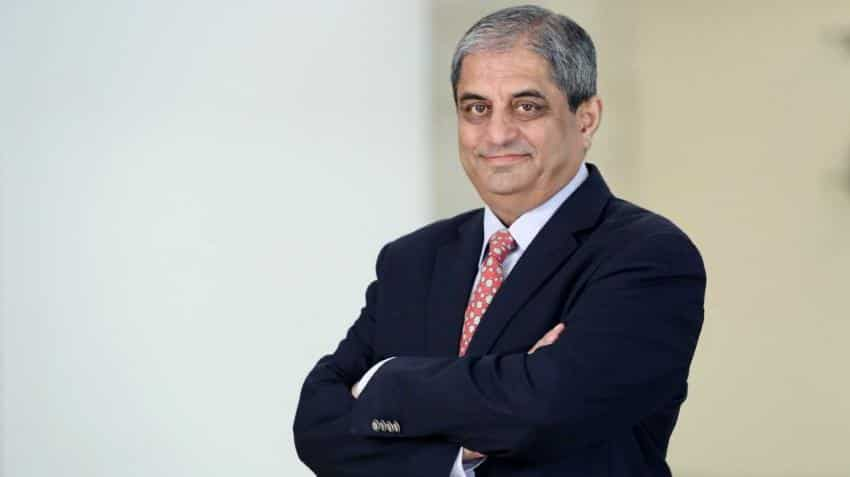 Representational Image: Photo: Official website
Highest private lender HDFC Bank's Managing Director Aditya Puri who was recently added in Barron's list of Top 30 Global CEOs, has received almost 4% cut in his salary at the bank during fiscal year end FY18. In it's annual report, HDFC Bank mentioned that Puri received a salary of 9.65 crore in FY18 which was down by 4.04% from Rs 10.06 crore in the previous fiscal FY17. Puri has been with HDFC Bank for over two decade and has done some instrumental transformation for the bank, which is why, it is considered among the Too-Big-To-Fail List by Reserve Bank of India (RBI).
The payout break-up of Puri stood as: Rs 7.27 crore as salary as per provisions contained in Section 17(1) of the Income Tax Act, 19. While Rs 1.83 crore was value of perquisites u/s. 17(2) of Income Tax Act, 1961 except stock options. Remaining Rs 55 lakh was from others.
Interesting, Puri saw cut in it's salary as per provisions of IT Act this fiscal compared to previous Rs 8.12 crore recorded in previous fiscal. Remaining other two indicator saw an uptick in FY18 compared to Rs 1.45 crore which is value of perquisites and Rs 48.79 lakh from others of FY17.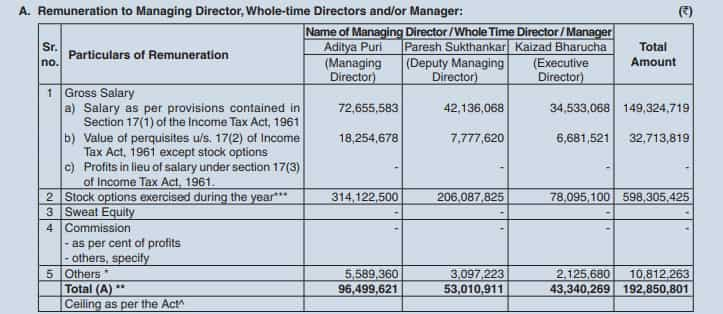 This fiscal compensation could have been change of HDFC Bank if RBI approves a higher performance bonus. The bank's annual report highlighted that, bonus for FY17 has not been paid due to pending approval from RBI and thereby not disclosed.
In previous fiscal, Puri received a compensation of Rs 92 lakh.
Considering above, ratio of Puri's salary to that median stands 209:1. Interestingly, Puri's salary has not been hiked in line with 8.9% average percentage increase for key managerial personnel and non-managerial staff.
Puri holds 0.14% of the paid up share capital of the Bank.
HDFC Bank in it's fourth quarter ended financial performance for FY18, missed analysts estimates in terms of standalone net profit despite reporting a 20% yearly growth. HDFC Bank posted net profit of Rs 4,799.28 crore in Q4FY18, witnessing growth by 20.27% compared to net profit of Rs 3,990.09 crore in the corresponding period of the previous year.
HDFC Bank provisions for NPA stood at Rs 1,541.10 crore, which grew by 22.13% from Rs 1,261.80 crore in Q4FY17. Gross non-performing assets (GNPA) was at Rs 8,606.97 crore during the quarter, surging by 46.24% from Rs 5,885.66 crore in Q4FY17 and by 4.52% from Rs 8,234.86 crore in Q3FY18. In percentage terms, GNPA remained stable by just gradually rising to 1.30% in Q4FY18 versus 1.05% in Q4FY17 and 1.29% in Q3FY18.
The hike Puri's salary was gradual by 3.36% in FY17. It was only in FY16, when Puri saw a massive hike of Rs 9.73 crore up by 31.57% compared to salary of Rs 7.40 crore in FY15.
Puri has been the MD of HDFC Bank since its inception in 1994. During his 24 years at the helm, Puri has created a culture of excellence in the Bank. A great advocate of technology and convenience banking, he is credited with embracing digital banking platforms to change the way banking is done in India.
Barron's list of Top 30 Global CEOs magizine on Puri recently said, "He turned a start-up into a banking giant, and helped bring Indians into the modern financial era. Even after 24 years at the helm, Puri, 67, elicits effusive praise from investors, with descriptions ranging from "one of the most impressive CEOs we have come across" to a "great man who has built a great bank."
Puri has been featured in the Growth Leaders category.
One-year total return: 25.2%
Annualized returns (since inception): 24%
Five-year profit growth: 19.8%
Market value ($ Bn): 77.6
Updated: Sun, Jun 17, 2018
06:53 pm
Mumbai, ZeeBiz WebDesk