Have plans to increase mining capacity to 20MTPA from 4.1MTPA: Santosh Sharma, Hindustan Copper Ltd
Hindustan Copper plans to increase its production capacity to 20MTPA in next six years from 4.1MTPA, to be achieved by end of FY19, said Santosh Sharma, CMD, Hindustan Copper Limited during an interview with Swati Khandelwal, Zee Business.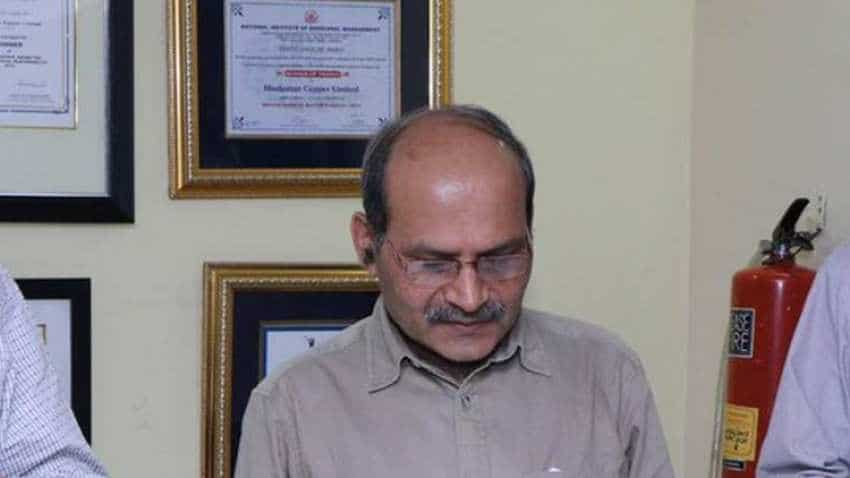 We want to increase our copper ore production capacity to 4.1MTPA from existing 3.6MTPA in FY19: Santosh Sharma. Image source: Twitter
Updated: Fri, Dec 14, 2018
03:16 pm
ZeeBiz WebDesk
Hindustan Copper plans to increase its production capacity to 20MTPA in next six years from 4.1MTPA, to be achieved by end of FY19, said Santosh Sharma, CMD, Hindustan Copper Limited during an interview with Swati Khandelwal, Zee Business. Edited Excerpts: 
Q: Last year, you had plans to increase your copper production capacity from 3.4 MTPA to 12.4 MTPA (million tonnes per annum) in the next 4 years. How much have you expanded so far? How much CapEx have you spent so far since last year to increase the capacity?
A: We want to increase our copper ore production capacity to 4.1MTPA from existing 3.6MTPA in FY19, which will be taken up to 5.1MTPA in FY20. Besides, Rs1,000 crores have been spent so far in this fiscal year and an additional Rs500 crore will be invested in the remaining 4months of the fiscal. 
Q: What sort of price outlook are you seeing for copper in the coming 4-5 quarters? 
A: Copper prices are stable since the last two-and-a-half months and have been travelling in the range of 6200-6300 $/tonnes. I feel, its prices will go further to 6500 $/tonnes by March 2019 as it is in demand at present. The price hike will be backed by the decline in its stocks even at LME, an international stock market. 
Q: Which sectors are the key drivers for copper? Where do you see the maximum growth? 
A: Indian Railways, which has plans to electrify about 37,500 kilometres of its track, is going to be the biggest growth driver for Hindustan Copper Ltd. 
The power sector will be the second biggest growth driver for us, as copper will be required in the renewable sector, like solar and hydro, and efficient power transmission, which is a need of the hour and the government has its plan to go for an inter-regional connectivity for power transmission by creating efficient power transmission network.  Similarly, copper will be demanded in the hybrid car section that is in demand at present. Apart from this, other programmes like Make in India and housing for all can also boost copper demand in India.  
Q: The supply and export scenario of copper has changed a lot since last year and there are some supply-side issues too. Can Hindustan copper bridge the gap?
A: First, I would like to clarify that there is no shortage of copper in the market. I agree with you that there is a decline in exports, which once stood at 2 lakh tonnes. Closure of Vedanta has had an impact on export, which is on a decline. But, its closure didn't have any impact on the domestic market mainly because our peer groups have diverted their production, which was meant for export purposes, for domestic consumption. That is a reason why there is no decline in supply in the domestic market. 
I would like to clarify that India consumes just 6.5 lakh tonnes of copper in a year while it has a production capacity of around 10 lakh tonnes. This means any production above 6.5 lakh tonnes is meant for export purposes only. 
Hindustan Copper limited than is the only Indian company that is functional in all three markets, namely primary, secondary and tertiary markets. In addition, we are in the primary market as we are also the only Indian company to have mines and are into mining of the ores, as well as Beneficiating, smelting and refining them. Later, we also design products like copper wire rods. 
Other copper companies functional in India are those who import copper concentrates and then go for their custom or secondary smelting. This means they are just into treatment and refining areas but aren't into the mine production area. 
This means that we sell our copper at the copper import parity prices at London Metal Exchange (LME) and under such a situation we are profited, when LME prices are higher than our benchmark prices, cost of production of primary route. 
Q. What is your outlook on your margins and let us know the mechanisms that will be used to increase it?
A: You will have to look at our PAT (Profit After Tax) and EBITDA of the first half of the two years (H1FY18 and H1FY19) to understand the efforts that we are making to increase our margins. Our PAT has increased by 81 per cent in H1FY19 when compared to the PAT of H1FY18 and we reported an EBITDA of 28 per cent in H1FY19 against 16 per cent of H1FY18. This growth was backed by our production, which increased by 20 per cent in this fiscal. 
Apart from this, there is a change in our strategy under which we have decided to focus on the ways to maximize our profits instead of concentrating on revenue or turnover of the company. In the process, we want to strengthen secondary our resources, that is functional in the non-LME stream. The section will be strengthened to ensure that our company remains strong in the case when there is a weakness or fall in the LME stream. 
The third thing is that we want to meet the demands being created through several government schemes like electrification of railways, push to infrastructure space and focus on renewable energy sector. This is something that will enable us to strengthen our economic situations. 
Q. Are you planning any buyback? And lastly, do you have some more expansion plans, if yes, let us know about it?
A: No. We don't have any buyback plans at present. 
But when it comes to expansion than we have plans to take our production capacity from 4.1MT, which will be achieved by end of this fiscal, to 20MT in the next six years. This expansion plan will be backed by Rs200 crore ambitious exploration plan that will be used in the expansion of major mines like Rakha and Chapri mines in Ghatshila, Jharkhand and Malanjkhand mine of Madhya Pradesh. Half work – of the physical part – of increasing the capacity of Malanjkhand mine from 2.5MT to 5MT has been completed. In fact, it will become operational in the next three years. 
Apart from expansion of the existing mines, we have plans to open new mines in the greenfield like Chapri mine and have received tenders for it. We will also be reopening of closed mines, which were closed due to low LME like Rakha mine. Ongoing exploration work will be supporting this expansion scheme. 
I would like to sum up by saying that enormous growth opportunities are available to Hindustan Copper in different sections like primary and secondary as well as expansion and reopening of the greenfield mines. These opportunities will enable us, Hindustan Copper, to achieve its expansion plans in the next six years.
Get Latest Business News, Stock Market Updates and Videos; Check your tax outgo through Income Tax Calculator and save money through our Personal Finance coverage. Check Business Breaking News Live on Zee Business Twitter and Facebook. Subscribe on YouTube.