Fuel demand will be back to normal by next quarter: MK Surana, CMD, HPCL
Mukesh Kumar Surana, Chairman & Managing Director, Hindustan Petroleum Corporation Limited (HPCL), talks about demand recovery trend in diesel, petrol and ATF, crude oil, International Solar Alliance, electric charging stations, CapEx, contract with MRPL to supply fuel to KSRTC during an exclusive interview with Zee Business Executive Editor Swati Khandelwal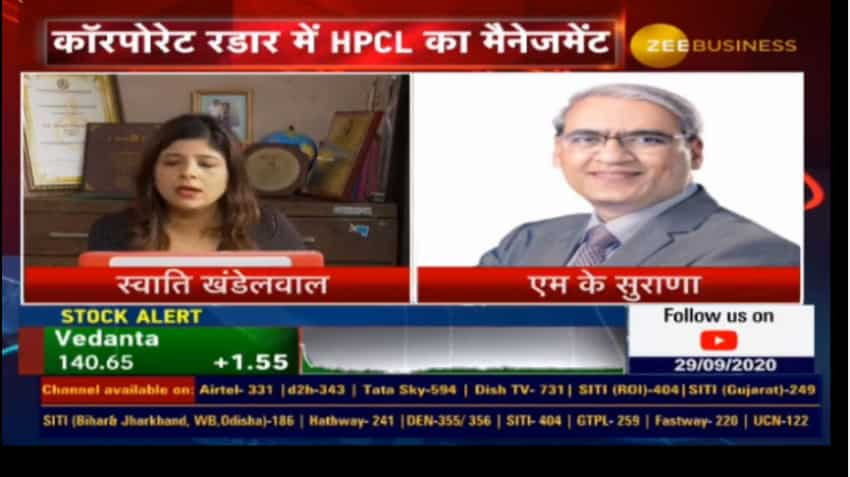 "When it comes to the demand for diesel, which went down to 50% has reached almost 93%, which is a good recovery. Now in October and November, when the season of festivals will start, the demand should pick-up a bit more," Surana said
Written By:
Jitesh Kumar Jha
Updated: Wed, Sep 30, 2020
05:03 pm
new delhi, ZeeBiz WebDesk
Mukesh Kumar Surana, Chairman & Managing Director, Hindustan Petroleum Corporation Limited (HPCL), talks about demand recovery trend in diesel, petrol and ATF, crude oil, International Solar Alliance, electric charging stations, CapEx, contract with MRPL to supply fuel to KSRTC during an exclusive interview with Swati Khandelwal, Zee Business. Edited Excerpts: 
Q: Tell us the way demand recovery has improved in diesel, petrol and ATF segments? Also, name the states where more demand is seen?
A: As you know, the demand for petrol and diesel dropped almost 50% in April when compared to the normal demand due to the lockdown and restrictions due to COVID-19. But the demand went up after relaxations were announced and things opened gradually. If we have a look at the trend to date in September, then the demand for petrol has reached almost 100% of the normal levels, if compared with the last year's September.
So, there is positive growth in petrol. When it comes to the demand for diesel, which went down to 50% has reached almost 93%, which is a good recovery. Now in October and November, when the season of festivals will start, the demand should pick-up a bit more. And as normalcy returns, industries establish their supply-chain and gets benefits out of it and construction activities will start, then the demand for diesel will also go up to 100%. I feel that there should be good progress will be seen in that direction by the next quarter.
Whatever progress has happened so far is a very good recovery; it is a V-shaped recovery. As far as ATF is concerned, then its demand was almost lost and has reached to almost 9% in April but it has reached around 45% by now, although the international flights are not operational yet and even all domestic flights have not started and people have not started travelling a lot. There are some states where quarantine restrictions are in place for people who are travelling from other destination but gradually people have started travelling due to which demand is increasing. Demand for LPG was more during the lockdown because people were at home and had the anxiety to keep both LPG cylinders filled due to which the demand for LPG during the lockdown was more than what it remains normal.
Demand for petrol and LPG has reached its normal level and diesel is almost 92-93% and will move towards normal in the next quarter when construction and industrial activities will pick up. 
Q: What is the outlook on crude oil – as it has been volatile in the past few days? What is your view on marketing margins and GRM?
A: Crude oil price was quite volatile a few days back from here but has been in the range of $ 40-42 in the last few days. I feel that it will remain in the same range for few more days because demand is still a concern internationally, although it has recovered well in India. This is a reason that it has not increased a lot. Secondly, the price is also not going down because the processing countries have put output restrictions on it to keep the price in a reasonable range. So, I think that this balance of demand and supply is going to be the same and crude prices will revolve around $40 per barrel for some more time. Refinery margin has been down in the last few days because petrol and diesel cracks were quite low as plenty of inventories were lying with everyone. Now, as the restrictions will open across the world and if there is no second wave of the pandemic then demand will go up, which will help to absorb the surplus inventory. Some positive trend has been seen in cracks especially on the petrol side and if it continues to be the same then positive trend can be seen in the refinery GRMs. However, the GRMS of the second quarter is slightly better than the GRMs of the first quarter. Singapore GRM, which is a benchmark GRM, is also improving a bit. This is why it seems that the refinery GRMs will also improve. 
Q: Oil Minister in the recent past has asked five oil PSUs to join the international solar alliance and contribute to the ISA corpus fund. Can you tell us about your contribution to it?
A: International Solar Alliance is a big platform and oil companies are slowly turning into energy companies because they have some contribution in every form of energy like HPCL has some contribution in the wind and solar segments. So, it is necessary for sustainable development and we also want to have our contribution to that sector. Although, the fossil fuel industry has also turned quite an environment friendly, after BSVI, which is an important regime for them. Along with this, an incremental demand has to come to a country like India for which every kind of energy resource is required, may it be solar, wind or biofuel and we would like to contribute in it.
Q: You have earlier said that HPCL will have a big contribution to the electric vehicle charging station. Can you please update us on it and how many charging stations have been created and how many will be set up? Also, the company has said that it is lining up Rs 60,000 crore as a CapEx in the next five years. What are your plans on it and have you made some changes in it because the economy is witnessing a challenging situation or it is intact?
A: Electric charging stations are gradually opening as a new field and we are trying to create facilities related to it at our petrol pumps. Right now, we already provided charging facilities at about 35 petrol stations. Going forward, we are trying to provide its facilities at the new stations that we are developing as well as at the old ones where we have some kind of MoUs. Demand for electric mobility has not surged a lot in India yet but whenever it will there, we will try to provide its facilities accordingly. We had a CapEx of Rs 60,000 crore for our project of refinery expansion, pipeline, marketing, infrastructure, and petrochemical plant. However, the lockdown put a brake on the works on these projects for a short period but the work has started on every project sites. Fortunately, most of the materials were already available at the project sites because our projects have reached to an advanced construction stage. At the same time, workers are slowly returning to work so projects sites are doing good and we are trying to commission their project sites at the earliest and make sure that all our stakeholders and shareholders are benefited from it. 
Q: Recently, there was a news that all government buses in Karnataka will run on the fuel from MRPL and this tender is being executed by HPCL, which has now tied up with MRPL for entire supply. Can you please explain its impact and how HPCL will be benefitted from it? 
A: HPCL is a refining and marketing company and in marketing, we have our stakes in India's Petroproducts business. The company is on a growth path and we always try to do maximum market volumes in our business. There is a slight difference between our refining and marketing capacity because we sell more than what is produced, for which we make tie-ups with other companies and MRPL is a company of our group and HPCL has its stakes in MRPL. We are one of the original promoters of MRPL and these refineries are present in Karnataka.
See Zee Business Live TV Streaming Below:
So, we have tied-up with MRPL to provide fuel to KRSTC and signed a contract due to which KRSTC will get diesel at better prices and MRPL will get an outlet for its products. It will also benefit to HPCL's marketing set-up. It is a good trial for everyone as each one of these, MRPL, KSRTC and HPCL, will be benefitted from it
Get Latest Business News, Stock Market Updates and Videos; Check your tax outgo through Income Tax Calculator and save money through our Personal Finance coverage. Check Business Breaking News Live on Zee Business Twitter and Facebook. Subscribe on YouTube.