Five charts that explain Apple's revenue decline
Apple's revenues have become increasingly dependent on the sales of iPhones.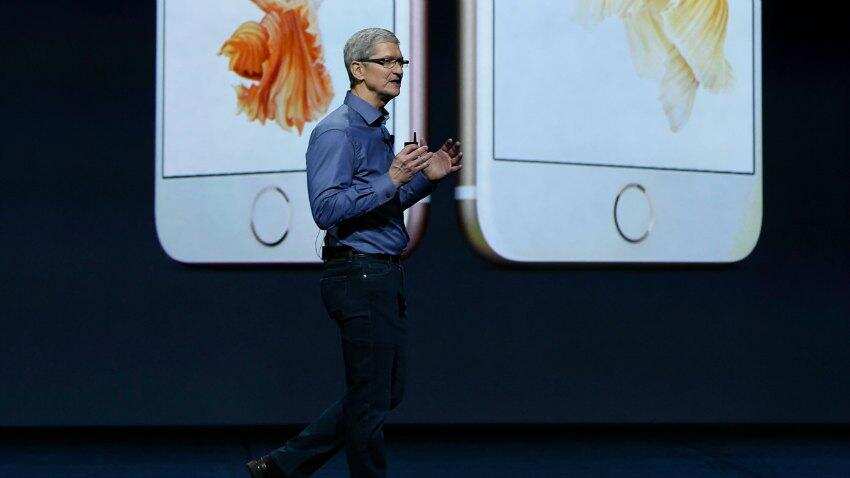 Tim Cook CEO of Apple speaking at an iPhone conference. Photo: IANS
Updated: Wed, Apr 27, 2016
03:56 pm
Mumbai, ZeeBiz WebDesk
Apple posted the first revenue decline in 13 years as it dropped to $50.6 billion as against $58 billion in the same period last year.
This was consequently led the first ever fall in sales of its iconic iPhone since its launch in 2007 by the then-CEO late Steve Jobs. iPhone sales had dropped by as high as 36%.
The iPhone has been the main driver of Apple's rising fortunes. Apple reported that during the second quarter ended March 26, 2016, sales of iPhones fell to 51.19 million units as against 61.17 million units in the same period of last year.
Here are five charts by Counterpoint Research that best explain the decline in Apple's revenue and iPhone sales.
1. Apple's growing dependence on iPhone sales
This chart clearly shows how Apple revenues have become entirely dependent on the sales of iPhones. From 2011 onwards revenues from the sales of iPhones has powered Apple. While revenues products like iPod, iPad and Mac have grown much smaller in comparison.
2. iPhone shipment growth drops lower than 2009 level 

The shipments of iPhone in Q1 2016 as shown in the chart above shows how the declined by close to 20%. This has had a direct impact on Apple's revenue growth. The shipment of iPhones has been on the decline Q4 2014 and resulted in very little corporate revenue growth over the same period. 
3. Apple's growth in China slows down
Not only have Apple's revenues in the American subcontinent declined significantly, the growth Apple in China since 2014 where it grew from 16.6% revenue share in Q2 2014 to 25% in Q1 2015.
4. Global revenues of Apple on the decline
The greatest pain point for Apple has been the decline in revenue growth from China. The revenue growth in China of nearly 120% in Q2 2015 dipped to below -20% in Q1 2016. Apart from Japan, other regions such as the American subcontinent, Europe and the rest of Asia-Pacific have been seeing decline in Apple's revenue growth since Q2 2015.
5. Decline in revenues from Mac, iPad
iPad sales have seen an upward and downward trend. However, over the period of five years iPad sales have been declining. Apple's Mac systems revenues have declined $5 billion, a level last seen in Q2 2013. Apple's iTune/software/services, however, has not declined and in fact has been growing at a gradual pace. The revenue from this business in Q1 FY2016 stayed at $6 billion level from Q4 FY2015.