Detailed analysis: Achhe din for Yes Bank soon with Ravneet Gill as the new boss?
 While many showed optimism in Yes Bank 's new management, many also on the same page agreed that dealing with divergence will set the course for the bank.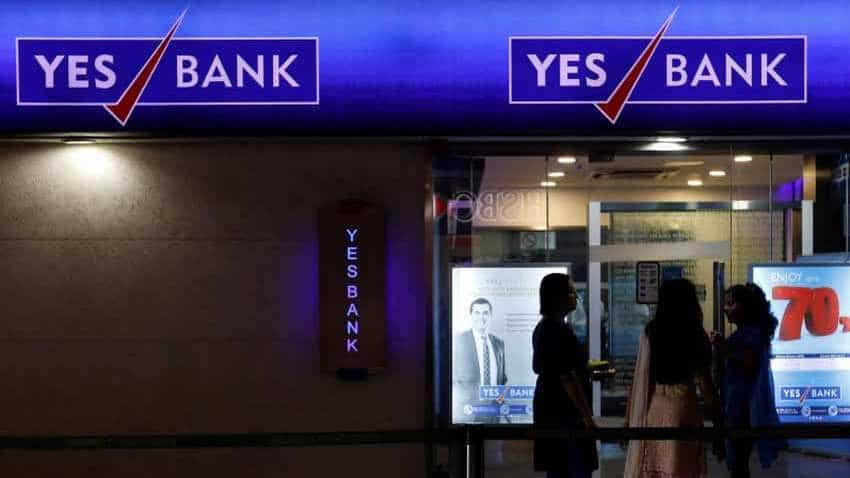 Representational Image: Photo: Reuters
Having a new CEO was a game changer for Yes Bank. No doubt, investors also showed major positive sentiments in the bank's share price following the appointment of Ravneet Gill on Thursday. Remember: When Yes Bank rocketed to over 10% in the following day. However, that trend has now worn out. In fact, what Yes Bank gained in one day, has also lost it in the blink of an eye. Today, the share price of Yes Bank has plunged by over 6% on BSE, with an intraday low of Rs 206 per piece.  It would not be wrong to say, Gill's appointment is one major transformation for Yes Bank. Analysts have given their thumbs up for this development. 
Rakesh Kumar and Chintan Shah, analysts at Elara Capital said, "The anxiety on the Street regarding a new MD & CEO at the helm has finally ended. With new management taking charge and continued stable performance on the asset quality and operating fronts in the next 1-2 quarters would re-instill faith and lead to re-rating of the stock." The duo added, "In our view, the bank is well placed to deliver an ROE of 15.4% in FY19E, 17.9% in FY20E and 18.9% in FY21E. We reiterate our positive stance and reiterate our Buy rating with a revised target price of Rs  362 from Rs  375 based on 2.6x (from 2.5x) FY20E P/ABV."
For your information, this price target would be an upside of a whopping 76% in Yes Bank shares ahead, if we look at intraday low of today. This is enough to bring joy to investors who are looking for having an appetite for equities, as Yes Bank becomes a hot stock to become rich. But with every good news, the bad ones are also ready for their turn, which is Yes Bank's case is a long-line of divergence. While many showed optimism in Yes Bank 's new management, many also on the same page agreed that dealing with divergence will set the course for the bank. 
M B Mahesh, Nischint Chawathe, Dipanjan Ghosh and Shrey Singh analysts at Kotak Institutional Equities were surprised on few aspects of Yes Bank during Q3FY19. 
They are -  (1) Stable NIM qoq, solid growth in NII qoq with the increase in cost of funds at 10 bps qoq, lower than that of HDFC Bank or IndusInd Bank for the quarter, (2) negligible change in CASA ratio with SA growth declining ~10% qoq but CA growth stronger qoq at 14%, (3) fee income trends weak but not a steep decline indicating fair activity in business during the quarter, (4) slippages, excluding IL&FS group, was negligible at 0.6% of loans (annualized). The bank is yet to receive its report on divergence, if any, from RBI. Credit costs, excluding IL&FS group, was at ~5 bps, and (5) the bank increased its branch network by 5 and employee headcount by ~150 during the quarter. 
Analysts at Kotak added, "The divergence report should give an indication if there are any residual risks."
Even analysts at Elara believe, the only joker in the pack is likely divergence, to be reported in Q4FY19. In end-FY17 & end-FY18, the bank reported divergence at 4.3% & 4.8% of standard loans. Going by this, for endFY18, including divergence, GNPA could be in proximity of Rs 75- 80 billion against end-Q3FY19 GNPLs at Rs 52 billion.
The extraordinary case of Divergence! 
The best way to describe divergence in asset quality is, when two parallel lines are not equal then there is a curious case of misreporting, mismanagement, misconduct in the financial book. Divergence occurs when a bank's reporting in gross NPA does not match the calculation of RBI, which central bank believes should have been the real stressed assets of a particular bank.
In short, banks who do not report accurate stressed assets in line with RBI have posted divergence.  In this, Yes Bank is a leader! 
If we take two fiscals of Yes Bank namely FY16 and FY17, then it has a cumulative divergence of 9% in asset quality. This is way higher than what other banks have. As per CLSA report, after Yes Bank, it would be Corporation Bank whose divergence is higher at 4.9%, followed by Axis Bank at 4.2%, Jammu & Kashmir at 3.8% and Bank of India at 3.6%.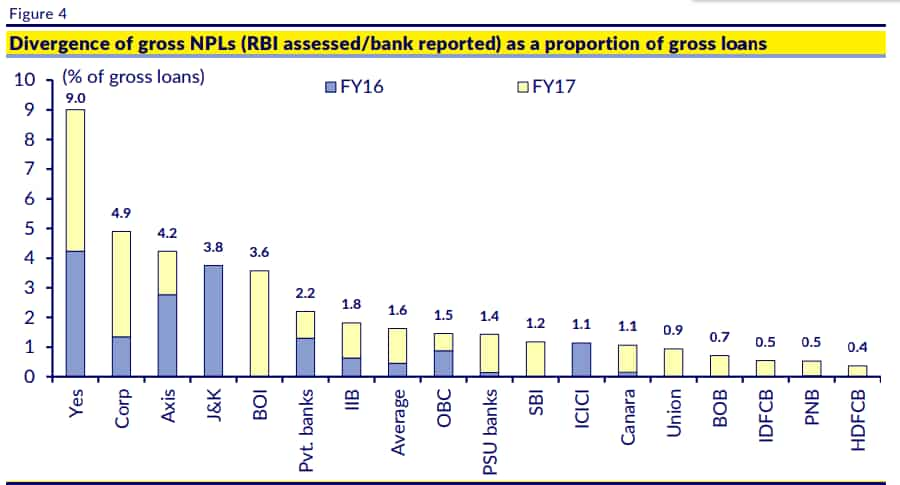 (Image Source: CLSA)
Not all banks have reported divergence in FY16 and FY17. But divergence in NPA and provisions reveals that how skewed a bank is. 
Even largest lenders SBI, ICICI Bank and HDFC Bank have reported divergence in their asset quality, but still, lower compared to Yes Bank. What is interesting is that Yes Bank has reported a rise in divergence for two consecutive fiscals. While in case of SBI and HDFC Bank it's just FY17, that too after RBI's new guidelines in divergence. 
It all began in May last year, RBI blasted Yes Bank for not reporting its gross NPA accurately in fiscal year FY16. 
After Yes Bank's divergence in gross NPAs came to light, it was just a matter of time when the central bank would take its decision. The entire banking system was trapped in its own wrongdoing! In that month, itself, RBI revealed other private lenders namely Axis Bank and ICICI Bank too. 
In FY16, Yes Bank posted gross NPA of Rs 749 crore which as per RBI should have been at Rs 4,925.7 crore - this led to a divergence of Rs 4,176.7 crore in that fiscal.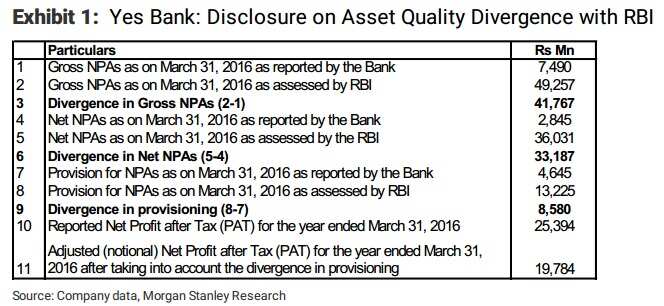 Few questions that arose in the minds of investors and many experts was: Why was there so much gross NPA; why did the banks not report it; is their corporate governance weak; is the bank ignoring NPAs to push growth; is our bank honest? 
RBI in its new guidelines in 2017 said, "There have been instances of material divergences in banks' asset classification and provisioning from the RBI norms, thereby leading to the published financial statements not depicting a true and fair view of the financial position of the bank."
Hence, the divergence trend continued even in FY17, as Yes Bank registered gross NPA of Rs 2,018.6 crore which as per RBI should have been Rs 8,373.8 crore - resulting in divergence of Rs 6,355.2 crore in the same fiscal. 
When divergence in gross NPA arises, that means banks have also made a divergence in provisions which in return leads to reporting a higher net profit in the financial book when it should have been different. 
In the case of Yes Bank, there was a divergence in provisions of Rs 858 crore in FY16, and that of in FY17 it stood at Rs 1,535.9 crore. 


(Image Source: Yes Bank)
This leads to Yes Bank's net profit which was at Rs 2,539.4 crore in FY16 and Rs 3,330.1 crore in FY17.  As per RBI, if divergences were taken into account, then Yes Bank's PAT should have come around Rs 1,978.4 crore and Rs 2,316.1 crore respectively. 
Simply put, that is one exhausting divergence for Yes Bank. In fact, many have also blamed their divergence reporting as the main reason for RBI in rejecting Yes Bank's chief Rana Kapoor's tenure instead demanding for an exit by end of January 2019. Yes Bank is not alone in this list, Axis Bank was first to see their chief Sharma's exit.
All point to a beginning of a new era, if looked at closely one can actually expect many more banks to go through management shifts and new faces may take over soon. Simply put, RBI has sent out a strong message that it does not bluff or spare the ones who disrespect the code of transparency and mislead others about their banking operations. 
In Kotak's view, despite a stronger-than-expected quarter, we prefer a cautious approach as we need to see a (1) firm direction on the movement of NPLs and its impact on credit costs. The divergence report should give an indication if there are any residual risks, (2) change at the senior management and at the board level, and (3) choice of growth and loan mix under the new leadership.
Thereby, Kotak believes, clarity on the above issues should help us get a better understanding of the RoE trajectory in the medium to long term. We maintain SELL rating with fair value at Rs 200 (from Rs 190 earlier), valuing the bank at 1.3X book and 10X December 2020E EPS for RoEs closer to 15%. 
Well now that everything is said and done, now next big thing is Gill's reforms in Yes Bank ahead, and how he manages the divergence they have posted. By end of March 2019, there will be more clarity in Yes Bank's asset quality, and if there is another divergence stored it would be a red flag in outlook. 
On BSE, the share price of Yes Bank has finally ended at Rs 207.65 per piece down by Rs 12 or 5.46%.
 
Get Latest Business News, Stock Market Updates and Videos; Check your tax outgo through Income Tax Calculator and save money through our Personal Finance coverage. Check Business Breaking News Live on Zee Business Twitter and Facebook. Subscribe on YouTube.
Updated: Tue, Jan 29, 2019
10:21 am
Mumbai, ZeeBiz WebDesk