Davos 2020: Budget likely to be a business-friendly one, says TCS COO NG Subramaniam
N. Ganapathy Subramaniam (NGS), Chief Operating Officer, Tata Consultancy Services (TCS), talks about how TCS can play its role in making the world better for the next generation.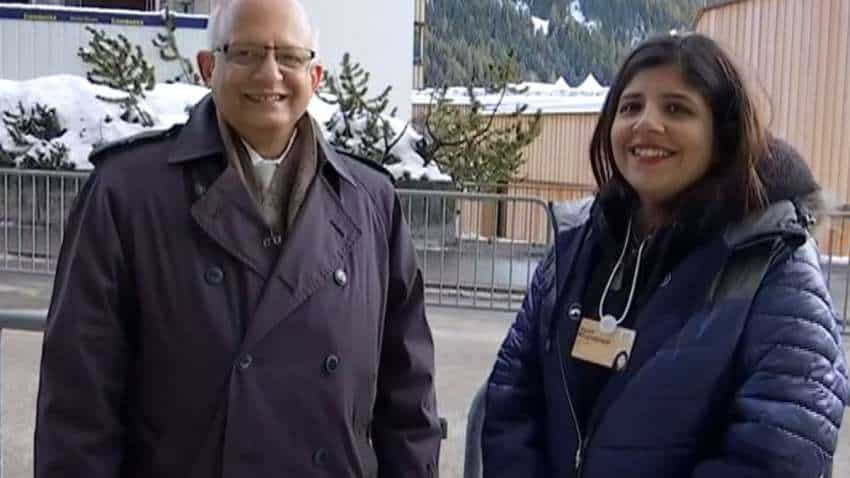 TCS COO talks on expectation from Budget 2020-21 and challenges that emerges from the geopolitical tensions during a candid chat with Swati Khandelwal.
Written By:
Jitesh Kumar Jha
Updated: Wed, Jan 22, 2020
03:55 pm
New Delhi, ZeeBiz WebDesk
N. Ganapathy Subramaniam (NGS), Chief Operating Officer, Tata Consultancy Services (TCS), talks about how TCS can play its role in making the world better for the next generation, technology use for creation of greener world, expectation from Budget 2020 (#BUDGET2020ZEE) and challenges that emerges from the geopolitical tensions during a candid chat with Swati Khandelwal. The interview was conducted on the sidelines of the World Economic Forum in Davos (#ZeeBusinessatDavos). Edited excerpts:
Davos is a big platform where people are talking about sustainability, green & cleaner energy, climate change and global warming among others to create a better world for the next generation. How do you think India can play a role there?
The move that India has made whether it is Swachh Bharat and single-use plastic reduction has caught the imagination of the world community. When I go to any customer meeting, then things start with it and it gives a sense that it is a great thing and then they have to share the fact that we are trying to clean up the country and have a focus on well-being, younger population, ways to bring energy to the younger population and how to make them fit and running. So, it is a great thing to begin the conversation with.
See Zee Business Live TV streaming below:  
As a corporate India and being one of the big IT companies what is your view on how technology will blend with things to create a better and greener world in time to come?
Technology is very important. We have a very strong and young population and their aspirations which is very good. Now, the number of people who have taken up the task of protecting Mother Earth and world life is amazing to see. This is a great thing but the topic of technology is overwhelming for example when we conducted the Hackathon in the school going kids then one of them came with a robot that can pick the dry wastes in a segregated way. Interestingly, the team won the national award on that particular time. So, technology is integral to this particular work. 
Where do you think TCS will participate in it?
We are promoting efforts like cleaning of lakes by providing the kind of technology that can be brought in and how we can resurrect all the dried lakes so that rain harvesting can happen and how do you plant trees around it. And, systematically use technology to grow the right trees at the right place, which is also very important. As you know we have m-Krishi as a platform that helps the farmers to look at the soil conditions and weather conditions and then give them all the market-related information. So, we are leveraging the platform to see how it can be used for improving the quality of life of the larger community. 
What is your outlook on the IT sector for FY21 amid geopolitical risks and challenges like Brexit, US-China and US-Iran among others?
We came here to Davos to find a little bit more about this and to see how our customers are dealing with it. Overall, we felt that things could be pessimistic because some of the consulting firms also launched a survey on it but surprisingly when we met our customers yesterday and today we find them more optimistic then what I thought. From there perspective, I think that the trade discussions are over at least for now. And, then the Brexit is something and there is a clear certainty about it. Directionally, I think, the new government in the UK is pro-business. These are the feedbacks that we are getting and they don't see any headwinds at this point. They think that there are a digital agenda and the transmission at which they are looking at. These things will continue and they, at present, are more optimistic then what I thought they will be. The conditions were the same last year around this time as well and then we got some surprised from the second quarter. So, we have to wait and see but overall, I think that we are in a good position.  
TCS is a market leader with its presence in several countries and you continue to grow. Name the geography that seems to be more promising from which your growth drivers will come from?
Europe is looking very promising. We continue to grow in Europe and are expecting to grow by 15-20% here. On a vertical basis, I think, health care, life sciences and retail all these are looking positive. Banking and financial services appear a little doubtful at this point of time but they are not cutting on the spending. In the quarterly results, we analysed the spending pattern of the client basis and found that they are spending a lot more time on skilling their employees and investing a lot more in artificial intelligence and algorithm development. It is a good thing. This is the first time where they are realising that innovation is surpassing productivity, which is a big thing because of productivity 5%-10% year-on-year basis we used to get either from IT services or operations - Fintech and operations. But the fact is that they are now seeing automation bringing the algorithmic thing into this whole thing that integrates Fintech into that whole solution. This means their efficiency gains or growth gains is a factor in terms of percentage. 
What are your expectations from the upcoming budget for the sector? 
I hope that this will be a business-friendly budget. The way the government has been taking inputs and promoting foreign investments. As well as, questions related to what each industry needs have been asked and we have been very explicit about what we want. The government has been very receptive. So, we are hoping that the finance minister will pull something great for all of us. 
What is your view on GDP and manufacturing numbers where we haven't seen a strong comeback?
All these numbers are one thing but we have to bank on the young population of India. I think that they all believe that tomorrow will be better than today. I went and met youngsters on college campuses or the people who joined TCS and they are extremely optimistic with a belief that the future is going to be much better. Interestingly, they asked me a question that NSG you spent 30 years to reach where you are, if I join TCS can I reach your position in half the time that you took for to get that. Such is the aspiration and energy level that they display. Thus, this is the big hope and strength that India has. I think we need to enable them and be meaningful to them unconditionally. 
Get Latest Business News, Stock Market Updates and Videos; Check your tax outgo through Income Tax Calculator and save money through our Personal Finance coverage. Check Business Breaking News Live on Zee Business Twitter and Facebook. Subscribe on YouTube.