Bharti Airtel blames Reliance Jio for its dismal performance, again
Gopal Vittal, MD and CEO, India & South Asia said, "The sustained predatory pricing by the new operator has led to a decline in revenue growth for the second quarter in a row. The telecom industry as a whole also witnessed a revenue decline for the first time ever on a full year basis."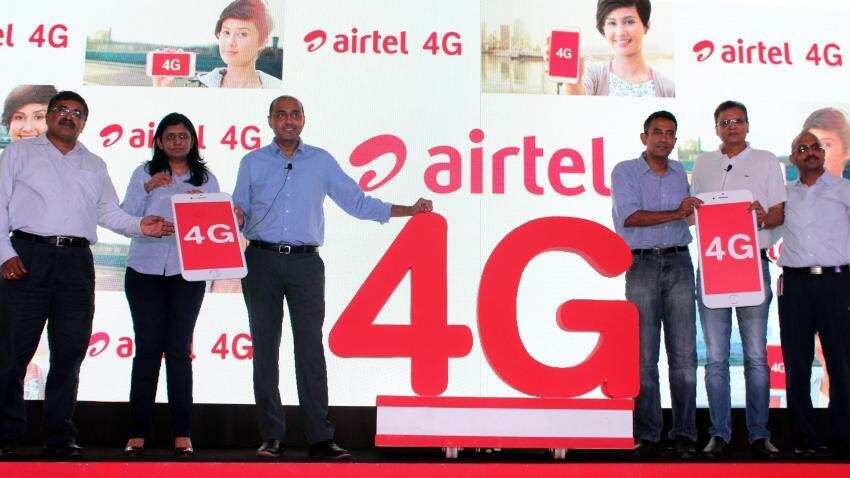 A Bloomberg poll estimated Bharti Airtel's net profit to be at Rs 543 crore. Photo: IANS
Updated: Wed, May 10, 2017
09:06 am
Mumbai, ZeeBiz WebDesk
Bharti Airtel on Tuesday missed analysts estimates by reporting nearly 72% decline in its consolidated net profit for the fourth quarter ended March 31, 2017.
The company witnessed consolidated net profit of Rs 373 crore, a decline of 71.7% compared to Rs 1,319 crore in the corresponding period of the previous year.
A Bloomberg poll estimated Bharti Airtel's net profit to be at Rs 543 crore.
Also, consolidated revenue saw decline of 12.1% at Rs 21,935 crore this Q4, as against Rs 24,960 crore a year ago same period.
Gopal Vittal, MD and CEO, India & South Asia said, "The sustained predatory pricing by the new operator has led to a decline in revenue growth for the second quarter in a row. The telecom industry as a whole also witnessed a revenue decline for the first time ever on a full year basis."
In Q4, consolidated mobile data revenue was at Rs 3,686 crore, down by 14.6% year-on-year (YoY). However, mobile data traffic saw growth of 56.3% yoy at 271 billion Mbs. Mobile Broadband customers increased by 20.5% to 42.7 Mn from 35.5 Mn in the corresponding quarter last year.
Overall customer base in Q4 was at 372,354, registering growth of 4.2% year-on-year and 4.2% quarter-on-quarter basis. 
Vittal added, "The deteriorating health of the industry was compounded by the tsunami of incoming voice traffic from the new operator as a result of which significant investments had to be made just to carry the incoming traffic on our network. The net result of this was a revenue decline of 7.1% in Q4 even as EBITDA margins eroded by 2.9%. FY 16-17 saw a muted top line growth of 3.6% vs the double digit growth witnessed in preceding years."
Consolidated EBITDA (operating profit) stood at Rs 7,993 crore for the period, down by 13% versus Rs 9,188 crore in similar perios of last year. EBITDA margins which was at 36.4%, contracted by 4 basis points on year-on-year basis.
On geographical basis, India's revenue for Q4 fell by 7.1% yoy at Rs 17,036 crore led by mobile drop of 11.4% yoy. Revenue growth was also muted by 3.2%  on account of Nigeria currency devaluation. 
In constant currency terms, Africa underlying revenues grew by 2.6% Y-o-Y. Data revenues at $ 157 million grew by 14.5% Y-o-Y, led by increase in Data customer base by 19.3% and traffic by 77.0%.
Data ARPU stood at $ 2.9 as compared to $ 3.1 in the corresponding quarter last year. 
Bharti Airtel's consolidated net debt has decreased to $ 14,094 million from $ 14,339 million in the previous quarter. 
"Our long term commitment to provide the best experience to our customers continues to drive all our actions in every single aspect of the business. This belief coupled with brilliant execution of our people has led to acceleration in market share in an industry that is now rapidly consolidating," added Vittal.
In its meeting held on Tuesday,  the company's board has proposed a final dividend of Rs 1.00 per share at face value of Rs 5 per share for the financial year ended March 31, 2017, subject to approval by the shareholders (PY: Rs 1.36 per share).