BEML likely to have a strong order book of Rs 16,000 crore by end of FY21: DK Hota, CMD
D K Hota, Chairman & Managing Director, Bharat Earth Movers Limited (BEML), talks about the Rs 557 crore order from Defence Ministry, order book, Atmanirbhar Bharat, JVs and divestment among others during an exclusive interview with Swati Khandelwal, Zee Business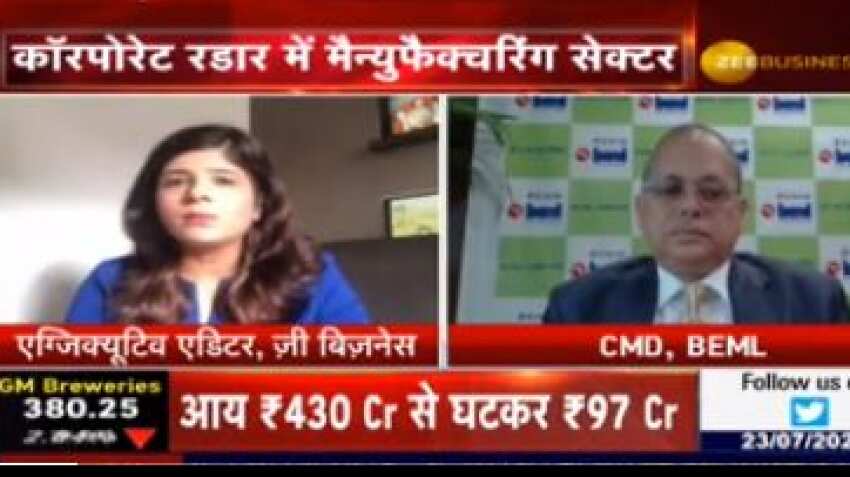 "We are supposed to provide 1,500 mine ploughs of which 10 ploughs should be provided this year and the order will be completed within seven years," DK Hota said
Written By:
Jitesh Kumar Jha
Updated: Tue, Aug 04, 2020
12:22 pm
new delhi, ZeeBiz WebDesk
D K Hota, Chairman & Managing Director, Bharat Earth Movers Limited (BEML), talks about the Rs 557 crore order from Defence Ministry, order book, Atmanirbhar Bharat, JVs and divestment among others during an exclusive interview with Swati Khandelwal, Zee Business. Edited Excerpts: 
Q: BEML has won Rs 557 crore order from the Ministry of Defence in the recent past. Please run us through the details of this order and the margins that are expected from the order and the timeline by which deliveries will be made?
A: The order that we got was won on competitive bidding, even private sector was bidding on it. There are margins in the orders that are won through competitive bidding but they are bit stressed one. We are supposed to provide 1,500 mine ploughs of which 100 ploughs should be provided this year and the order will be completed within seven years.
Q: With this new order, where does your total order book stands currently and what is the revenue visibility it provides and what is the total order book that is expected by the end of the year?
A: We have a healthy order book and today it stands above Rs 10,000 crore. And, we have received some defence orders in recent past due to which the defence orders have increased by 27% at the beginning of the year and we are expecting some more orders, also. So if I share the details vertical wise then we have an order of around Rs 1,600 crores in the mining and construction segment and orders expected further during the year is another Rs 1,000 crores and we are expecting to do about Rs 1,800 crores in mining. After that at the end of the year, we will have orders worth Rs 2,600 crore from mining. As far as defence is concerned then we have orders of more than Rs 3,000 crores and we are expecting another Rs 1,000 crore orders soon and by the end of the year another order worth of Rs 530 crore. This will take us roughly to Rs 4,700 crore orders for defence. We have the highest order of around Rs 5,500 crore from rail and metros and we are expecting another Rs 900 to Rs 1,000 crore soon and by the year-end, if we are positive we should get another Rs 2,300 crore orders. So we have a net order book or Rs 10,000 crore, even after implementing them during the year, we will have orders ranging between Rs 15,000 crore to Rs 16,000 crore. And the maximum of these orders will be based on Atmanirbhar. 
Q: I want to understand the role that Atmanirbhar Bharat is playing and the government is expecting great support by companies like yours. So let us know about the kind of initiatives that you have undertaken and the kind of JVs you are seeing in the coming future? Also, let us know about the kind of response that you have received in the facilities that you have opened up and invited international players to come and join you in manufacturing in every segment?
A: Atmanirbharta is in our DNA. Bharat Earth Movers Limited (BEML) was created in the womb of the Atmanirbharta. Those were the days when dumpers and dozers were imported and that was a reason that BEML was formed. Over the years indigenization has been a big plank of our strategy. Under the government's guidance, we have issued an expression of interest on every product that is being imported as we want to go towards zero import on whatever item is being imported. And there are some specific countries - I don't want to name them – from where we don't want to import and we are making a special drive for the purpose. This is about indigenization. The second is related to our expression of interest for a tie-up with various companies, the origin of foreign OEMs. We have three verticals, rail and metro; mining and construction and defence and aerospace. We have received very good response in all the three verticals. Currently, they are being examined as we don't want to enter into everything. There are many things where we can enter but we want to examine them carefully on the parameters of strength, weakness, opportunities and threats (SWOT) in line with the future strategy of growth. We are also in the process of engaging a world-class consultant to help us to look at these opportunities. We are very bullish, today. 
When it comes to the Atmanirbhar products that we have made in the recent past then you would be aware of the 150 tonnes and 190 tonnes dump trucks that we provided for mining and construction. Interestingly, probably there are just 4-5 companies in the world who have made such trucks, to date. They were designed and developed indigenously and they were not based on any foreign design. A lot of efforts were made to sell and the first product was bought by Coal India and they were very happy with it. Now, they have placed an order of another 15 trucks.
Similarly, in the case of Atmanirbhar products in the defence, we are receiving calls from the Army asking us that can we make this product or that. During the call they say these products were being imported till date but, now, we want you to make those for us. I would not like to go into the details except to say that Atmanirbharta products are being developed in every vertical. For instance, we have got an order of Mumbai Metro, which is going to be the first unmanned train operations in the country. It is manufactured by the Bharat Earth Movers, however, it is being developed with foreign tie-ups and technical collaboration but it is being developed on our Atmanirbharta. We always keep a track on the percentage of indigenization in all our three verticals. Our indigenization is more than 90% in the case of mining and construction and it is about 80% in Defence. In the case of rail and metro, indigenization stands at 100% in the rail but in the case of the metro, some customers want usage of customer nominated products as they are proven one because metro involves the security and safety of the passengers. This is why we don't want to take a chance by indigenization until the indigenous products are not proven. So, we have around 65% indigenization in the case of metros. So net-net, we are moving towards 100% indigenization. 
As far as Joint Ventures are concerned then yes at the moment we are making a 1,500 horsepower engine for main battle tank. It is an Atmanirbhar product. Secondly, we want to develop cabins of our trucks, which were earlier imported, by taking a ToT in Make in India Park in India itself. Thirdly, we want to make a JV with the company concerned for defence spares, which were being imported, to make sure that they are 'Made in India' and it can source it from India. Lastly, we are also going to make a JV for the propulsion of the metro. Propulsion is a very major aggregate and it contributes about 25% of the cost of the metro coach. So I think that BEML has a good future for itself on Atmanirbharta and the government is fully supporting us.  
Q: You were talking about JVs with a Czech and Japanese company for propulsion and auto component. What is an update on it and what are the timelines by which they will be signed or announced?
A: They are in the process of being done and they have been approved at the board level. Firstly in the case of the Czech company, we manufacture Tatra trucks and we want to manufacture its spares in India. Certain spares are imported and we have asked them to manufacture them in India and use it as sourcing for your worldwide production. Secondly, we want to make propulsion with the Japanese company and it is being discussed. We have identified land for the purpose and it will take off soon. 
Q: You have called the expression of interests (EoIs) for JVs and studying them and will also appoint an international consultant for the purpose. Can you let us know the timeline for the same in terms of next announcements as the EoIs have reached you? 
A: As far as the expression of interests is concerned, then prima facie, going by our first level of assessment there are certain areas where we want to enter directly, for example, underground mining equipment and longwall mining among others. These are the products that are imported to India and are sold at high rates. So Coal India, who is our biggest customer in mining and they have asked us why we are not manufacturing these products at our end. A few days back, during my conversation with Coal India, Chairman, I told him that we want to enter into the segment but we have to involve Coal India also then he said, go ahead. So, I think that it is one thing that will take off soon.  
Second is related to metro especially in metro rail and metro space and we want to enter into light rail systems, rapid rail transportation and tramways. There are several opportunities in the segment, which will take up from the ground but it will depend on when their tenders are out. We will enter into the segment once their tenders are out. 
The third is related to defence where great opportunities are available in armoured recovery vehicle and tank aggregates and we are examining it. I feel that some of these will start taking shape in the next 4-5 months. 
Q: The market is expecting that some announcement will be made about strategic divestment. BEML was the first company whose name was announced by the government but then no action was seen on the front. What is its status now and there are reports that there was meeting with the government where strategic divestment was discussed and the company want to sell 26% stake to some foreign player strategically? What is the timeline for the same?
 A: Your information is absolutely on the Dot and you are even aware that we had a meeting two-three days back with the government. Constant discussions are being made with the government and BEML was the first to be named for disinvestment and the government said that of the 54% shareholding will be reduced and 26% will be provided to a strategic partner. We have to go through a process to know who is going to be the private partner and various consultants have been appointed for the purpose. So, I think that DIPAM Secretary in coordination with our administrative ministry secretary Defence production will be able to take it forward very fast now. Because a lot of things have happened like consultants have been appointed and timelines have been frozen. So, a little bit of approvals from here and there should help us to take it off the ground. But I have requested the government to do whatsoever it wants at the earliest because in the last three years concern has developed among people that we will be privatized. I have told our people that you will not be affected, whether it is a private sector or a public sector if you are someone who can work and nobody can throw you out as there are fears that they may lose their jobs. I am very happy to share with you that our results have been very very good in the last three years and I think that it is a tribute to the manpower at BEML.
See Zee Business Live TV Streaming Below:
Our R&D is very strong and people are motivated. So either which way whether we get divested fast or slow or we stay as a private sector or a public sector that is completely a government play. But BEML as a company I can assure you that is going to go much greater heights than what it is today. It is a case of unrealized potential as I can see enough potential in BEML and we can realize it in coming years. 
Get Latest Business News, Stock Market Updates and Videos; Check your tax outgo through Income Tax Calculator and save money through our Personal Finance coverage. Check Business Breaking News Live on Zee Business Twitter and Facebook. Subscribe on YouTube.