Asian Paints has opened 18 stores in Home Décor: Amit Syngle
Amit Syngle, MD & Chief Executive Officer, Asian Paints Ltd. talks about Q4FY21 number, Impact of lockdown and restrictions in different states, dealership situation, margins, tie-up with designer Sabyasachi among others during a candid chat with Zee Business Executive Swati Khandelwal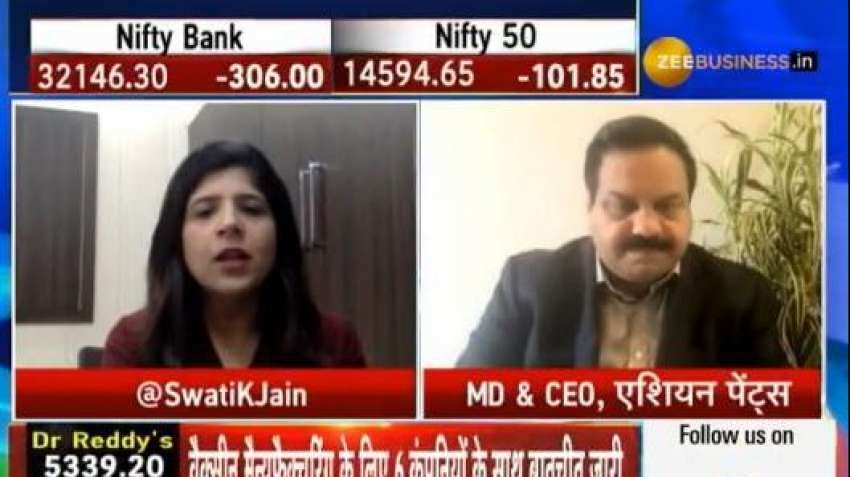 "I think the current situation is extraordinary and we saw that the lockdown situation started in April, first it was in Maharashtra, Karnataka and Delhi," Amit Syngle said
Written By:
Jitesh Kumar Jha
Updated: Mon, May 17, 2021
04:06 pm
New Delhi, ZeeBiz WebDesk
Amit Syngle, MD & Chief Executive Officer, Asian Paints Ltd. talks about Q4FY21 number, Impact of lockdown and restrictions in different states, dealership situation, margins, tie-up with designer Sabyasachi among others during a candid chat with Swati Khandelwal, Zee Business. Edited Excerpts:
Q: Q4FY21 has been a brilliant quarter for the company as it has posted 48% volume growth. How much will you attribute to the base effect? Also, the company is gaining market share from the unorganized sector. Tell us about the overall performance?
A: If we look at the Q4FY21 results then definitely, the results have been quite good. I would like to inform you that if we will look at the analysis of the three months, our volume growth in January and February stood above 20% and in March, because the base was low last year, due to which there has been a very good overall growth. So, I think that this growth has come not just because of the low base but overall we have seen a good demand in the market. Two-three things that we understood which are quite different from Q3, although our overall growth rate in the third quarter was quite good, the things that have changed include the projects that we see today, which is in the market, see new construction and real estate, has encouraged us a lot. I feel, especially in quarter four, the new construction, big complexes, institutional sales have provided a good pick up and this is a big reason that has encouraged the overall demand.
See Zee Business Live TV Streaming Below:
Q: How the lockdowns and restrictions imposed in many states are impacting the business? Which segment could be a matter of worry for the company? 
A: First of all, I would say that obviously, I think the current situation is extraordinary and we saw that the lockdown situation started in April, first it was in Maharashtra, Karnataka and Delhi. So, I think we saw some disturbances in April itself, which started in the country and the cases were increasing rapidly. But I would say that April has been good to a great extent for us because the overall situation was not such that everything was closed. In many places, we saw that markets were open, some segments were open. So, overall, I think, April has been good for us. Only in the last week of April, we saw that most of the states were going into a lockdown, so, a little bit of impact started in April to an extent. But as I see it, the month of May seems to be quite tough because in May the situation is almost similar to the national lockdown because at many places, the situation is such that markets are closed but I think that we are trying a lot because overall our factories are open and we are trying to provide supplies to the open markets.
But it would be right to say that the ongoing situation is quite difficult and demand levels have hit a lot in the month of May. I think, it will take some time to get out of this. Data from cities are also showing a declining trend in the cases but the cases are growing in the interior markets. So, I think, till the vaccination rate is not increased, it will take some time to reopen the markets and the demand is affected in May. 
See Full Interview Here:
Q: Can you give us a sense of inventory level in the market, is there a significant increase and what is happening at the dealer level? Also, update about the liquidity position and current capacity utilization? 
A: Overall, if we see, we are taking care of our dealers. We are in constant touch with them to know what is their requirement, which type of facilities can we provide to them, what kind of medical help can be provided to them and how we can give them confidence that we are standing with you. So, we are doing it continuously and in the process, our front line people and managers are constantly communicating with them. We have also tried to provide maximum money for our schemes and other avenues to the retailers to make sure that their liquidity situation is maintained. We have tried it a lot and in April we have transferred a big amount to them. Overall, as far as, credit is concerned, we are open and yet we have not seen that it is creating any problem in the market because overall shops are closed and business is not happening. So, the company has focused a lot on liquidity and we understand that we will continue to have a look at it. If there is insurance for COVID or something else, the company has come forward and helped. So, I feel that we are standing with our dealers. As you said, it is a universal thing, whether it is a big city or a small city, everywhere there is a fear about what will happen next. So, constantly, we are communicating with our dealers and it is necessary to do this at this particular time and maintain a good relationship with all the dealers. 
Q: The margins have increased in this quarter but not as much as we thought. Why is this so and has the company has not been able to pass on the rise in raw material prices? What is the outlook on margins going forward and is the company taking any price hike?
A: Overall, if you will look then the price inflation started in the last week of December 2020. If we will look at the entire fourth quarter, there has been price inflation of around 7-8%. We took a decision – following the demand situation – to not take any price increase in the quarter because we wanted to maintain the demand. And, psychologically, we did not want to upset the customers by taking any such a price increase at such time. We strongly paid attention to our formulation efficiencies, sourcing efficiencies and overall cost head. And, I feel, our performance has been very good in the fourth quarter. Overall, margins have been affected by around 2% and were not impacted as much inflation was there in the market. We have taken a price increase of 2.8% on May 1, 2021, and it has been transferred to the market. Going forward, I feel that if this inflationary pressure will be there then we may take price increases in the future. 
Q: The company is growing its focus on home furnishing and as an extension of your business, recently, the company has also tied up with designer Sabyasachi to launch designer home furnishing under the brand Nilaya. Can you tell us more about this and how big is this segment and what are the growth prospects? What is the overall product launch pipeline?
A: If we will look at the home decoration business, we call it a home décor business and we have focused strongly on it. We already have a kitchen and bath business in which we have at least 18 stores in the market and they are quite big stores, home décor stores, it has been named as beautiful home stores. Through these stores, we provide complete guidance under one roof for everything that can be installed at the home from lighting to furniture to furnishing to bath to bathroom, so that they can decorate their home and be happy. So, we have kept a very strong initiative. In addition to this, we have a beautiful service in which we can decorate your entire home and provide guidance and take it ahead. So, it is a quite strong foray and it has a relation with paint because the paint is an important part of the decoration of the home. So, a combination of all these factors will also increase the cost of paint for us and at the same time, we have strongly tried to increase our kitchen and bath business in this. I think, we will continue to be engaged in this because it is a strong customer requirement and the market is generally dominated by the unorganized player to an extent, therefore, we want to increase our brand equity in this. 
Get Latest Business News, Stock Market Updates and Videos; Check your tax outgo through Income Tax Calculator and save money through our Personal Finance coverage. Check Business Breaking News Live on Zee Business Twitter and Facebook. Subscribe on YouTube.