Aditya Ghosh, a lawyer's journey in India's largest airline IndiGo
Indigo accepted the resignation of Aditya Ghosh, President and Whole Time Director of the Company, from the post of President of the Company effective July 31, 2018 and as a Director of the Company with effect from April 26, 2018.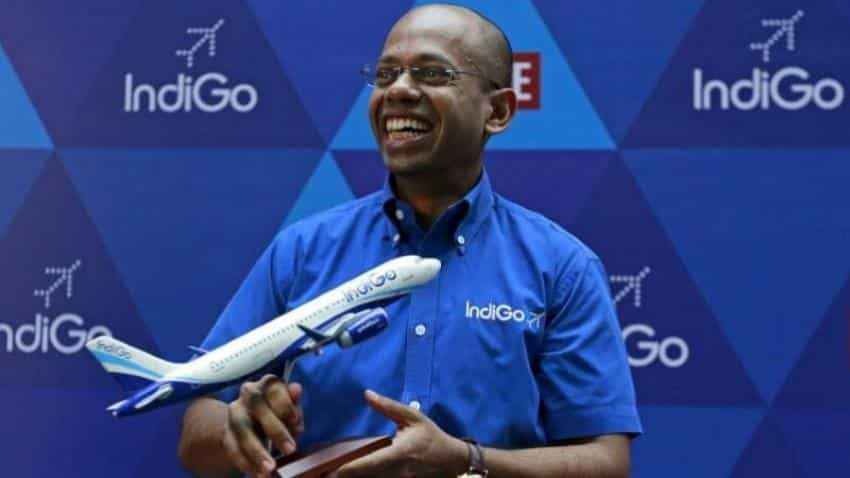 InterGlobe Aviation, the company that operates IndiGo, the top airliner in the country, revealed that President Aditya Ghosh will be quitting effective July 31, 2018. Image source: Reuters
Interglobe Aviation (Indigo), which recently touched a new high on stock exchanges, faced investors heat on Friday, as the airline's stock price tumbled by nearly 7% after Aditya Ghosh decided to step down from his post as President and Whole Time Director during the day. The news came in as shock to investors and it did not take long for them to remove their money from Indigo stock. The airline has been operating under Ghosh's leadership for more than a decade now, and it has touched new milestones in the aviation industry due to Ghosh's skills. Rahul Bhatia will be acting as an interim chief executive officer of Indigo till a new CEO takes over. 
Indigo was founded in 2006 as a private airline by Rahul Bhatia of Interglobe Enterprises and Rakesh Gangwal a United States based NRI. In just two years of it's operations Indigo, instead of searching for an experienced outsider, gave the 37-year old lawyer Ghosh the charge of the airline in August 2008. This was despite Ghosh's total lack of operational experience. 
Indigo took Ghosh on board on May 30, 2007, and the role of President was offered to Ghosh in August 2008. 
Ghosh previously practiced corporate law with the law firm Sagar Associates and the intellectual property law firm of K&S Partners (formerly Kumaran & Sagar).
On Friday, in a notification, Indigo said, "Accepted the resignation of Mr. Aditya Ghosh, President and Whole Time Director of the Company, from the post of President of the Company effective July 31, 2018 and as a Director of the Company with effect from April 26, 2018."
The reason behind the Ghosh's resignation is still unknown. And till the time, Indigo finds Ghosh's successor, Bhatia will be acting as the  Interim Chief Executive Officer of the company. 
Under Ghosh's leadership, Indigo has touched new highs regularly. 
Indigo which had just 15 aircraft by end of 2007, replaced the state-run Air India as the third largest airline in December 2010, just behind Kingfisher Airlines and Jet Airways with a market share of just 17.3%. 
After completing just five years of operation, Indigo got permission to launch international flights, and for this first service began in September 2011.  Not only this, Indigo even bagged an order of 180 Airbus A320 aircraft with a deal worth $15 billion. 
This was not it, under Ghosh's leadership Indigo further took delivery of its 50th aircraft in just less than six years in the month of February 2012. By end of March 2012, Indigo became the most profitable airline and also the second largest airline in the country in terms of market share. In what seemed like a blink of an eye, Indigo became the largest airline in market share surpassing even Jet Airways. The growth trend of Indigo was within two years between 2010 and 2012, and that too just six years after inception. 
Since then Indigo has maintained its leadership as the largest airline in India. 
After surpassing domestic carriers, Indigo became the second-largest growing low cost carrier in Asia just behind Lion Air in January 2013. 
Indigo also became the largest single airline to bag 250 Airbus A320neo order for worth $27 billion in August 2015. 
Later the airline announced it's IPO on October 19, 2015 offering shares worth Rs 3,200 crore. Indigo got listed at a premium of 12% to Rs 856 per piece on BSE compared to it's IPO issue price of Rs 765 per piece. Between November 2015 to till date, Indigo has given returns by nearly 76% and has touched a high of Rs 1,520 per piece on April 20, 2018. 
However, after Ghosh's resignation, on Friday the airline finished at Rs 1,406.80 per piece on BSE, down by Rs 93.10 or 6.21%. 
In terms of financial performance, Indigo has witnessed some major changes. 
Indigo's revenue from operation which stood at just Rs 3,825.40 crore in FY12, increased to Rs 5,552.40 crore in FY13. Within two fiscal year, Indigo more than doubled it's revenue from operations. The airline which stood at Rs 11,165.58 crore in March 2014, jumped to Rs 13,925.34 crore in March 2015 fiscal. By end of FY16, Indigo's revenue touched to Rs 16,139.90 crore and further to Rs 18,580.50 crore in FY17. 
The company is yet to announce it's year end performance for fiscal FY18, but in nine months of the current fiscal, Indigo's revenue now stands at Rs 17,221.77 crore. 
As for net income, Indigo has faced some ups and downs. The PAT which stood at Rs 650.32 crore in FY11 more than halved to Rs 127.87 crore in FY12, and further the loss continued to Rs 31.69 crore in March 2014 fiscal. The airline bounced back with a PAT of Rs 1,304.17 crore in March 2015, further rose to Rs 1,986.16 crore in FY16 and tumbled to Rs 1,657.02 crore by end of FY17. 
The fiscal year FY18 looks optimistic for Indigo, as in nine months of the fiscal the company has already touched a PAT of Rs 2,124.73 crore. 
Now Indigo is India's largest passenger airline with a market share of 39.5% as of March, 2018. Since our inception in August 2006, the airline has grown from a carrier with one plane to a fleet of 161 aircraft today. Currently, Indigo operate flights connecting 50 destinations – 42 domestic and 8 international and have started selling tickets to one additional destination.
Coming to Ghosh who is 42, received a total salary Rs 27 crore by end of FY17. The salary also included a one time incentive of Rs 20.9 crore
First award that Ghosh received was in 2011 at the NDTV Profit Business Leadership Awards 2011 as the 'Young Business Leader 2011'. He also bagged an  international award, ' Low-Cost Leadership', at the World Airline Awards, London 2011. There was no stopping to Ghosh, as he was listed in the Fortune Magazine's "40 under 40 list" on 27th position globally. 
In 2013, Aditya was recognized with a GQ 'Businessman of the Year' award, followed by a nomination for the CNN-IBN 'Indian of the Year' award in the business category and SABRE's 'CEO of the year' award in the same year.
Therefore, such resignation comes as a shock to many as Ghosh did gave an amazing ride to Indigo. Well, who will be Ghosh's successor will be eagerly awaited. Meantime, how the airline performs in the coming weeks, is what will be keenly watched. 
 
Updated: Sun, Apr 29, 2018
10:01 am
Mumbai, ZeeBiz WebDesk