15 pct stakes of IRCON to be divested soon: SK Chaudhary, CMD, IRCON
SK Chaudhary, Chairman-cum-Managing Director (CMD), IRCON, talks about the quarterly results, the business outlook in FY21, working capital, debt and order book among others during an exclusive interview with Zee Business Executive Editor Swati Khandelwal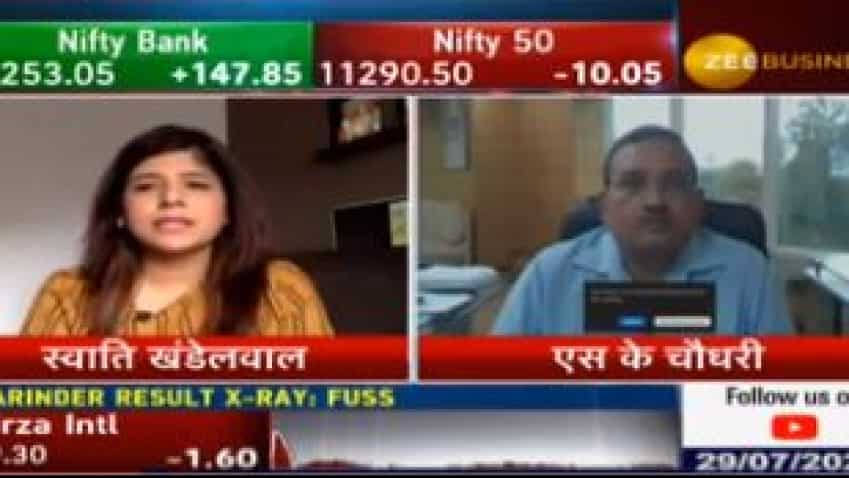 "We are working on 35 projects and gradually the work has started on them as labours have started coming. We have attained 50%-60% performance of last year," SK Chaudhary said
Written By:
Jitesh Kumar Jha
Updated: Fri, Jul 31, 2020
08:01 pm
new delhi, ZeeBiz WebDesk
SK Chaudhary, Chairman-cum-Managing Director (CMD), IRCON, talks about the quarterly results, the business outlook in FY21, working capital, debt and order book among others during an exclusive interview with Swati Khandelwal, Zee Business. Edited excerpts: 
Q: IRCON's performance in Q4FY20 was very strong. Now, we have moved to FY21 and I want to know about the kind of performance you are anticipating this year and how COVID impacted your business? What is your business outlook for the year?
A: Definitely, the company's last year's performance has been very good and our revenue from operations has increased by 18% and the PAT (Profit After Tax) on which we are operating also stands around 10%. So, the company has done a wonderful performance last year. This year because of CORONA there has been a slight problem in our output as much work was disturbed between April and mid of May. Now, we are working on 35 projects and gradually the work has started on them as labours have started coming. We have attained 50%-60% performance of last year. I believe that we will be able to reach 90%-100% performance by this September or October. The effect of Corona is gradually reducing and the labour is very happy with the precautions, we are taking on the site. They are living in the camp and we also provide food to them there. Thus, we take care of our people and this is why I believe that the performance will once again reach the 90%-100% market by September or October. 
Q: Has lower execution led to any strain on working capital? How are you managing the situation?
A: IRCON is not facing any problem in working capital because it still has reserves of Rs 2,500 crore of which client advance is about Rs 1,200 crore for various projects and remaining Rs 700 crore is our own. After this, we are also liquidating some of our assets that have been funded in the rural sector. There we are replacing the loans by taking loans from the banks, which already has been approved and it also stands around Rs 800-900 crores. So, liquidity is not a problem for us. 
Q: We have seen some pressure in margins on lower execution? Do we expect further strain in coming quarters?
A: We are controlling some of our expenditure by curtailing something through in-house saving and it will help in saving some of the expenditure. But as our turnover goes up, which is expected to happen after September or October, then I believe that our margin will be around 1% low or equal to the last year's margin. It won't cause much difference in our margin. 
Q: You have maintained a healthy order book and closed the last year with an order book of around Rs 30,000 crore. Going forward, what is your outlook on the order book and what kind of new orders have you bagged in FY21 so far and how many are in the pipeline?
A: We have placed bids for tenders worth Rs 10,000 crore. It includes tenders of National Highway Authority of India (NHAI), National Capital Regional Transport Corporation (NCRTC) and other clients. And, we expect that we will definitely get orders worth Rs 2,000-3,000 crores. Apart from this, the Railway Ministry has also qualified some PSUs on PMC basis and we have qualified in every sector. Most probably in August, we may get some more work, like newline, electrification, and signalling among others, from the Railway Ministry. It is expected that we can get orders worth Rs 4,000-5000 crore from it. So, I hope that we will be having around Rs 4,000-5,000 extra orders by September or next quarter.
Q: Tell us about IRCON's performance on highways segment and international business and what is your outlook on them and their contribution in terms of top line and bottom line?
A: Railway related works has around 80% contribution in our turnover and the remaining 20% comes from the highway projects. The highway project that is running in Karnataka is on track and will be completed within time. However, the Mumbai Expressway project will be delayed by 2-3 months. Most impacts were felt in Gujarat, the state from which maximum labours went back and we faced certain problems there. But, we will, hopefully, complete our work there by June 2021. So, our performance is good in the highway sector. In the case of international markets, our talks were at the advanced stage on many projects, which cooled-off due to COVID. Stoppage of movements is not allowing meetings but the talks are going on through emails and video conferencing. It gives us confidence that we will get something from it. Interestingly, there is a good and assured funding in these projects. They are strategic projects and we hope that we will get these projects in the international markets. 
Q: Are you looking at any new markets where you feel that there are opportunities to enter?
A: A lot of people have approached us including a country in the Middle East, who is willing to develop a railway line and talks have reached an advance level in it. Similarly, there is a big project in Africa and they have asked us to participate in it. These are a few projects where they have approached us by the name and asked us to come along with them. Funding agencies and local governments are involved in these projects and we expect that we will be working in it. Likewise, we have also received an email from the Far East in which they have said that they want to work with us in railway projects. Hopefully, these projects will take some more time to fructify, maybe 6-8 months, due to COVID, but the talks are going on these projects. 
Q: If we have a look at your books than you are sustainably reducing your debts. What is the debt situation of the company? Going forward what are the plans on debt reduction?
A: We took a loan of Rs 3,200 crore and took a plot in Bandra from it. Out of that, as on date, we have a loan of about Rs 1,800 crore and Rs 1,400 crore has been paid. The remaining loan will be paid in the next three instalments; however, this is a secured loan, which means IRCON's balance sheet is not affected by it. Because it is a guaranteed loan and is to be repaid by the Ministry of Railways and we have to exploit this project as soon as the situation of the projects improves. Real Estate is down now so we will earn revenue in it and railways will get good money from this. 
Q: The government has plans to reduce its stake in IRCON. What is an update on it in terms of timeline and the stakes that will be brought down?
A: 10% stakes of the company were sold in 2018 and it should be reduced to 25% in the next two years, as per SEBI guidelines. Right now, there can be 15% divestment in it. The government will decide how much to do and they have already appointed a merchant banker for the purpose and we have had a meeting with them and they are saying that it will be started in August but the government will take a call on how much should be divested and when it should be done and the process is on. 
Q: The government has plans to build a big engineering company as a PSU and you can plan an important role in it. Can you please update us on the kind of activity or development can be seen there? If there is a merger in the form of India's strong PSU Engineering Construction Company then what is your view on it?
 A: If there is an engineering company in the Railway then it is very good. Similarly, if there are two-three engineering companies in every sector then their concentration can increase their work greatly. There are many companies in the private sector and those are also developing a lot. The pace of growth will increase if more construction companies are present in India and are working. It will also enable the delivery of infrastructure. PSUs also work for development as other companies.
See Zee Business Live TV Streaming Below:
I believe that this is a good call there should be at least one strong PSU engineering company in every sector, as they will be able to get the work done. This is a good move by the government. 
Get Latest Business News, Stock Market Updates and Videos; Check your tax outgo through Income Tax Calculator and save money through our Personal Finance coverage. Check Business Breaking News Live on Zee Business Twitter and Facebook. Subscribe on YouTube.