The new era for automobiles! Why electric cars could be better for you than fuel-based vehicles
There is not one but many reasons to why you should opt for electric cars rather than fuel-based cars.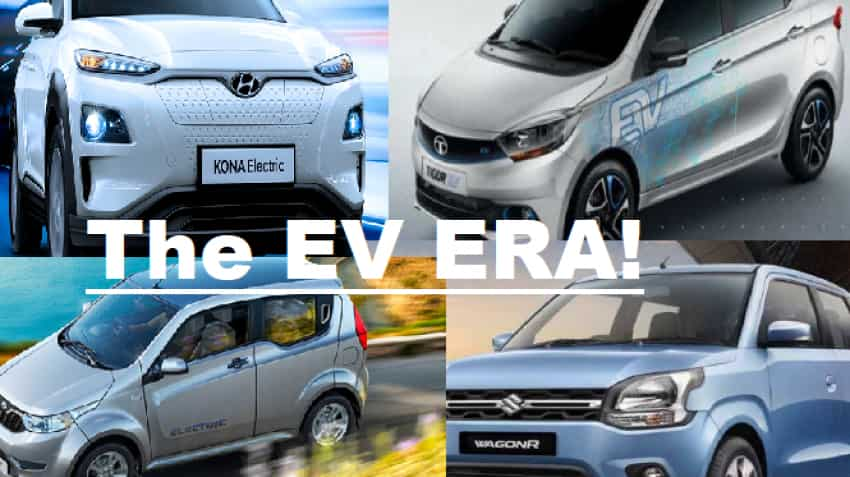 India aims to have gas-free cars aka electric vehicles entirely by 2030. Photo: Maruti Suzuki, Tata Motors, Hyundai, M&M Official Website
Updated: Mon, Aug 12, 2019
04:07 pm
Mumbai, ZeeBiz WebDesk
India aims to have gas-free cars aka electric vehicles entirely by 2030. And, the government seems to be serious about transforming country's automobile sector. Hence, the announcement made in Union Budget by Finance Minister Nirmala Sitharaman, paved further way  for both automakers and customers to shift to electric cars. There is not one but many reasons why you should opt for electric cars rather than sticking to fuel-based cars. Currently, China, Europe and the United States rule the electric vehicle segment with exciting and amazing cars that are not only fuel efficient but also also safe and easily accessible. It's no mystery to why, citizens across the globe are gaga over Elon Musk's Tesla models. Electric cars definitely make things easier for you in terms of money, savings and as well travelling. 
The Budget push! 
In the Budget 2019 speech, Sitharaman points out that, Phase-II of FAME Scheme, following approval of the Cabinet with an outlay of Rs 10,000 crore for a period of 3 years, has commenced from 1st April, 2019. The reason behind the scheme is to encourage faster adoption of Electric vehicles by offering upfront incentive on purchase and also by establishing the necessary charging infrastructure for the vehicles. 
That was first, but then Sitharaman gave even more good news by lowering GST rate on electric vehicles from 12% to 5%. Also, to make electric vehicles affordable to consumers, government will provide additional income tax deduction of Rs 1.5 lakh on the interest paid on loans taken to purchase electric vehicles. 
All these are aimed to leapfrog and envision India as a global hub of manufacturing of Electric Vehicles. Inclusion of Solar storage batteries and charging infrastructure in the above scheme will boost is expected to drive the effort. 
What China, US and Europe have done? 
In 2018, electric car sales saw amazing boost, with China being the market leader by far with great figures, followed by Europe and the US. Over 2 million plug-in electric cars were sold witnessing 63% rise in 2018 compared to a year ago. The sales figures include battery electric vehicles (BEVs) and plug-in hybrid electric vehicles (PHEVs) involving passenger cars and light-weight commercial ones. Overall, 69% sales were recorded in BEVs. 
In overall electric vehicle market, China is growing faster and dominating with sales rising by 86% in 2018, whereas Europe's market grew by 33% and US' sales surging by 75%. Even though China is a market leader, Musk's Tesla outpaced the Chinese BYD in 2018. 
In  China, the best selling EV would be BAIC EC-Series registering sales of 90,637 units up by 16% on a yearly basis. The car was followed by BYD-Qin which added 47,424 units, JAC iEVS/E sold 46,586 units, BYD e5 sold 46,213 units and Cherry eQ registered 39,374 units in 2018. 
Meanwhile, in Europe, Nissan Leaf, Renault Zoe, BMW i3, Mitsubishi Outlander PHEV and Volkswagen e-Golf are top five electric cars who also registered sales of 40,609 units, 38,538 deliveries, 24,432 units, 23,921 sales and 21,252 deliveries respectively. 
As for US, Tesla's three cars take place in top 5 with Model 3 being the leader overall in the country, by recording sales of 140,000 deliveries in 2018. At second place would be Toyota's Prius Prime PHEV with 27,595 deliveries, followed by Tesla Model X with 24,900 deliveries, Tesla Model S with 24,781 units and Chevrolet Volt with 18,306 deliveries.  The above data has been compiled by CleanTechnica. 
Coming back in the current year, it is expected that Tesla and BYD will continue to dominate the segment, and grow faster than the market itself. But India has also prepped up with their own version as automakers like Mahindra & Mahindra, Tata Motors and Maruti Suzuki are intensifying the competition back home. In fact, Tata Motors luxury car brand Jaguar Land Rover which is a latest entrant in electric vehicle has also joined hands with  BMW to enhance and explore the segment. 
Where is India's EV segment currently? 
A 'Gear'ed for Disruption? 2.0 Investor conference, held by SBICap Securities revealed that, electric vehicles (EVs) were a fledgling proof of concept, looking for acceptance back in 2017. Nearly years later, the scenario is changing rapidly. Led by technological advances, strong 2 government push, and rising interest, EVs are a buzzword today and appear set to 'disrupt' the market. 
However, currently the problem with Indian electric car is its acceptance and popularity.Many auto experts and automakers did pointed out their views in this conference. Here's what some said! 
"Different EVs have different charging requirements, which are further exacerbated by a nonuniform charging standard. Absence of a proven business model, risks of obsolescence, lack of regulations, and coordination with various government bodies, are leading to implementation delay," Manasvi Sharma, Head, New Business Services, Tata Power said in the conference. 
While, Vaibhav Kumar, MD, Advanced Structures India said, "EV range reality remains far different from advertised. In the worst case, 2Ws and 4Ws have delivered ~55-65% of their advertised ranges due to the above-mentioned factors, which makes it very challenging for customers to determine the required range." 
As,  Shalendra Gupta, Co-Founder & CFO, Altigreen Propulsion Labs said, "Most EVs in India today expect buyers to compromise, and that is the reason why there are no buyers for EVs."
But the government's move for electric vehicle push is definitely a beginning for something great in this segment and for citizens of India.  Anil Srivastava, Principal Advisor, Niti Aayog said, "Given our scale and high growth potential, India can globally lead the disruption in the mobility industry. Based on industry readiness and customers' acceptability, we identified 2Ws and 3Ws as low-hanging fruits for the EV shift." 
Reasons why electric cars are best against gas-based car! 
One of the first reasons would be that electric cars are less costly compared to conventional gas vehicles. It's not limited to the amount of electric car, but also they help in saving a lot of money in usage as well. For instance, there is no gas to buy, no smog tests, fewer moving parts, no oil changes, easily accessible, environment free, less repair or service bills, etc. are some reason why electric cars should be an obvious choice. Even when you buy a fuel-based car, you just don't pay the market price for the car, but have to every year manage it with a host of services. While fuel cost just makes it even more exhausting to use gas-based cars. Hence, electric cars can be of great help. 
Second would be, electric cars' charging mechanism. It is so far clear that by using an electric car you do away the pattern of buying petrol and diesel. With no gas or oil to change, you can simply even charge your electric car by sitting at home or work. It's like adding a wifi network at home, but in the case of electric cars, you can just add a solar array and let the magic begin. There are even gas stations like Indian Oil who have launched their own electric car charging facility, and are rapidly expanding. Even using charging points at gas station, is cheaper compared to the amount of fuel you need in your car. 
Not just in saving money through maintenance or fuel, but electric cars also help us in having better health and reducing chances of sickness and medical emergency. For instance, the battery power used in electric cars are produced by renewable sources, hence, making the air we breathe cleaner. With that, cleaner air will result in lesser disease for you. 
Further, because electric cars have high torque power, their pickup and performance is quick and smooth making it even better than gas-based cars. They also take less space. Other reasons for having an electric car would be its style, sport-looking like body, better engines, low maintenance charges, cheaper loans and glossy colours making them even more attractive. 
In India, currently, best electric cars are Hyundai Kona Electric, Tata Tigor EV, Mahindra e20 Plus, Mahindra E Verito and others. 
Analysts at SBICap Securities in their research note said, "With the potential shift in demand and the relative ease of designing and manufacturing the drive train, EVs are attracting large investments. This will pull down costs dramatically while boosting quality. While most auto OEMs appears to be in the advanced stages of launching their EV offerings, companies with non-auto background have also announced their foray/already launched with ambitious plans. With such high commitment and capex, the technological and learning curve could be very steep along with growing visibility and awareness amongst consumers, which would further accelerate the shift towards EVs."
Get Latest Business News, Stock Market Updates and Videos; Check your tax outgo through Income Tax Calculator and save money through our Personal Finance coverage. Check Business Breaking News Live on Zee Business Twitter and Facebook. Subscribe on YouTube.