Supply Chain is the biggest challenge for the auto industry: Veejay Nakra, M&M Ltd
"If you compare the numbers of initial 2-3 months with the numbers of the last year than it will look grim but if you compare with the previous month than I think June has been much better then May and if I talk about the first 10-12 days of July than the enquiries and demand is very encouraging," Veejay Nakra, CEO, Automotive Division, M&M told Zee Business Executive Editor Swati Khandelwal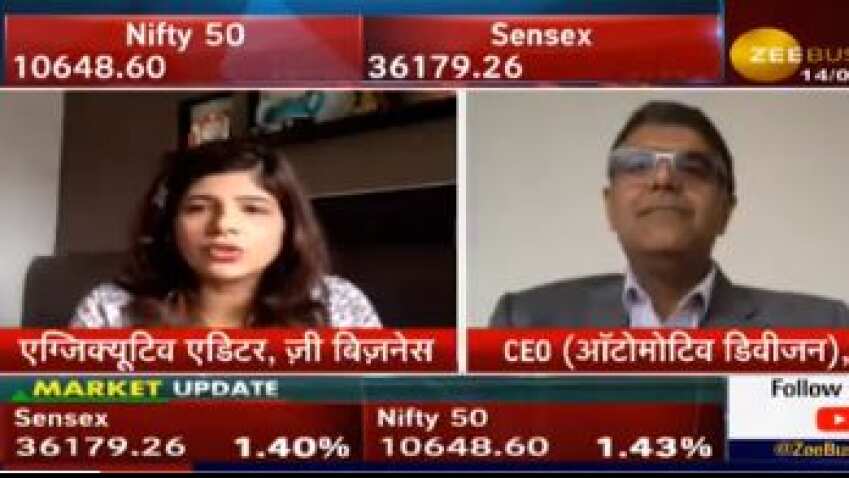 The pace at which the industry is returning makes us see green shoots, Veejay Nakra says
Written By:
Jitesh Kumar Jha
Updated: Wed, Jul 15, 2020
08:46 pm
new delhi, ZeeBiz WebDesk
Veejay Nakra, CEO, Automotive Division, Mahindra & Mahindra Ltd, talks about demand from domestic and international markets, Atmanirbhar Bharat, concerns related to supply chain and ways to tackle with it and Atmanirbhar Bharat among others during an interview with Swati Khandelwal, Zee Business. Edited Excerpts: 
Q: There is no specific response in demand, despite Unlock 2.0 has started. The situation is still grim in terms of the pick-up in demand. What is your assessment and what strategy will be adopted at Mahindra and Mahindra to deal with this?
A: You said that the situation looks grim than it depends on what you are comparing. If you compare it with the last year's numbers than it will look grim as the brake was applied to the entire system in April when sales turned zero. If you compare the numbers of initial 2-3 months with the numbers of the last year than it will look grim but if you compare with the previous month than I think June has been much better then May and if I talk about the first 10-12 days of July than the enquiries and demand is very encouraging. The pace at which the industry is returning makes us see green shoots.
Q: Green shoots are visible and the response seen in July is encouraging. Can you tell us the kind of response you are getting and the product that is in demand at present and the geography from where it is coming? Also, update us about where your production level has reached and is it meeting the demand?
A: If we have a look at both, demand and production, then supply chain is the biggest challenge in the industry, not only for Mahindra but for the entire auto industry at present. I will come to the topic but let's first talk about from where the demand is coming from and in which category and in which product. Then I would like to say that if we divide India into urban India and semi-urban India then there is more slowdown in urban India. Of course, we know that the COVID-19 situation is still serious in big cities and many states. There are containment zones and containment areas and people are still not coming out from their houses properly. They come out just to buy essential items, which mean the demand for other products is slow.
But if I will talk about the semi-urban India and rural India –you have covered about it on your channel – and have a look on agriculture, which is the biggest strength of rural India and is a big strength of India is doing very well. If you have a look on the tractors sale of the last three months as in industry, except April which was a slow month for everyone, then May and June have been good months for the tractor industry as it has grown. Mahindra Automotive has many such products like Bolero, Scorpio, Pick-UP and small commercial vehicles like Jeeto and Supro were in high demand across the country in rural India. Rain /Monsoon is also good if compared with the last year then it is better than last year. According to the government's measure over a longer period, Monsoon has played out better than last year and long-period average. The showing for Kharif crop has been good.
So, agricultural demand is good, which helps us for Mahindra Auto, who's almost 53% of sales come from rural India. So, Bolero, Scorpio and Pick Up kind of products are seeing good demand in rural India and if we talk about urban India then demand is slow in passenger vehicles But, here too we know that everyone today wants last-mile delivery at home for safety and security. So, the movement of essential goods items, e-commerce and many other segments are there that is creating good demand in the small commercial vehicle segment. So, overall I think June was better than May, July is playing out better and I believe that demand will play out reasonably in the next two-three months if supply chain problem is solved. 
Q: You spoke about the concerns related to the supply chain. What is your dependency on China and how will you participate in the Atmanirbhar Bharat and reducing your dependence by working out in India itself? What is your view on it and what tell the steps that the company is taking?
A: Once again I would like to answer it in two parts. The supply chain must not be limited to China. As you know that a vehicle can't be made with just 99% parts but 100% parts are required to complete it and get out of the factory. So, the current challenge of the supply chain is present in India as well as in other countries. Of course, China is a subject to it. So, an organization we have a strategy to focus on three factors, namely within India, the countries from where we are getting our components. We source our components from Europe, China and South Korea and it is just not Mahindra's position but the entire automotive companies. In the case of Mahindra, the use of component varies from product to products. We have many products where almost 100% sourcing is local and there are some products in which little percentage of components comes from other countries. So, it is difficult to answer and give any specific timeframe by which the problem will be solved. So, things are being studied product by product, plant by plant and vendor by vendor. 
Q: Can you name the products and the specific parts, where you are facing problems in getting them? 
A: There are certain electronic items and there are few items in which different part of the world, the higher economies have allowed you to get parts at a lower price and we are looking accordingly. But as I did mentioned it is not an easy problem to overcome. First of all, if we see in India itself then the factories of our suppliers and vendors are opening. The situation is changing every week, rather I should say every day, in which many factories are opening but they are sanitized and closed if any issue related to COVID occurs there. This disrupts the supply chain. As you know that every state in India is taking its own decision, for instance, Uttar Pradesh in the recent past has announced something, earlier some announcements were made by Chennai, Gujarat and Maharashtra. So, it is a pretty challenging situation and that's why I was saying earlier that demand is coming even though it is not as much as it was last year. But, there is a need to solve the issues of supply chain and ramp up our capacities to be able to meet the demand and that is the biggest challenge right now. 
Q: Tell us about the kind of response you are getting from the international markets and what is the indication in terms of demand and production? Also, update us on the planned new launches of Mahindra? 
A: As far as international operations are concerned then every country has its challenge. Many of our strong markets like SAARC countries, South Africa or some other, they have their challenges. However, we are seeing a little bit of demand comeback in Africa and South Africa but there are certain restrictions on the boundaries of countries, like Sri Lanka and Nepal, as they are focusing on things that should be done within the country. So at this point, we should entrench on our domestic operations and bring it back completely and then as the international market opens up we should feed them with our products. Let's talk about the new launches, as I have said earlier that complete brake was applied on the entire system, to give an example from the automobile industry. This brake put a complete brake on the momentum that we had on vehicles, business and new product launches and brought it to zero. It came down to zero. It will have some impact on the launches.
See Zee Business Live TV Streaming Below:
We are seeing some kind of delay in launches. If seen logically, then the simple extrapolation is a delay of three months, but having said that, we have done everything to recoup as much possible from there. Parallelly, we are doing many things like conducting several tests which were conducted sequentially, earlier. So, there will be an impact of 8-10 weeks on launches but we are getting ready for our big launch and that is going to be Thar.
Get Latest Business News, Stock Market Updates and Videos; Check your tax outgo through Income Tax Calculator and save money through our Personal Finance coverage. Check Business Breaking News Live on Zee Business Twitter and Facebook. Subscribe on YouTube.