Minda Industries likely to grow at 8–10% annually: Nirmal Kumar Minda, CMD
Nirmal Kumar Minda, Chairman & Managing Director (CMD), Minda Industries, talks about company's outlook for the New Year 2021, growth drivers, demand outlook in domestic and export markets, CapEx, fundraising plans and M&A among others during a candid chat with Zee Business Swati Executive Editor Khandelwal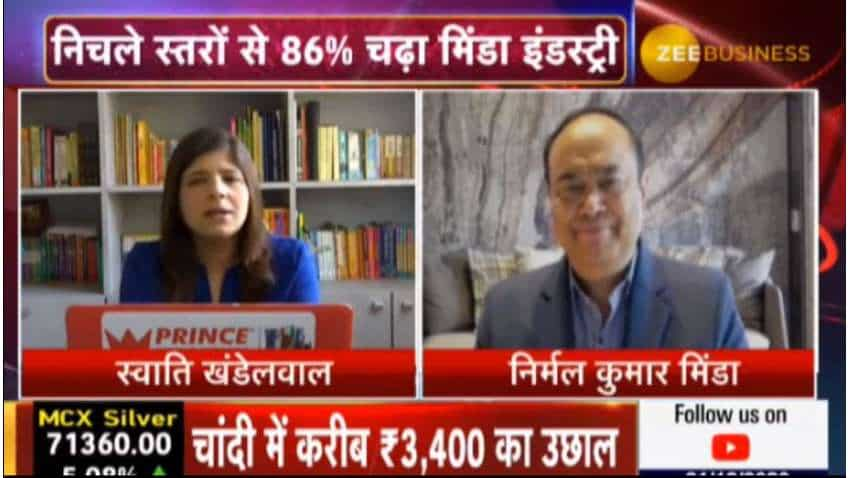 "As far as the rights issue is concerned, then some part of it is for acquisitions and we have decided to consolidate the auto component business that is running within the group
Written By:
Jitesh Kumar Jha
Updated: Tue, Dec 22, 2020
04:08 pm
new delhi, ZeeBiz WebDesk
Nirmal Kumar Minda, Chairman & Managing Director (CMD), Minda Industries, talks about company's outlook for the New Year 2021, growth drivers, demand outlook in domestic and export markets, CapEx, fundraising plans and M&A among others during a candid chat with Swati Khandelwal, Zee Business. Edited Excerpts:
Q: 2021 is around the corner. Do you think that the momentum we have seen in the last few months will continue and what are going to be growth drivers for your company in 2021?
A: We have seen a lot of ups and downs this year, and at the start, things were quite dull till July-August. But the industry has gained momentum in the mid-COVID period, mainly in October-November, is very commendable. This led to capacity constraints in the auto component sector or the auto industry. It also threw many challenges like labour availability, raw material availability, Tier-II component availability, but everyone has worked well in the ecosystem. As far as November-December is concerned, there have been a lot of holidays due to Diwali and Christmas due to which there is some slowdown in these months, particularly in the two-wheeler segment but I think, next year, January-onwards, it will pick up. And I always say, internationally whether it is developed country or underdeveloped countries, we are far behind in terms of per capita two-wheelers and per capita four-wheelers. So, I believe, if our GDP growth, infrastructure and economic pull remain good than our annual growth will be around 8-10%.
Q: Update us about the kind of activities that are going on in Minda Industries and what kind of expansion plans do you have? Also, update us about your demand outlook in domestic and export markets for 2021? 
A: We are present in many product lines. In the auto segment, we have around 30 product lines in the auto segment and around 19 product lines in the two-wheelers segment. At our end, we try to find out the gap in our products line, who are our competitors, what is/are our strength area within SWOT in our product line and how we can keep our domestic market share above 30% so that we can be an important supplier for our customers or else the customer can anytime say bye-bye to suppliers who are below 30%.
See Zee Business Live TV Streaming Below:
So, firstly, we focus on keeping our market share above 30% and try to sustain where we are at 50%-60%. For the same, we continuously work on our technology and this is why we have opened our technology centre in Pune with the name, 'CREAT'. So, we look forward to ways to provide new technologies and solutions to our customers. Electronic content is increasing in every vehicle. It is increasing in two-wheelers, telematics, connected and we look forward to the ways to increase our kit value in all these segments in the electronics items in our product line.
This increases our kit value in a vehicle. Definitely, when we perform R&D and make investments, then our margins remain better initially, of course, there is a perception in the auto industry about the component that you are in the air from cost down angle and then its contribution reaches to a reasonable level. From this point of view, the company is stable and in respect to its future outlook, we take care of the fact that are we are not going backwards in any of our product lines, margins are not coming under pressure and cost reduction activities goes on at a regularly. The team also worked a lot at a time of COVID. And cost reduction activities, R&D and regular interaction with the customers are carried on. Some of the products initially get anchor customers, such as sensors or our alloy wheels.
Once we get anchor customers then we try to get market share from other customers through the horizontal deployment of the product line. Thirdly, we focus on localization, for instance, our colleagues have informed that through the PLI scheme, the government is bringing policies that will have a special focus on Aatmanirbhar. So, through this, we see at what are the things that are imported to the country, since when it is happening, why it is happening, whether it had a capacity issue or cost issue and then we study them and work on it.
Q: You have raised around Rs 250 crore through a rights issue in the recent past. So, tell us about the kind of CapEx you are lining up and do you have any further plans to raise funds in the coming year? Also, tell us about your M&A plans, if any?
A: As far as the rights issue is concerned, then some part of it is for acquisitions and we have decided to consolidate the auto component business that is running within the group. We also got a good opportunity in form of Toyoda Gosei South India Ltd (TG SIN) - where we were already supplying products like bumpers, interior, IB Panels among others – and we have acquired it. The shortage that we felt in the first quarter through the cash flow was abridged through the rights issue because we don't want to increase our debt-equity ratio and our upper limit id 1:1. As far as further plans related to raising funds is concerned, today we don't have any such plan but if there is something then it will be done but first, we will take debt-equity under consideration.
Our return on capital initially goes down for a year or two whenever we make a new investment but it must not go so down that we make more investment. So, we will take care of it and will let you know about the same when we will plan to issue funds. When it comes to merger and acquisition (M&A), we do not go for M&A just for the sake of doing M&A but while doing M&A.
But while doing an M&A, we look forward to the value that we can add to it and what is our synergy for the purpose, like will it give us technology in India or will provide a market in Europe particularly in the product lines where we are present.
Get Latest Business News, Stock Market Updates and Videos; Check your tax outgo through Income Tax Calculator and save money through our Personal Finance coverage. Check Business Breaking News Live on Zee Business Twitter and Facebook. Subscribe on YouTube.