BSVI fuel will be available across India from April 1: MK Surana, CMD, HPCL
BSVI petrol and diesel will be supplied across India from April 1, 2020. For being available at the nozzle the BSVI specific fuel should reach from the refinery to terminal, depot and petrol pump and our refineries have been upgraded for the purpose, MK Surana, Chairman and Managing Director, HPCL says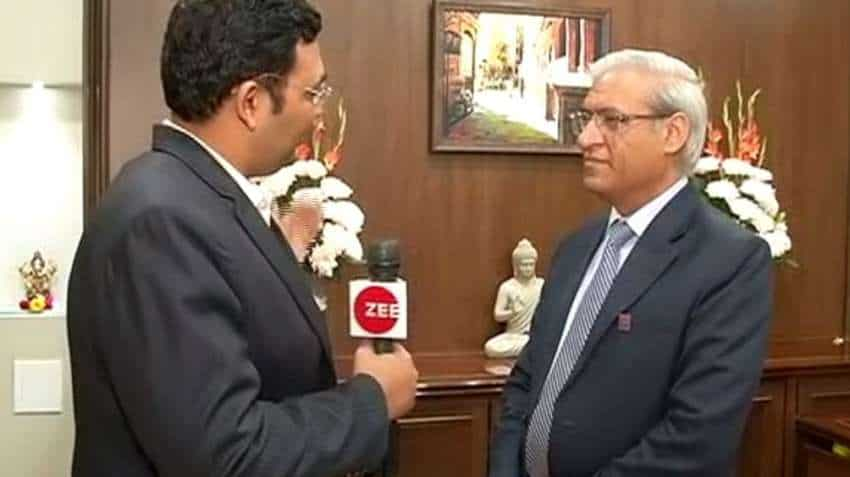 Disruptions have been caused due to the coronavirus as it has reduced the demand on in China and that's why there is a decline in crude prices, MK Surana says
Written By:
Jitesh Kumar Jha
Updated: Wed, Mar 11, 2020
02:37 pm
New Delhi, ZeeBiz WebDesk
MK Surana, Chairman and Managing Director (CMD), HPCL, talks about the availability of BSVI fuel in India, CapEx, the impact of coronavirus, ETF Fuel and Ujjawala Scheme among others during an interview with Anurag Shah, Zee Business. Edited Excerpts: 
Q: Update on the kind of progress that has been made on BSVI fuel so that it will be available in the market by April 1, 2020?
A: BSVI petrol and diesel will be supplied across India from April 1, 2020. For being available at the nozzle the BSVI specific fuel should reach from the refinery to terminal, depot and petrol pump and our refineries have been upgraded for the purpose. Both refineries of HPCL has been upgraded for the purpose and we have already supplied the BSVI fuel from the refinery, which is being sent to every nook and corner of the country. Earlier, we were engaged in the supply of BSIV standard fuel, which had 50ppm (part per million) Sulphur as its content, while BSVI has 10ppm Sulphur. It is diluted to make sure that you get 10PPM mark fuel in your vehicle at the end-point. So, it is being diluted across the country at present to make sure that the end-specification is met.
Q: At least Rs 35,000 crore has been spent by entire oil refining companies to upgrade itself to meet the BSVI norms. How much has been spent by you and what will be the cost implications of the same?
A: The country is leapfrogging from BSIV to BSVI. The Sulphur content in the previous fuel stood at 50ppm which will get down to 10ppm. Additional new facilities are used to remove this Sulphur content, which includes Hydrogen-based treatment, and every company has handled their Capital expenditures (CAPEX) accordingly and an extra cost comes in play because Hydrogen consumption is huge in this case. HPCL has spent around Rs 4,000 crore on both refineries, Similarly, our joint-venture refinery HMBL has also spent around Rs 1,500 crore on it. These three refineries have been upgraded for the BSVI fuel, which is being dispatched from the refineries.
Q: Do you think that this additional expenditure will lead to fuel cost implication? 
A: You are right as CapEx and operating expenses (OPEX) has been used in it. So, ultimately the companies will try to recover the cost and therefore the cost will be increased a bit.  
Q: Can you quantify the increase in cost?
A: It has been already quantified and people have worked on it and we are trying to find out the best way. But the information will be provided after it is implemented but it will be in a range between 70 paise to Rs 1.50 and we are working on it.
Q: Update us about the global crude supply situation and had coronavirus created any disruptions in it? 
A: Yes, disruptions have been caused due to the coronavirus as it has reduced the demand on in China and that's why there is a decline in crude prices. There is no doubt that there is an all of a sudden drop in crude prices, especially in China, which has reduced the crude prices.
Q: Crude prices have seen a sharp decline and distress sell has been bought out by other OMCs and stocked it. So has HPCL has performed a similar act?
A: As there is a decline in crude prices and there is a sudden drop in demand in China, so the availability of crude in some of the China-bind certain parcels is available and this has either reduced the premium on crude or has offered a certain discount on it. So, every company is reaping its - depending on the situation - in the spot market and the same is being down at our end.
Q: There has been a sharp decline in crude prices but the similar movement hasn't been seen in retail prices. What could be the reason for it?
A: It has happened in retail as well and if you have a look at it then will find that retail prices of fuel are lowest since September 2019. The prices of fuel, petrol and diesel, depends on the prices of international products and it is just not dependant on crude prices. So, the supply and demand situation of petrol and diesel products also matter over her. And if there is an increase in cracks for the same crude then the prices go up and it goes down when there is a decline. The difference between petrol and crude is known as petrol crack and the difference between diesel and crude is known as diesel crack.
Similarly, the exchange rate also has an impact on it. So, the domestic petrol and diesel prices are derived from international product prices not from the crude that's why it is aligned with it on a daily basis. Overall, there is a decline in the prices of petrol and diesel.
Q: Has the demand for ETF fuel has gone down due to coronavirus break out? 
A: It has had a slight impact on demand but the demand in February was good, which would have happened due to an extra day in the month as it is a leap year. Otherwise, the demand for petrol is good but the demand for diesel is sluggish.
Q: HPCL has bought 17.28 % stake in Petronet MHB For Rs 185 Crore. What is the rationale in it?
A: It is Mangalore-Hassan- Bangalore (MHB) pipeline that transports petroleum products like MSHD and Kerosene among others. It is a joint venture between ONGC and HPCL, which had 32% each and the remaining 33% was held by bankers. It is a profitable venture and that's why we thought to go for strategic leverage in it and negotiated the same with the banks and acquired the entire stakes of the banks jointly. Now, both the companies, ONGC and HPCL, holds more than 49% shares if the company and are working out on it and now we are working on a strategy to align it to HPCL. It can benefit because we, HPCL, takes petrol from Mangalore refinery and puts it into the joint venture pipeline and takes it for sale. That's why we thought that synergies can be created in it and this is a step in the same direction.
See Zee Business Live TV Streaming Below:
Q: Also, update on the Ujjawala Scheme as it is being said that oil marketing companies have slowed the pace at which the connections were provided due to lack of demand?
A: The original target stood at providing 8 crore connection and it has been met by the OMCs and that's why the practice of offering new connections under Ujjawala Scheme has been stooped, except in Jammu and Kashmir, which had its own issues. So, the target of 8 crore connections has been crossed. The original idea behind the scheme was to provide clean-cooking fuel facility to those who didn't have access to it and we're using other modes, like wood, coal, cow dung among others, to burn their stoves to cook the food. It was bought for women with a poor background. Interestingly, under the scheme, the connection is provided to women from a low-income group. It was a very good and successful scheme and around 96% of people have access to LPG at present. Now, we are making efforts to change the social habit of people to make sure that they opt for sustained usage of LPG and that's why a scheme of offering a 5kg cylinder instead of 14kg to match up with the affordability limit of people and supply them to people with fewer earnings.
Get Latest Business News, Stock Market Updates and Videos; Check your tax outgo through Income Tax Calculator and save money through our Personal Finance coverage. Check Business Breaking News Live on Zee Business Twitter and Facebook. Subscribe on YouTube.