$1 mn bulletproof Mercedes S600 Pullman Guard limo; Check out Kim Jong Un car
It may not be the latest Mercedes-Benz S600 Pullman Guard limousine version, however, the car on Tuesday became the  centre  of attraction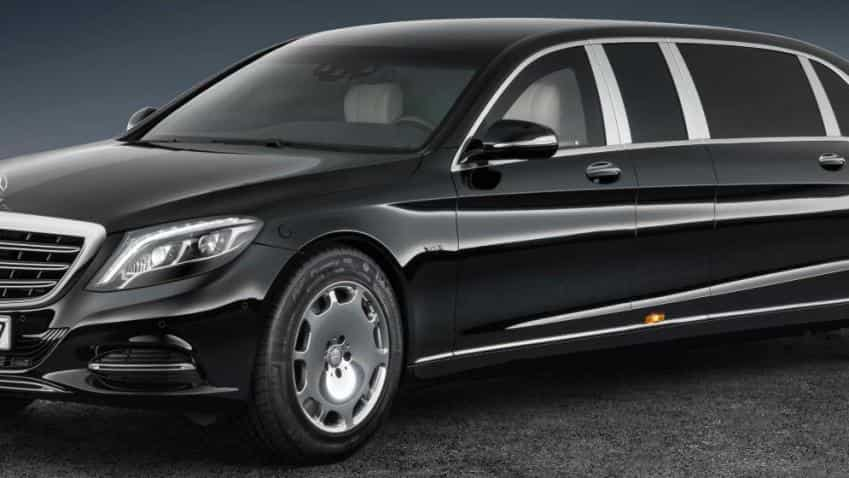 Mercedes-Benz S600 Pullman Guard limousine: that belongs to North Korean leader Kim Jong Un also served as a ride for US President Donald Trump on Tuesday. Image source: Company website
It may not be the latest Mercedes-Benz S600 Pullman Guard limousine version, however, the car on Tuesday became the centre of attraction.  This armoured car that belongs to North Korean leader Kim Jong Un also served as a ride for US President Donald Trump  on Tuesday. Both the leaders reportedly departed the US-North Korea summit in Singapore in this car.
Mercedes S600 Pullman Guard limo looks to be from the W221 generation, sold from 2008 to 2013, and features white leather upholstery, according to a Business Insider report. The car's estimated worth is over $US1 million.  According to the report, Kim's limo is powered by a 517-horsepower, 5.5-litre, bi-turbo V12 engine. The S600 Pullman is massive, it is reportedly around 21 feet long, . The car has been specially modified to suit Kim's personal needs.
Though Mercedes-Maybach launched an updated S650 Pullman limo, there is no  armoured Guard version of the new model. If you want bullet resistant luxury car, then you have to  opt for the S600 model.
Here are the specifications and features of the latest version of the vehicle:
1. The Pullman Guard limo is the updated version of Mercedes' Maybach S600 Guard armoured sedan ($513,000).
2. The car is over 21 feet long and loaded with armoured protection.
3. Pullman Guard is powered by a 6.0-litre, 530-horsepower, twin-turbocharged V12 engine.
4. The car has integrated steel protection panels inside the body, along with overlapping protection panels in critical areas of the car. 
5. The ultra-thick laminated-glass windows is coated with polycarbonate to prevent splintering. The Pullman Guard, as the company claims, is certified at resistance class VR9 and blastproof.
6. The cabin can be modified to fit the needs and tastes of the individual customer. 
7. The Pullman Guard's rear cabin can be fitted with rearward-facing jump seats.
Updated: Wed, Jun 13, 2018
03:37 pm
ZeeBiz WebDesk