Samsung scion Lee walks free after jail term suspended, faces leadership challenges
Lee, 49, heir to one of the world`s biggest corporate empires, had been detained since last February.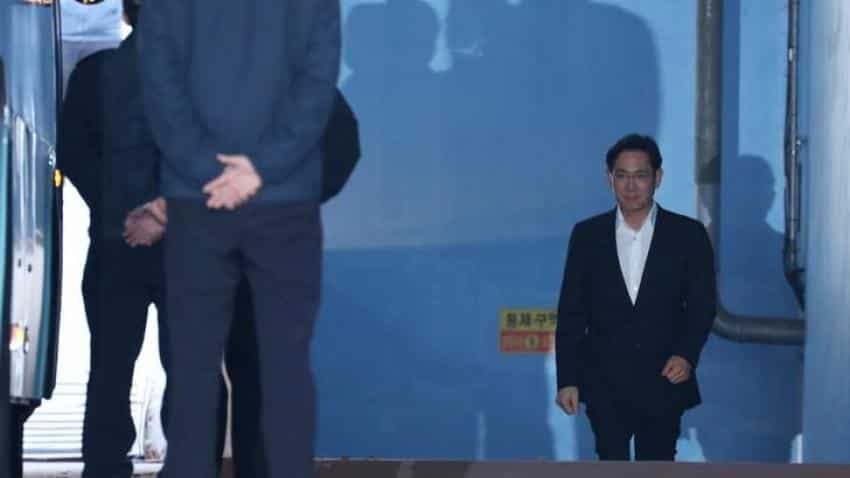 Lee can return to his multiple corporate roles, including as director of flagship Samsung Electronics. Image source: Reuters
Samsung Group heir Jay Y. Lee left a South Korean jail a free man on Monday after a panel of judges suspended his sentence, a surprise decision that sent shockwaves through the country`s political and business establishments.
Coming just days before South Koreans gather to host the Winter Olympics, the ruling reignited an intense public debate over widespread corruption in a case that ousted President Park Geun-hye from office last year and has ensnared leading members of the family-run "chaebol" conglomerates.
Seoul High Court sentenced Lee to two and a half years in jail on charges including bribery and embezzlement - reducing the original term by half - but suspended the sentence for four years, meaning that he is unlikely to serve any more time in jail.
Lee, 49, heir to one of the world`s biggest corporate empires, had been detained since last February.
Emerging from a Seoul detention centre where he had briefly returned for his belongings after the ruling, Lee stood in the frigid February air and apologised for "not showing my best side".
"The past year has been a really valuable time of looking back on myself," Lee told reporters in a sometimes shaky voice.
He added he needed to visit his ailing father, Samsung Group patriarch Lee Kun-hee, who suffered a heart attack in 2014.
The elder Lee escaped a conviction for embezzlement and tax evasion when he was pardoned by former President Lee Myung-bak, viewed by some as a move to allow the elder Lee to lead the campaign to secure the 2018 Winter Olympics for South Korea.
Coming days ahead of the Olympics in Pyeongchang, the decision to free Jay Y. Lee presents a new headache for President Moon Jae-in, who was elected last year on an anti-corruption platform in the wake of Park`s impeachment.
"This may be a brave decision by the court to look at solid evidence rather than public opinion. But this doesn`t quite fit public opinion calling for Lee`s punishment," Kim Kyung-soo, a former prosecutor and a criminal lawyer, told Reuters
CORRUPTION CHARGES
Former President Park was dismissed in March after being impeached in a case that brought scrutiny to the cosy ties between South Korea`s political leaders and its largest chaebol, the so-called "Republic of Samsung".
Park, who denies wrongdoing, is standing trial accused of bribery, abuse of power and coercion. Receiving bribes can carry a sentence of life in jail.
One of the judges who suspended Lee`s sentence said Park had pressured the corporate leader to sponsor equestrian sports, which could have a bearing on Park`s verdict, legal experts said.
Partially agreeing with a lower court`s ruling in August, the High Court convicted Lee of bribing Park by supporting the equestrian career of the daughter of a friend of hers. He was also convicted of embezzlement.
But the appeals court said Lee did not seek any help from Park. It also said just 3.6 billion won ($3.31 million) was paid as a bribe, not 7.2 billion as the lower court had said.
Presiding senior judge Cheong Hyung-sik also called the nature of Lee`s involvement in Samsung`s support for Park`s friend "passive compliance to political power".
"Park threatened Samsung Electronics executives," the judge said. "The defendant provided a bribe, knowing it was bribery to support (the friend`s daughter), but was unable to refuse."
Prosecutors did not have an immediate comment. Lee`s lawyer, Lee In-jae, said the defence will appeal to the Supreme Court to try to overturn the convictions.
BUSINESS AS USUAL?
Lee, wearing a dark suit and white shirt and looking noticeably worn, did not show any emotion when the ruling was announced.
With the end of his year-long detention, which according to local media he adjusted to with physical workouts and reading books, Lee can return to his multiple corporate roles, including as director of flagship Samsung Electronics.
Shares in Samsung Electronics, of which Lee is vice chairman, reversed earlier losses and closed up 0.5 percent, compared to a 1.3 percent fall in the wider market.
Investors say Lee will face the daunting tasks of trying to find the right direction for growth and making big investment decisions, although Samsung Electronics, the world`s biggest maker of semiconductors and smartphones, performed well with Lee behind bars for the past year.
"Lee will have to decide which business to grow to continue Samsung Electronics` robust growth, thanks to memory chips," said Park Jung-hoon, fund manager at HDC Asset Management that owns shares in Samsung Electronics.
"Lee`s biggest goal for now is to show what is the next step that Samsung Group will take, while continuing its shareholder-friendly actions," he added.
The cloud of controversy, however, may mean Lee will take a lower profile, said Kim, the former prosecutor.
"Although he deserves the presumption of innocence, he will still be tried at the Supreme Court, which could hurt the corporate image if he is active as a vice chairman or a director at Samsung," Kim said.($1 = 1,088 won)
 
Updated: Mon, Feb 05, 2018
04:05 pm
Reuters