New US Fed chair Jerome Powell wins Wall Street praise despite stock drop
Jerome Powell's prepared testimony and parrying of questions during the roughly three-hour hearing at the House of Representatives Financial Services Committee reassured investors about his ability to steer the Fed.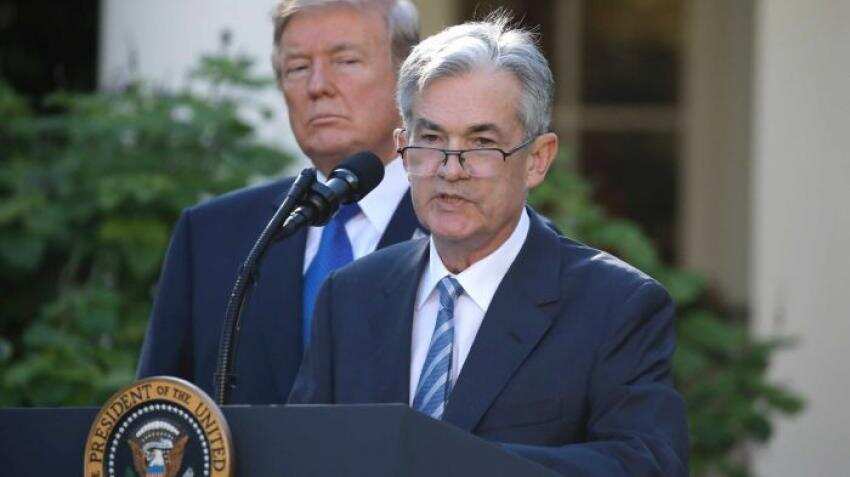 US President Donald Trump stands behind Fed chief Jerome Powell as he addresses media. Image source: Reuters
Updated: Wed, Feb 28, 2018
08:09 am
Reuters
The stock market's first-day response to the debut of the new Federal Reserve chief should not be taken as Wall Street's last word on his performance.
Stocks, which have been on something of a roller-coaster ride over recent weeks, sold off following the testimony before a Congressional panel by Jerome Powell, who took over as chair of the U.S. central bank early this month. Benchmark Treasury yields rose, a sign that investors expect the Fed to tighten monetary policy this year.
Still, Powell's prepared testimony and parrying of questions during the roughly three-hour hearing at the House of Representatives Financial Services Committee reassured investors about his ability to steer the Fed.
"He's largely an even-handed, 'steady-as-he-goes' change," said John Canavan, market strategist with Stone & McCarthy Research Associates in New York. "His performance seems comfortable and confident for markets."
Powell, who had been a member of the Fed's Board of Governors for more than five years before becoming its chair, said his outlook for the economy had strengthened since December - upbeat comments that investors nonetheless viewed as a potential sign he was open to quickening the path of interest rate hikes this year.
The benchmark S&P 500 .SPX shed its gains during his testimony and ended the day down 1.3 percent. It was the index's biggest percentage decline on a day of debut testimony for the past six Fed chairs.
Traders of futures tied to the Fed's target policy rate stuck to bets on three rate hikes this year and began pricing in a nearly one-in-three chance for a fourth rate hike.
"He said it's his impression the economy was getting stronger, which subtly gave the indication that he was going to raise his personal forecast for four rate hikes this year, and that's what the market reacted to," said Michael O'Rourke, chief market strategist, JonesTrading in Greenwich, Connecticut.
Investors said the markets were also adjusting to Powell, whom President Donald Trump chose to replace Janet Yellen, an appointee of his Democratic predecessor Barack Obama.
Despite the general assumption that the Fed would continue in a similar fashion under Powell, market watchers have cited change atop the central bank as a risk factor.
"People are just getting to know (Powell). His testimony is going to be pored over, analyzed, studied," said John Carey, portfolio manager at Amundi Pioneer Asset Management in Boston.
Powell's first workday as Fed chair was Feb 5, the same day as the stock market's biggest one-day plunge in more than six years.
In questioning during Tuesday's hearing, Powell was asked about the stock market, whose rise Trump has often touted.
"We don't manage the stock market; we manage to stable prices and maximum employment," Powell said. "The stock market enters into our thinking; it's an important place for businesses to raise capital; it's an important place for investors to invest."
He added: "The stock market is not the economy, but it's a factor, it plays a factor."
There have been concerns that the recently enacted tax cuts touted by Trump would over-stimulate the economy and spark too much inflation.
On Tuesday, Powell said lower corporate taxes should lead to higher investment, which should boost productivity and wages. But he said he was strongly committed to the Fed's longstanding goal of keeping inflation at around 2 percent.
"The message of the testimony is that Powell is less inclined to let the economy run hot," said Robert Phipps, director at Per Stirling Capital Management in Austin, Texas.
"By training and experience, he's a capital markets person, not an economist," Phipps said. "He understands the risk of inflation getting out of hand."
Following Powell's remarks, the margin between U.S. shorter- and longer-dated yields narrowed. Such a flattening of the yield curve has repeatedly presaged past recessions.
Asked in general how the Fed can avoid a flattening yield curve, Powell said, "It is very typical for the yield curve to flatten as short-term rates come up as the economy strengthens.
"There is always a risk of a recession at any point, but I don't see it as at all high right now," he added.
Powell's appointment had been expected to provide a relatively smooth transition from Yellen, and Powell in his testimony backed the Fed's plan for gradual rate increases.
"He refused to commit to some other path than the present, gradualist path that recognizes that interest rates are going to trend higher and the Fed is going to shrink its balance sheet," said David Kotok, chief investment officer of Cumberland Advisors in Florida.
Get Latest Business News, Stock Market Updates and Videos; Check your tax outgo through Income Tax Calculator and save money through our Personal Finance coverage. Check Business Breaking News Live on Zee Business Twitter and Facebook. Subscribe on YouTube.