Has Bitcoin entered into 'Bubble phase'?
Bitcoin was available for trading since 2009, but it stole limelight in 2017 when it shot up to near $20,000.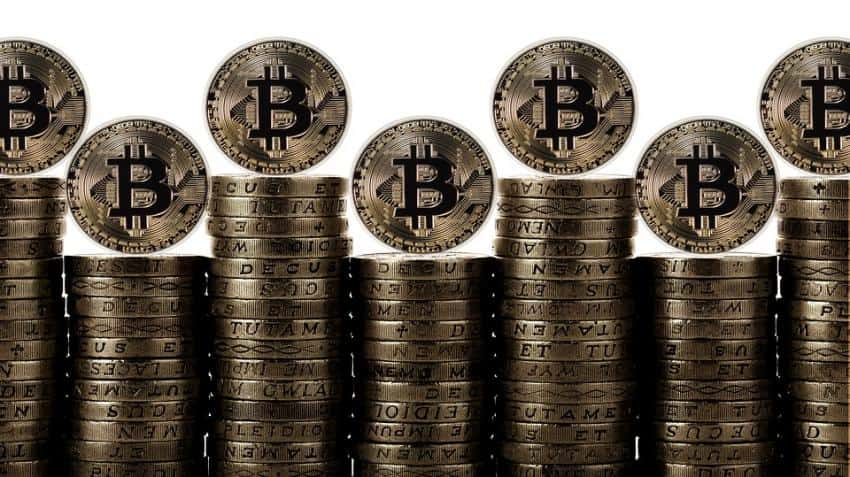 Representational Image: Photo: Pixabay
Updated: Thu, Jan 25, 2018
08:22 am
Mumbai, ZeeBiz WebDesk
Massive craze for Bitcoin, which once gripped the world, seems to be dying down, indicating the cryptocurrency may have entered into the bubble phase.
 
Since trading has been volatile, it was very difficult for even economists to have a true sense of Bitcoin's future outlook. Global markets are still in two thoughts when it comes to trading in Bitcoin and other cryptocurrencies.
 
As Bitcoin is witnessing a declining trend for past few weeks, the question is being asked if it has started to bubble.
 
For many known economists, there is nothing new, and even investor and philanthropist Warren Buffet also opined the same.
 
They all believed that Bitcoin is an illusion, a mass hallucination just like a soap bubble.
 
In a recent CNBC interview, Buffet said, "In terms of cryptocurrencies, generally, I can say with almost certainty that they will come to a bad ending."
 
Although Bitcoin was available for trading since 2009, it stole limelight last year when it shot up to near $20,000.
 
Bitcoin was trading at $14 on January 2013, but it grew 141,825.71% or 1419.26 times by December 17, 2017 - where it clocked $19,869.60-mark. 
 
To understand the Bubble, let's have a look at Bitcoin's performance in the past three months.
 
Bitcoin on October 24, 2017 was trading near $5,765.84 - having market cap of $95.92 billion. However, within one month, it nearly doubled to $10,064.70 with market cap of $168.15 billion on November 28, 2017.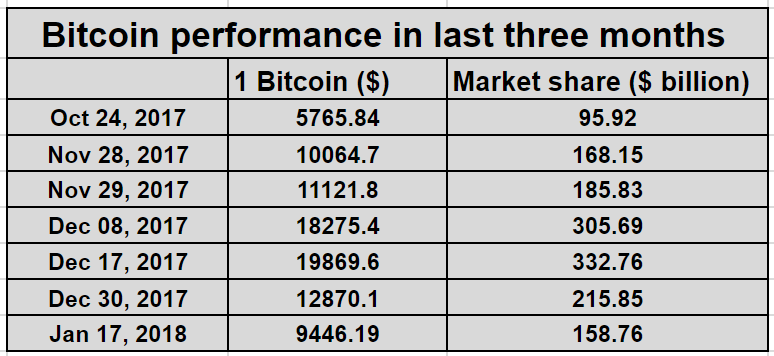 There was no stopping in the uptrend of Bitcoin. Just very next day on November 29, it rose over $1000 to $11,121.80 with market cap of $185.83 billion. In just nine days, it made another headline by touching 18,275.40 mark with market cap of $305.69 billion on December 8.
 
One might think that Bitcoin must have reached its true potential, until on December 17, 2017, this coin makes history in cryptocurrency market by jumping to $19,869.60 with a massive market cap of $332.76 billion.
 
On January 24, Bitcoin was trading at $10,897.19 gradually up by 0.53%, according to Coindesk.com
 
Bitcoin remained only cryptocurrency till 2011, holding 100% market capitalisation. After 2011, over 1300 cryptocurrencies have come into existence with Bitcoin still dominating the market.
 
Investors were so optimistic on Bitcoin's performance that they even boosted other cryptocurrencies like Ethereum, Litecoin, Ripple, Dash, TRON and Monero
 
Interestingly, Bitcoin started to witness a reverse trend by end of December 2017, as it reached to $12,870.10-mark, but lost the market cap of over $110 billion.
 
The downward trend continued in the start of 2018, so much so that it tumbled to $9,446.19-mark on January 17, with a market cap of $158.76 billion.
 
Thus in one month's time, Bitcoin lost over $174 billion of valuation.
 
With this performance, the Bitcoin era is now being considered as one of those bubbles like The Tulip and Bulb Craze (1630s), The South Sea Bubble (1711) and The Dotcom Crash that destroyed global markets.
 
It may be noted that Bitcoin has already witnessed a Bubble phase in the year 2013. The price of one Bitcoin was at $1,147.25 on December 4, 2013, which came down more than half to $522 within 15 days on December 18, 2013.
 
Bitcoin continued to tumble since then, so much so that it even reached $177-mark on January 14, 2015, as per CoinDesk data.
 
As per Goldman Sachs, firstly, Bitcoin exchange volumes are now dominated by investors in Korea and Japan – countries with no recent history of monetary instability and/or unmet portfolio diversification needs.

 
Secondly, cryptocurrency prices are co-related with Google search volumes that this points to significant retail investor participation in these markets.
 
Goldman Sach suggests that these are common features of speculative bubbles. Zach Pandl and Charles P Himmelberg, economists at Goldman Sachs, said, "The recent fluctuations in Bitcoin and its relatives suggest they are much too volatile to serve as money."
 
Will Bitcoin tumble further?
 
Bitcoin will continue to drop further because country's like South Korea and payment platforms have taken crucial measures in trading under this coin.
 
Recently, it was known that South Korea will ban the use of anonymous bank accounts in cryptocurrency trading from January 30, 2018, in order to end virtual coins from being used for money laundering and other crimes.
 
Such decision also comes on top of stepped up efforts by Seoul to temper South Koreans` obsession with cryptocurrencies.
 
A Reuters report said, "Everyone from housewives to college students and office workers have rushed to trade the market despite warnings from global policymakers about investing in an asset that lacks broad regulatory oversight."
 
Earlier on Tuesday, Stripe which supports more than 100,000 businesses do financial transactions online, has decided to scrap system for Bitcoin payments.
 
Stripe in a BBC news said, "Rising fees and longer transaction times as a result of price fluctuations also lessened its appeal."
 
Meanwhile, Incrementum Research report has stated that Bitcoin and other virtual currencies have still a long way to go, and this tumble is just momentary.
 
"Over the medium term there is undoubtedly a danger that the crypto-sphere could be struck by a medium-strength or even very strong earthquake, which could lead to a noticeable shift in the valuation of Bitcoin and other alt-coins," Incrementum report said.
 
The report further explains that although the market capitalization of cryptocurrencies has grown nearly ten-fold since last year, the market remains very small compared to traditional financial assets.
 
Even the market cap of Apple alone is almost five times larger than the entire sector.
 
Therefore, the analysts at Incrementum believe that the combination of a maturing market, the slow emergence of more specific regulations and the rapidly growing interest on the part of investment banks and hedge funds leads us to conclude that the blockchain mania probably still has a lot of room to grow – perhaps it hasn't even really started yet.
 
Get Latest Business News, Stock Market Updates and Videos; Check your tax outgo through Income Tax Calculator and save money through our Personal Finance coverage. Check Business Breaking News Live on Zee Business Twitter and Facebook. Subscribe on YouTube.