Hamas says Israeli strikes on Gaza City district kill more than 195 people
Gaza officials said the Rafah border crossing would reopen on Thursday so more foreigners could exit.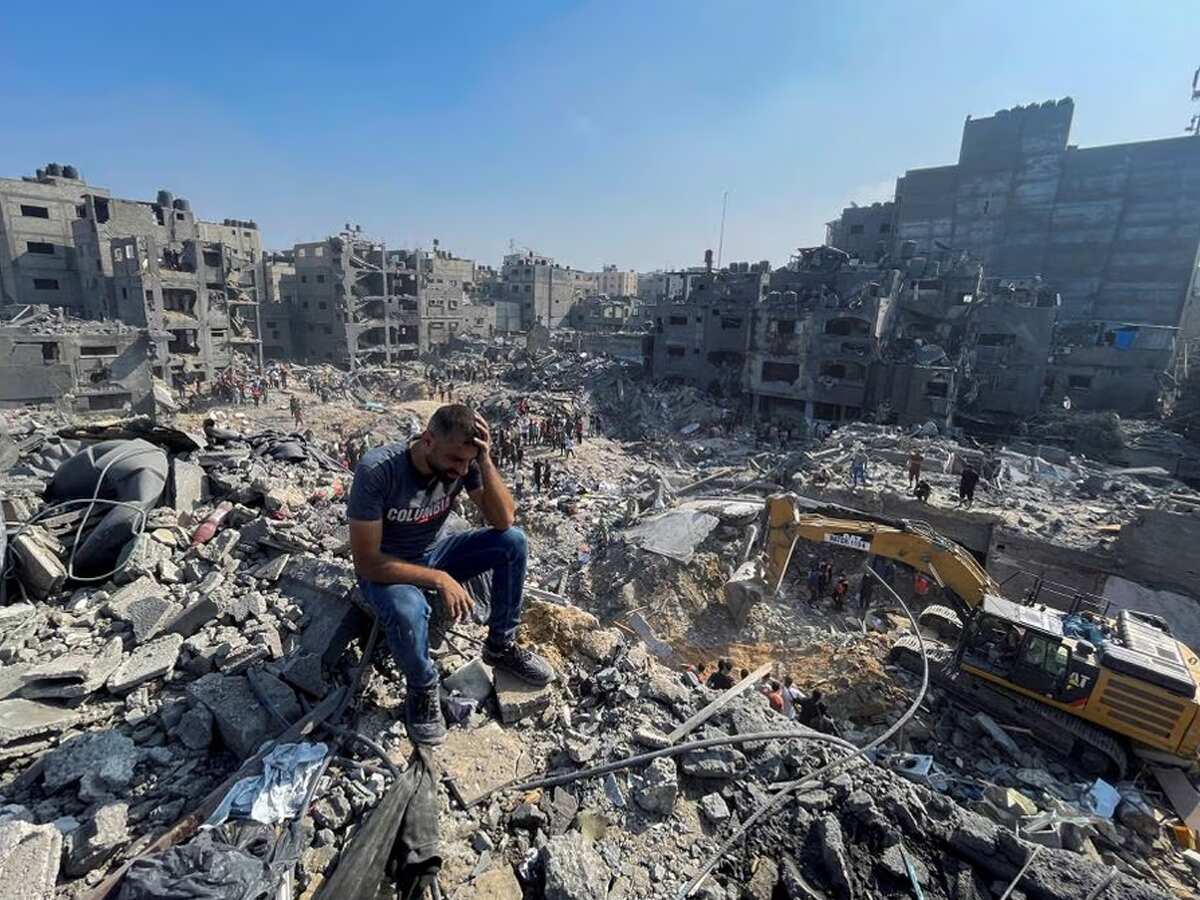 The Gaza health ministry says at least 8,796 Palestinians in the narrow coastal enclave. (Image source | Reuters)
More foreigners prepared to leave the Gaza Strip on Thursday as its Hamas-run government said at least 195 Palestinians died in Israeli attacks on a congested district on the outskirts of Gaza City, strikes that Israel said had killed Hamas commanders.
At least 320 foreign citizens on an initial list of 500, as well as dozens of severely injured Gazans, crossed into Egypt on Wednesday under a deal between Israel, Egypt and Hamas.
Passport holders from Australia, Austria, Bulgaria, the Czech Republic, Finland, Indonesia, Italy, Japan, Jordan, the United Kingdom and the United States were evacuated.
Gaza officials said the Rafah border crossing would reopen on Thursday so more foreigners could exit. A diplomatic source said some 7,500 foreign passport holders would leave Gaza over about two weeks.
Pressing an offensive against Hamas militants, Israel has bombed Gaza by land, sea and air in its campaign to wipe out the Iran-backed Islamist group after its cross-border rampage into southern Israel on Oct. 7. Israel said Hamas gunmen killed 1,400 people, mostly civilians, and took more than 200 hostages.
The Gaza health ministry says at least 8,796 Palestinians in the narrow coastal enclave, including 3,648 children, have been killed by Israeli strikes since Oct. 7.
Israel said its strikes on Tuesday and Wednesday killed two Hamas military leaders in Jabalia, an area of Gaza that was set up as a refugee camp in 1948. Israel said the group had command centres and other "terror infrastructure under, around and within civilian buildings, intentionally endangering Gazan civilians".
The U.N. High Commissioner for Human Rights, in a post on social media site X, said the agency had "serious concerns" that Israel's "disproportionate attacks... could amount to war crimes".
Gaza's Hamas-run media office said on Thursday that at least 195 Palestinians were killed in the two Israeli attacks on Jabalia, with 120 missing. At least 777 people were wounded, it said in a statement.
Palestinians on Wednesday sifted through rubble in a desperate hunt for trapped victims. "It is a massacre," said one witness.
The Israeli military said on Thursday another soldier had died in the Gaza fighting, bringing to 17 the number killed since ground operations were expanded on Friday.
Troops had "confronted several terrorist cells in the northern Gaza Strip during which dozens of terrorists were killed", the military said in a statement.
Amid growing international calls for a humanitarian pause in hostilities, conditions in the seaside enclave are increasingly desperate under Israel's assault and tightened blockade. Food, fuel, drinking water and medicine have run short.
Dr Fathi Abu al-Hassan, a U.S. passport holder waiting to cross into Egypt on Wednesday, described hellish conditions in Gaza with no water, food or shelter.
"We open our eyes on dead people and we close our eyes on dead people," he said.
Hospitals, including Gaza's only cancer hospital, have struggled as shortages of fuel forced them to shut down. Israel has refused to let humanitarian convoys bring in fuel, citing concern that Hamas fighters would divert it for military use.
Ashraf Al-Qudra, a spokesperson for the Gaza health ministry, said the main power generator at the Indonesian Hospital was no longer functioning due to lack of fuel.
The hospital was switching to a back-up generator but would no longer be able to power mortuary refrigerators and oxygen generators. "If we don't get fuel in the next few days, we will inevitably reach a disaster," he said.
U.S. DIPLOMAT DEPARTS FOR ISRAEL, AGAIN
U.S. Secretary of State Antony Blinken was due to depart on Thursday for his second visit to Israel in less than a month. He plans to meet Israeli officials including Prime Minister Benjamin Netanyahu on Friday to voice solidarity but also to reassert the need to minimize Palestinian civilian casualties, his spokesperson said.
Blinken will also stop in Jordan, one of a handful of Arab states to have normalised relations with Israel. On Wednesday Jordan withdrew its ambassador from Tel Aviv until Israel ends its assault on Gaza. Israel said it regretted Jordan's decision.
In Jordan, Blinken will underscore the importance of protecting civilian lives and reiterate a U.S. commitment to ensure Palestinians are not forcibly displaced from Gaza, a growing concern in Arab nations, the spokesman said.
Blinken will also pursue talks led by Egypt and Qatar on securing the release of all of the hostages held by Hamas.
Also on Thursday, the U.S. House of Representatives could pass with Republican support a bill providing $14.3 billion in aid for Israel.
But it is unlikely to become law, as it faces stiff opposition in the Democratic-controlled Senate and the White House has threatened a veto. President Joe Biden wants a $106-billion bill that would fund Ukraine, border security and humanitarian aid as well as money for Israel.
Updated: Thu, Nov 02, 2023
03:16 pm
New Delhi, Reuters