Gold inches higher after five-week low as dollar gains on rate hike views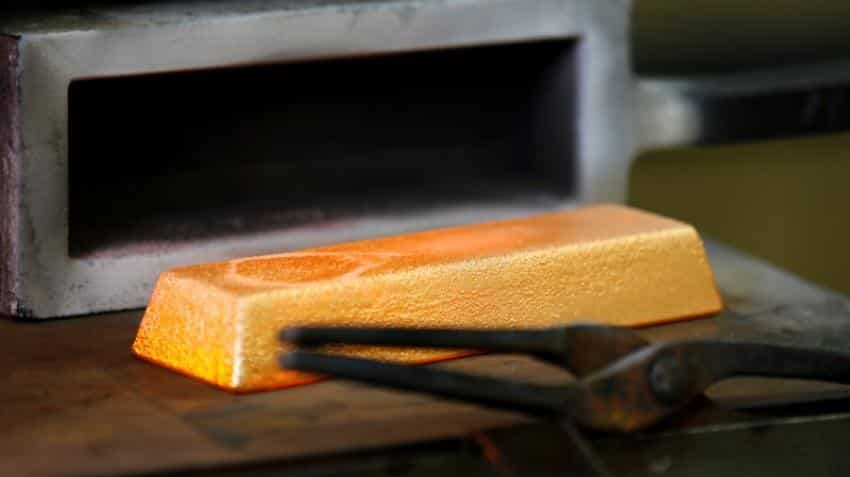 An ingot is left to cool in Ahlatci Metal Refinery in the central Anatolian city of Corum. Image Source: Reuters
Updated: Tue, Jun 20, 2017
08:17 am
Reuters
Gold edged higher on Tuesday after hitting near five-week lows in the previous session when the dollar rose as an influential Federal Reserve official reaffirmed the central bank`s hawkish stance.
FUNDAMENTALS
* Spot gold rose 0.1 % to $1,243.90 per ounce, as of 0044 GMT, after it hit a fresh near five-week low of $1,242.61 during the session.
* U.S. gold futures for August delivery fell 0.1 % to $1,245.10 per ounce.
* New York Federal Reserve President William Dudley reinforced expectations that the U.S. central bank will continue on its path of tightening monetary policy.
* World stock markets climbed on Monday as technology and retail stocks rebounded from recent weakness and U.S. Treasury yields rose in the wake of hawkish comments from a Federal Reserve official. 
* The dollar reached to session highs against the euro and yen on Monday as comments from New York Federal Reserve President William Dudley, suggesting the central bank remains on track to raise U.S. interest rates further despite recent disappointing inflation data.
* With inflation stubbornly soft despite a 16-year low in the U.S. unemployment rate, the Federal Reserve should move only slowly to raise interest rates and trim its massive bond portfolio, Chicago Fed President Charles Evans said Monday.
* Confidence among Japanese manufacturers bounced in June to match a decade-high level recorded in April and is expected to rise for several months, a Reuters survey found, providing more evidence of economic recovery.
* The two men in charge of Britain`s economy are expected to spell out on Tuesday how they plan to prevent a further hit to its already weakened growth prospects following the launch of the country`s historic Brexit talks.
* The British and EU Brexit negotiators agreed how to organise talks on Britain`s divorce at a first meeting in Brussels on Monday, where both sides stressed goodwill but also the huge complexity and tight deadline.
* Sibanye Gold`s Cooke mine in South Africa will remain shut until at least Thursday as the company goes through an appeals process for workers fired for taking part in a wildcat strike, it said on Monday.=>