Donald Trump's aluminium imports tax will bite domestic industry
Between January and October last year, the U.S. imported more than 5.7 million tonnes of aluminium, a rise of 18 percent over the same period in 2016, according to the US Commerce Department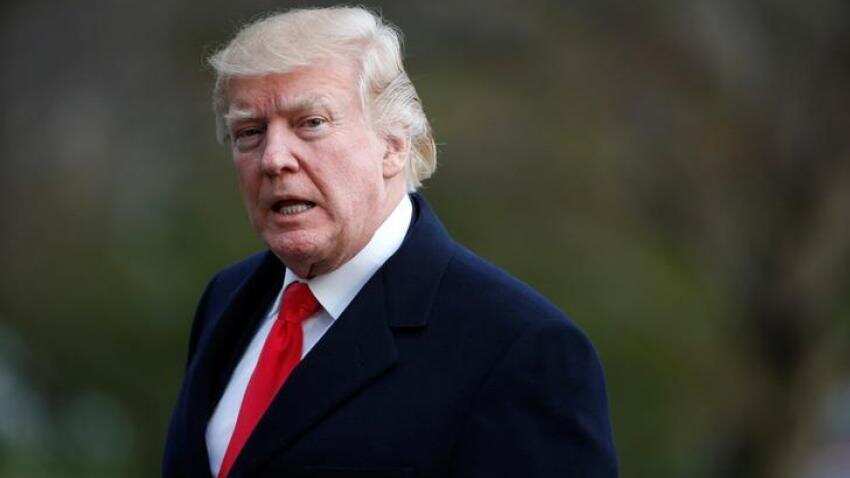 US President Donald Trump announced plans on Thursday to impose a 10 percent tariff on aluminium imports. He will make a final decision by April 11. Image source: Reuters
U.S. plans to slap taxes on aluminium imports will make life more expensive for its manufacturers which use the metal to make high-value products like cars, because the U.S. doesn`t have the capacity to produce what it needs. Meanwhile, major exporters to the U.S. are likely to remain unscathed as the intention is to impose a blanket duty, leaving a level playing field for all. President Donald Trump announced plans on Thursday to impose a 10 percent tariff on aluminium imports. He will make a final decision by April 11.
Between January and October last year, the U.S. imported more than 5.7 million tonnes of aluminium, a rise of 18 percent over the same period in 2016, according to the U.S. Commerce Department. The U.S. produced just 840,000 tonnes of aluminium in 2016, a metal widely used in transport and packaging, according to the U.S. Geological Survey. Kamil Wlazly, a senior metals analyst at consultants Wood Mackenzie said aluminium product makers and the consumers of those goods such as car makers were a key part of the U.S. economy, unlike producers of the metal itself.
"Consumers will have to pay more, the duty will erode their competitiveness," Wlazly said. "Producers ability to increase output is limited to restarting closed capacity - about 600,000 tonnes. They can`t really build new capacity because they don`t have cheap power." Depending on the country, typically between 30-40 percent of aluminium smelting costs are for electricity. Outside China, capacity is mainly in areas where energy is cheap and easy to access.
Aluminium consumers include product makers such as Novelis, Constellium and Arconic, while end users would include auto makers such as Ford, which produces the F150 pick up truck with a body made entirely out of aluminium. "The aluminium consumer lobby has gone into overdrive, they need to stop this. Aluminium smelting is labour light, there are many, many more jobs producing higher value goods," a consumer source said.
Producer sources are waiting to see whether Trump goes ahead with the import tax, but say a blanket levy means a level playing field for all exporters and that the U.S. will need to import aluminium whatever Trump does.
"If suppliers are not compensated for the tax you could see disruption in the U.S. market...The U.S. needs to import aluminium," said CRU Group analyst Eoin Dinsmore. 
"They may be vague, but some annual supply contracts will have had Section 232 renegotiation clauses written in...It is just going to cost (U.S. consumers) more."
U.S. aluminium consumers have been worrying about the possibility of import taxes for over a year now. 
It is why premiums -- the extra cost above the London Metal Exchange benchmark price around $2,150 a tonne -- to buy metal on the physical market in the U.S. have climbed to around $350 a tonne, more than double the level of $132 a tonne in Sept. 2016, weeks before Trump was elected President.
"Trump has got it wrong if he thinks only China will be affected," a producer source said.
Chinese imports of nearly 550,000 tonnes between January and October last year, according to U.S. Commerce Department data were only the fourth largest.  UBS analysts said in a note: "Flashing back to recent trade action on washing machines and solar panels, the administration set the precedent of not providing country-specific carve outs." 
The United Arab Emirates was the third largest importer to the U.S., with nearly 570,000 tonnes between January and October last year and Russia second with more than 625,000 tonnes.
Canada was the biggest supplier of aluminium to the U.S. with about 2.48 million tonnes, which could threaten to derail Trump`s plan.
Canadian aluminium is vital for the U.S. defense industry and the Commerce Department has previously said "the U.S. and Canadian defense industrial bases are integrated," a relationship that "has existed since 1956 and is codified in a number of bilateral defense agreements." 
Updated: Sat, Mar 03, 2018
10:17 am
Reuters