BOJ keeps policy unchanged, slightly more upbeat on inflation outlook
As widely expected, the BOJ maintained a pledge to guide short-term interest rates at minus 0.1 percent and 10-year bond yields around zero percent at its two-day rate review that ended on Tuesday.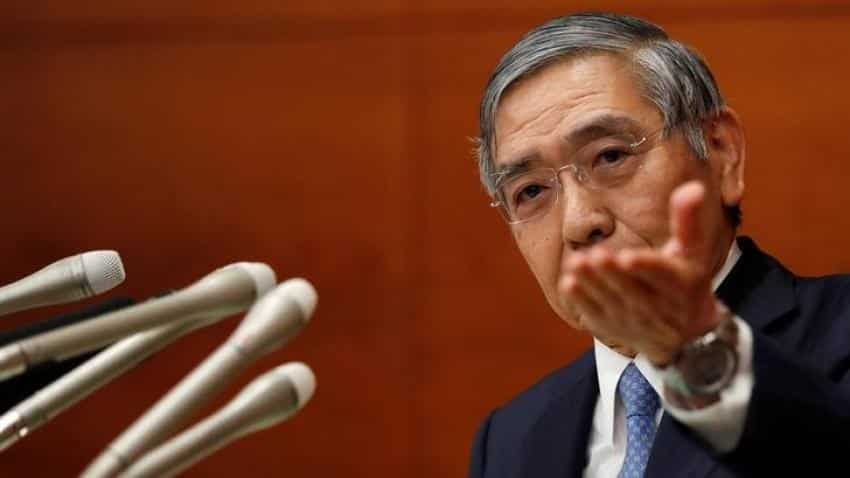 Bank of Japan Governor Haruhiko Kuroda attends a news conference in Tokyo. Image source: Reuters
Japan`s central bank kept monetary settings unchanged on Tuesday and offered a more upbeat view on inflation expectations than three months ago, signalling its conviction a strengthening recovery will gradually push price growth to its 2 percent target.
But Bank of Japan Governor Haruhiko Kuroda will likely seek to dispel market speculation of an early withdrawal of stimulus by reminding investors at his post-meeting briefing that inflation remains distant from his target.
As widely expected, the BOJ maintained a pledge to guide short-term interest rates at minus 0.1 percent and 10-year bond yields around zero percent at its two-day rate review that ended on Tuesday.
It also kept intact a loose pledge to buy government bonds so its holdings increase roughly at an annual pace of 80 trillion yen ($722 billion).
In a quarterly review of its forecasts, the BOJ maintained its 1.4 percent economic growth estimate for the year beginning in April and the 0.7 percent projection for the following year.
The nine-member board also kept its price forecasts that project inflation to hit 2 percent around the fiscal year ending in March 2020.
"Inflation expectations have moved sideways recently," the BOJ said in the report, offering a more optimistic view than three months ago when it said they were on a weak note.
The dollar eased against the yen on the tweaks to the inflation outlook, traders said.
Weak inflation expectations, or public perception of future price rises, have hampered the BOJ`s efforts to use its huge money printing to eradicate Japan`s sticky deflationary mindset and nudge households into boosting spending.
The central bank said while Japan`s economy was expected to expand moderately, it will maintain its massive stimulus programme for as long as needed to hit its inflation target.
"The fact the BOJ kept its growth and price projections unchanged suggests it is in no mood to normalise policy, despite rising market speculation it could do so," said Naomi Muguruma, senior market economist at Mitsubishi UFJ Morgan Stanley.
NO COMPLACENCY
Japan`s economy expanded for the seventh straight quarter in July-September, its longest uninterrupted stretch of growth since 1994 and stock prices are at their highest in 26 years.
Nearly three-quarters of Japanese companies expect the economy to keep expanding at least another year, extending an already strong run, although they were not as bullish as market estimates, a Reuters poll showed.
Such brightening global growth prospects pose fresh communication challenges for policymakers. The BOJ, the Federal Reserve and the European Central Bank are all grappling with how to exit extraordinary policy steps, without scaring investors accustomed to years of massive cheap money.
Japan got a taste of the challenge when a cut in the BOJ`s bond buying pushed up global yields, and Kuroda`s positive remarks on the economy drove the yen to a four-month high.
Core consumer prices rose for the 11th straight month in November and the percentage of households expecting inflation to accelerate hit a nearly two-year high in January, adding to signs Japan may be emerging from two decades of deflation.
But BOJ policymakers are hardly complacent and warn that an index of consumer inflation that strips away the effect of fresh food and energy - still at 0.3 percent - must accelerate more before any debate on withdrawing stimulus could begin.
Some analysts expect the BOJ to raise its yield targets this year as more central banks head toward an exit from crisis-mode policies, putting upward pressure on global bond yields.
"If rates are rising in the United States and Japan`s economy is doing well, there will be some upward pressure on rates. It would be impossible to contain this," said Hiroaki Muto, an economist at Tokai Tokyo Research Center.
"The BOJ is on hold for the first half of this year but could start to shift gear in the second half of this year."
 
Updated: Tue, Jan 23, 2018
11:28 am
Reuters