Asian stocks pare gains, yen rallies to 18-month high
The Bank of Japan (BOJ) stunned markets last week by keeping monetary policy unchanged in the face of growing headwinds for its economy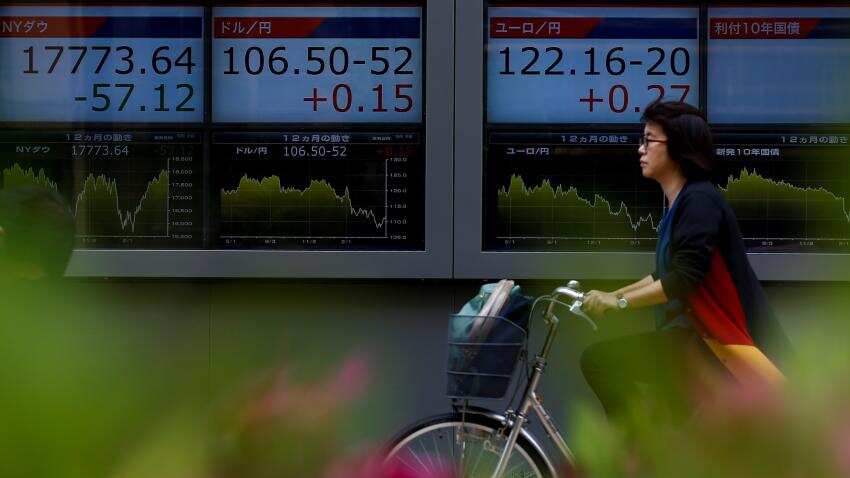 A woman cycles past a display of foreign exchange rates including the dollar to yen rate in Tokyo, Japan, May 2, 2016. Reuters/Thomas Peter
Updated: Tue, May 03, 2016
09:35 am
Hong Kong, Reuters
Asian stocks erased earlier gains and the Japanese yen rallied to a fresh eighteen-month high on Tuesday as investors grew doubtful about global central banks' ability to boost growth through aggressive policy easing.
MSCI's broadest index of Asia-Pacific shares outside Japan was flat after being up as much as 0.4% on the day and is now trading at a three-week low.
"Markets are telling us is that the European Central Bank and the Bank of Japan are failing in their mission to expand monetary stimulus and that these policies are not doing what they are expected to do," said Cliff Tan, east Asia head of global markets research at Bank of Tokyo-Mitsubishi UFJ Ltd. "That is discouraging for equities"
The BOJ stunned markets last week by keeping monetary policy unchanged in the face of growing headwinds for its economy while the ECB has recently struck a more guarded stance on the question of adding more stimulus.
Stock markets in Hong Kong and Taiwan led regional losers after a private survey showed activity at China`s factories shrinking for the 14th straight month in April as demand stagnated, forcing companies to shed jobs at a faster pace.
Australia's stock markets rose 0.8% as market attention focused squarely on the Australian central bank`s interest rate decision at 0430 GMT. Economists don`t expect any change to policy at this meeting so a surprise rate cut would add to concerns about the lack of growth in the global economy.
While a firm finish in US stocks, thanks to a rebound in financials led by Berkshire Hathaway, offered a sliver of hope to Asian investors, the sharp gains in the Japanese yen against the dollar deflated optimism. 
The dollar set a fresh 18-month low versus the yen on Tuesday, as the yen pushed higher in a holiday-thinned market with one Singapore-based trader saying there appeared to some speculative yen buying.
Japan is in the middle of its Golden Week series of holidays. Markets were closed on Friday and will be closed on Tuesday to Thursday this week.
The dollar lost 0.3% to 106.09 yen, and fell to as low as 106.05 yen at one point, its lowest level since October 2014.
The yen added to its recent gains, having jumped about 5% against the dollar last week as the BOJ held off from expanding its monetary stimulus - the yen`s biggest weekly gain since 2008.
The US Treasury put Japan on a new currency monitoring list with four other countries that have large trade surpluses with the United States, seen making it harder for Tokyo to intervene in the markets to stem the yen's gains.
The dollar index, which measures the dollar's performance against a trade-weighted basket of its peers, is trading at its lowest since January 2015.
Despite its recent losses, the Australian dollar still remains vulnerable to any sudden policy changes due to heavy positioning. Currency futures show long positions in the Aussie at their highest levels in almost two years.
After raising interest rates in December for the first time in nearly a decade, the Fed held monetary policy steady last week. While it kept the door open to a hike in June, it gave no signal that it was in a hurry to tighten further given the economy`s slowdown, even as the labour market has improved. 
Crude oil futures edged lower after hitting 2016 highs on Friday as fears of a global supply glut eased. 
Oil futures rose to $45.10 a barrel in Asian trading, slightly below the 2016 high of $46.78 hit on Friday and 80 % above February`s low.
Spot gold briefly rose above $1,300 an ounce in the previous session, its highest since January 2015, before edging lower on Tuesday.
Rates markets were largely subdued with US ten year yields steady around 1.88%.