Asian shares, yuan down after Moody's downgrades China
The Aussie fell as much as 0.3 percent to $0.7455 while the yuan slipped to 6.8901 per U.S. dollar , 0.1 percent below late U.S. levels after Moody`s downgraded China to A1 from AA3.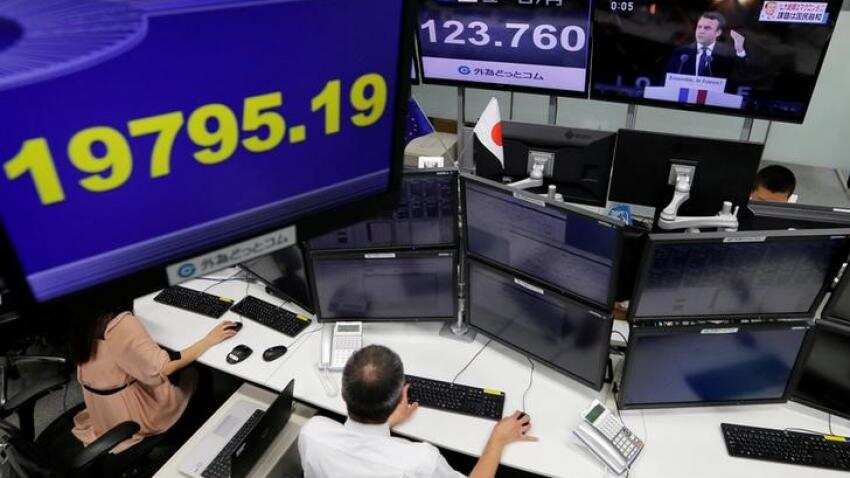 Employees of a foreign exchange trading company work near monitors showing French President-elect Macron on TV news and the Japanese yen's exchange rate against the euro and Japan's Nikkei average in Tokyo. Photo: Reuters
Asian shares edged lower in early trade on Wednesday, while the Australian dollar and the offshore Chinese yuan slipped after Moody`s cut its sovereign credit rating on China.
MSCI`s broadest index of Asia-Pacific shares outside Japan was down 0.1 percent despite modest gains on Wall Street overnight. Japan`s Nikkei stock index was up 0.6 percent.
The Aussie fell as much as 0.3 percent to $0.7455 while the yuan slipped to 6.8901 per U.S. dollar , 0.1 percent below late U.S. levels after Moody`s downgraded China to A1 from AA3.
Moody`s cited the growing leverage in China for the downgrade, and warned about slowing economic growth. China`s massive debt been at the centre of concerns among economists and Beijing in recent months, and has roiled global financial markets since late last year. 
"The downgrade reflects Moody`s expectation that China`s financial strength will erode somewhat over the coming years, with economy-wide debt continuing to rise as potential growth slows," Moody`s said in a statement.
Chinese authorities have stepped up regulatory curbs to defuse financial risks and cracked down on risky lending practises, with the central bank shifting toward more tighter policy. 
The U.S. dollar pulled away from recent 6-1/2 month lows, as the release of President Donald Trump`s budget proposal raised hopes that his administration`s policies would move forward. Trump`s first full budget plan calls for an increase in military and infrastructure spending but also cuts in areas including healthcare and food assistance.
U.S. Treasury Secretary Steven Mnuchin said he hoped to get tax reform passed this year, though this would not happen by August.
"Of course we`re not really sure of the details of the budget plan, and what form it will finally take, but it has given the market the perception that everything is moving forward again, after recent distractions such as `Russia-gate`," said Mitsuo Imaizumi, Tokyo-based chief foreign-exchange strategist for Daiwa Securities. 
Political turmoil following Trump`s recent firing of FBI Director James Comey, who was overseeing an investigation into possible links between the president`s election campaign team and Russia, had raised fears that his administration`s promised tax reform and fiscal stimulus would be derailed.
"Expectations that the Fed will hike next month are also supporting the dollar. Though a hike is not a done deal, it is still widely expected," Imaizumi said.
Investors awaited the minutes of the Fed`s latest policy meeting, scheduled to be released at 1800 GMT later on Wednesday.
The dollar index, which tracks the greenback against a basket of six major rivals, was steady on the day at 97.346, pulling away from its lowest levels since November plumbed earlier this week. 
The dollar added 0.1 percent to 111.84 yen , while the euro was steady on the day at $1.1185. Oil prices edged down after rising in the previous session on expectations of an extension to OPEC-led supply cuts. That offset an impact from a White House proposal to gradually sell half of U.S. petroleum reserves. 
U.S. crude was down 0.1 percent on the day at $51.44. Spot gold edged up slightly to $1,251.09 an ounce.
Updated: Wed, May 24, 2017
07:38 am
Tokyo, Reuters