Asus ROG Ally quick review: Gaming on the go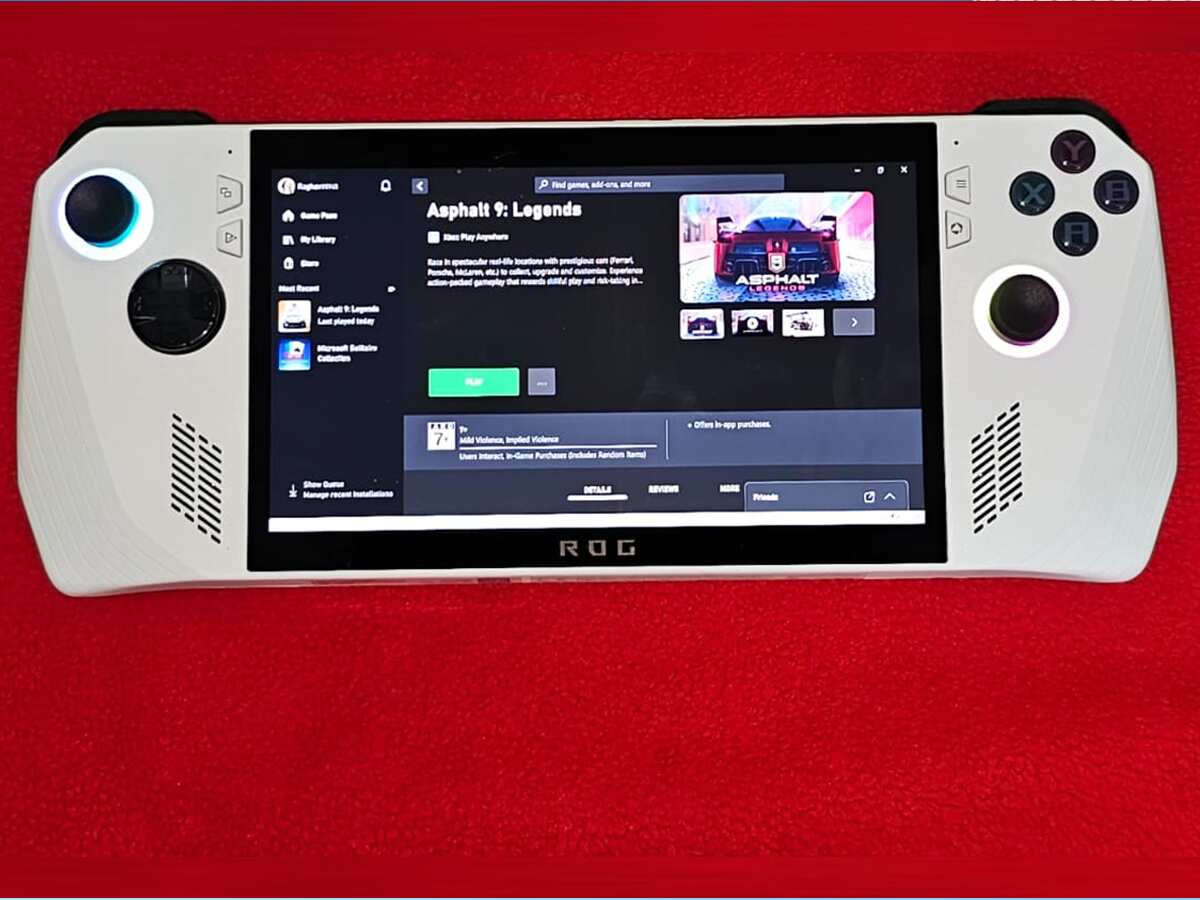 The Asus Rog Ally is powered by an AMD Ryzen Z1 Extreme processor, which is a capable SoC. Photo credit: Raghwendra Shukla
Asus ROG Ally quick review: Asus has entered into the handheld gaming segment with the launch of the Asus ROG (Republic of Gamers) Ally. However, the device comes with a hefty price tag of Rs 69,990. I used the device for a couple of days and here's what I found —
The Asus ROG Ally is bound to impress you from the moment you hold it in your hands, as it focuses on two important aspects of handheld devices - comfortability and portability. This device fully lives up to the expectation in terms of these two things. Another good thing is that the 7-inch display has a peak brightness of 500 nits which is bright enough for playing all types of games. The display supports a 120Hz refresh rate. controls of the Asus Rog Ally are also placed in the right positions, and these buttons provide satisfactory haptic feedback.
The Asus Rog Ally is no less than a PC as it runs Windows 11 Home. So, the experience is similar to a compact screen. However, there are certain things that are not designed for the small screen. Especially, reading text can be hard at times. Also, text input was not easy during the setup process.  
ALSO READ | Nothing Phone (2) Review: Apple of my Andro(eye)d
The Asus Rog Ally is powered by an AMD Ryzen Z1 Extreme processor, which is a capable SoC. Also, it has 16 GB of LPDDR5 memory on board. The performance of the device was satisfactory as games were rendered smoothly even at high graphic settings.
The battery on the ROG Ally has an average battery life at best. The battery backup varies depending on the TDP setting. At the 25W performance setting, I was able to play games for 45 minutes to an hour. At the 15W setting, I could play games for an hour and 30 minutes. And at the 10W silent setting, the battery would last for almost 2 hours.
ALSO READ | Samsung Galaxy Z Flip 5 Review: Flexing the 'flex window'
The 40 WHr battery can be charged in under an hour using the supplied 65-Watt USB-C PD charger, which is similar to the ones Asus ships along with their Ultrabooks. The presence of fast charging makes up for the average battery life. However, for the best graphics quality, the device still needs to be plugged in.
If you are a fan of handheld gaming consoles, then the Asus Rog Ally is definitely the one for you, simply because its competitors like Nintendo Switch and Valve SteamDeck, are not available in the market at the moment.
Updated: Thu, Aug 31, 2023
05:07 pm
New Delhi, ZeeBiz WebDesk