What is ChatGPT? Can the AI chatbot replace Google in near future - EXPLAINED
ChatGPT is an artificial intelligence chatbot that has been developed San Francisco-based OpenAI, a research company led by Sam Altman and backed by Microsoft, LinkedIn co-founder Reid Hoffman and Khosla Ventures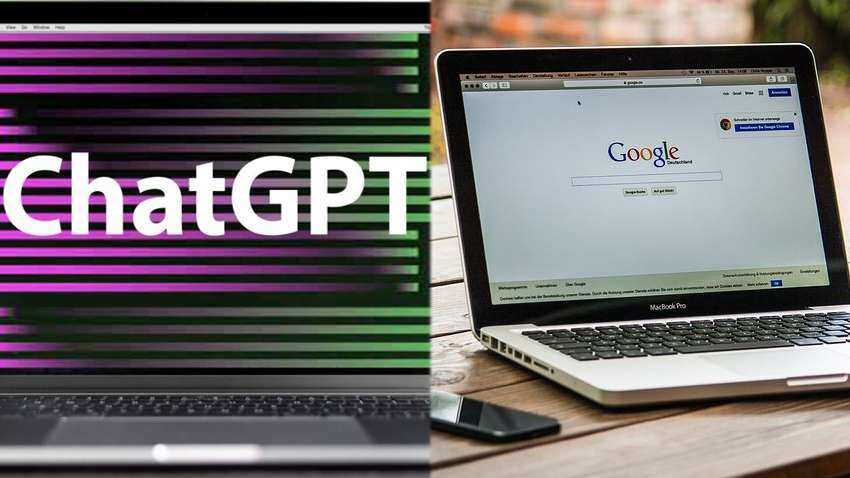 According to experts, ChatGPT in its current format does not have the ability to replace the Google search engine. Photo credit: IANS/Pixababy
ChatGPT Explained: ChatGPT has been the talk of the town, thanks to its ability to answer almost anything or everything a human can ask. Also, the replies are pretty close to the ones you would get from a human being. This has left many people wondering whether it is smart enough to replace search engine giant Google in the near future. Let's find out.
What is ChatGPT?
ChatGPT is an artificial intelligence chatbot that has been developed San Francisco-based OpenAI, a research company led by Sam Altman and backed by Microsoft, LinkedIn co-founder Reid Hoffman and Khosla Ventures. According to experts, ChatGPT in its current format does not have the ability to replace the Google search engine.
According to Abhijit Mhetre - Senior Vice President (SVP) Marketing, Kore.ai - Google search engine uses complex algorithms to index and rank billions of web pages and provides users with the most relevant search results and therefore can provide several possible answers to every single query. On the other hand, ChatGPT gives no scope for exploring any given topic.
ALSO READ | Microsoft announces multi-billion dollar investment in ChatGPT developer OpenAI
"So far for the past two decades, we've tried to 'Google' everything, so it's obvious that people will compare ChatGPT with Google Search. However, ChatGPT in its current format does not have the ability to replace the Google search engine. ChatGPT with its underlying large language model and generative AI technology is good at understanding user intent and provides a summarised answer from a vast pool of knowledge. However, it is unlikely to replace Google as the Google search engine uses complex algorithms to index and rank billions of web pages and provides users with the most relevant search results, instantly. ChatGPT requires a lot of training on huge data before it can actually provide any answers, hence real-time learning and answering are out of the scope of ChatGPT. Its results may not be comprehensive and accurate," he told Zee Business.
"Moreover, the summarised answer provided by ChatGPT does not provide any further exploration choices to the user. Google search, on the other hand, is near-realtime and presents the most up-to-date, accurate, comprehensive, and relevant search results with full control to the end-user on exploring it further," he added.
What is the future of ChatGPT?
The future of ChatGPT most likely lies in improving its language generation and making it more accessible and user-friendly for various applications. As AI advances, ChatGPT may be integrated into products like virtual assistants and customer service chatbots.
"Compared to traditional search engines where search results can be overwhelming, ChatGPT offers a unique user experience through its conversational interface. While not intended to replace search engines, ChatGPT's natural language interaction and interface sets it apart for applications requiring a conversational interface. However, its results may not be as comprehensive as those of traditional search engines. In the future, I see ChatGPT-like technologies complimenting traditional search engines in providing a conversational search interface and summarised search results," he opined.
Will ChatGPT replace Google?
Not only experts, ChatGPT itself feels that it cannot replace Google. Here's what it has to say when we asked "Will Chat GPT replace google?"
"No, ChatGPT is a language model developed by OpenAI, while Google is a search engine and technology company that offers a wide range of products and services. While ChatGPT can answer questions and provide information, it is not designed to replace Google. The two technologies serve different purposes and have different capabilities."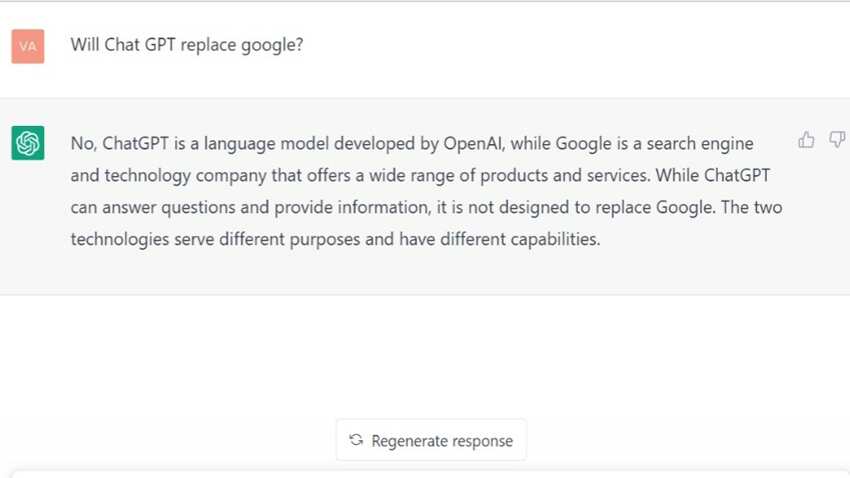 When asked about improvements needed, ChatGPT said that it can continually be improved in various ways.
"As an AI language model, ChatGPT can continually be improved in various ways, such as:
Contextual Understanding: Improving the ability to understand the context in conversations and respond accordingly.
Diversity and Inclusivity: Increasing the representation of diverse perspectives and experiences in the training data to produce more inclusive outputs.
Consistency and Coherence: Ensuring that responses are consistent with the context and previous statements in a conversation.
Emotional Intelligence: Enhancing the model's ability to recognize and respond to emotions in a conversational context.
Adaptation to Domain-Specific Conversations: Allowing the model to learn from domain-specific data to perform better in specific industries, such as healthcare, finance, etc.
These are some of the areas where improvements can be made to make ChatGPT more useful and effective."
Get Latest Business News, Stock Market Updates and Videos; Check your tax outgo through Income Tax Calculator and save money through our Personal Finance coverage. Check Business Breaking News Live on Zee Business Twitter and Facebook. Subscribe on YouTube.
Updated: Tue, Feb 07, 2023
03:16 pm
New Delhi, ZeeBiz WebDesk