Lava is now a threat to Chinese smartphones, says president Sunil Raina on success of Agni 2
Talking to Zee Business, Sunil Raina - President and Business Head, Lava International - also revealed that Lava will launch a smartphone in the over Rs 30,000 segment in the future.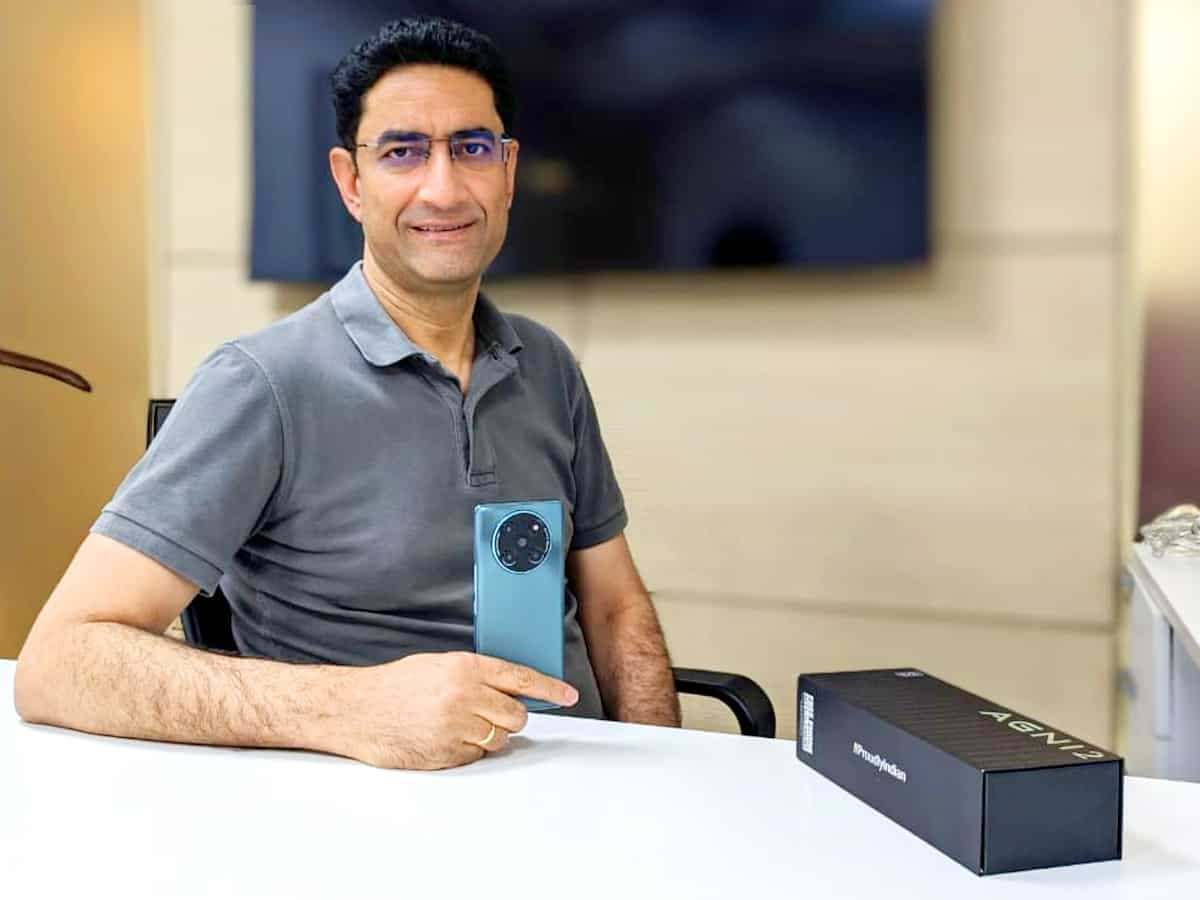 Sunil Raina said that Lava will soon launch smartwatches.
Lava Agni 2 5G smartphone has created quite a stir by providing several premium features in a device that is priced at around Rs 20,000. The success of the Agni 2 can be gauged by the fact that the smartphone has been consistently out of stock for quite some time. Buoyed by the success of Agni 2, Sunil Raina - President and Business Head, Lava International, said that the company is now a threat to Chinese smartphone manufacturers.
Talking to Zee Business' Raghwendra Shukla, Raina also revealed that Lava will launch a smartphone in the over Rs 30,000 segment in the future. In a freewheeling interaction, he also talked about how the company is now planning to expand in portfolio by entering into the wearable segment.
Here are the edited experts of the interview:
Q: Lava Agni 2 has been quite a popular device so far. Do you think it brought Lava back into vogue?
Sunil Raina: We have been primarily focusing on budget smartphones for a long. And that's where our strength was. But we have been building our capabilities to enter into a new segment once we are completely ready for it. Of course, we tried to do it in the past with the launch of Agni and did well with it. But we wanted to add some very unique features that nobody is offering. Agni 2 comes with several unique features that are not available in the segment. And this is something that we had not done before. It is for the first time that we have tried to create such a feature-loaded product. The kind of response Agni 2 has received is unimaginable. So much so that the demand is far higher than what we are able to supply at this stage. So we have made a very good entry in the segment (above Rs 20,000).
Q: Please share some details and figures about how much business it has done so far, or the percentage of total sales.
Sunil Raina: We don't share numbers. But I can tell you that when compared to Agni, this latest smartphone (Agni 2) by Lava has done far better. In fact, it has done multiple times better. Agni 2 has really pulled up our ASP (average selling price). These numbers are going to improve further during the upcoming festive season.
Q: Lava Agni 2 has been by far the best smartphone of your company. What took Lava so long to come up with such a device?
Sunil Raina: If you see this particular segment (Rs 20,000 to Rs 25,000), the customers are extremely aware and highly knowledgeable. So, we really need to understand the consumers. Not only that, but we also have to build capabilities to deliver whatever is needed by the consumers.  For long enough, we have been launching products in the lower segment and developed a certain amount of understanding. The launch of Agni was our first attempt to be closer to the above Rs 20,000-segment and we learned that these consumers need very high performance from the device. Second is that people want the latest technology in a device priced in this segment. So, we have been trying to build trust among our customers. Because it is not just about the product but the overall experience. So, we had to build all of these things. This is why our latest product has got such a good response. The response has been overwhelming and I think it's better to be late than be sorry.
Q: Is Lava still focusing on budget smartphones, or is it ready to enter into the premium segment?
Sunil Raina: We are already working on budget smartphones and will continue to do. With Agni 2, we have made an entry in the over-20,000 segment. So, the next step will definitely be to launch the device in a higher segment. We will definitely add devices that will be priced above Rs 30,000. We will not rest at just budget smartphones and will go beyond our current price points.
Q: Apart from smartphones, what are the key areas that Lava is working on?
Sunil Raina: We are currently preparing to launch smartwatches. In the next few months, you will see our smartwatches. We will provide some very interesting options to buyers. Just like our smartphones, these watches will be Made in India and it is going to be very interesting. We have 14 years of experience when it comes to making smartphones, therefore we have a fair idea about what consumers want.
ALSO READ | Nothing Phone (2) Review: Apple of my Andro(eye)d
Q: Do you think that Chinese smartphone manufacturers pose a threat to Lava?
Sunil Raina: I think it's the other way around, we are a threat to them now. They used to be a threat to us a long time back but that part is over now. This was mainly because we didn't have the ecosystem to manufacture smartphones in India at that point in time. So, it was far more difficult to build phones in India that could compete with those built outside. That was one part of it. The other part was that when these companies entered India, they did disruption through a lot of cash burn - both in terms of marketing as well as pricing. Indian companies like ours were not able to compete with them. So it took some time to get these things settled, and like I said, now it's a time for them to feel threatened about what we are doing and what we're going to do.
Q: What kind of support you are getting and what are your expectations from the government?
Sunil Raina: The government has taken two concrete steps over the last decade or so. One is they are focusing on localisation. Also, the government has been levying duties on imports. So all these things have helped in the manufacturing of several components in India. So it is now easier for countries like ours to access those components quickly. The second one is the announcement of the PLI scheme. Under this, you can get incentives for fulfilling certain criteria. I think these are the two key initiatives of the government and they are really helpful for companies like Lava. The only ask that we have is that there should be design-led manufacturing incentivisation. It is important because it is one of the aspects of ecosystem building.  Today, most of the phones which are sold in India are designed outside the country. But companies like us are designing smartphones completely in India. Once you incentivise design in India, the talent pool will increase and we will benefit from that.
Updated: Wed, Aug 09, 2023
12:43 pm
New Delhi, ZeeBiz WebDesk