What makes your banking services costly? Revealed here - Account holders should know these facts
Customers having a normal bank account with lenders like SBI, ICICI Bank, HDFC Bank, Yes Bank, Axis Bank, BoB and many more, have to pay an extra sum for their services like NEFT, IMPS, RTGS and even ATM withdrawals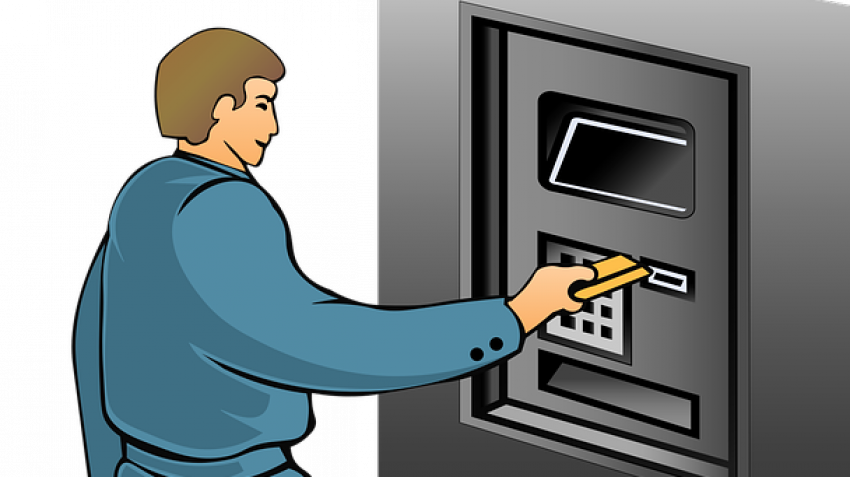 Services given to Jan Dhan Bank account members are similar like the ones provided in normal current account and savings account. Photo: Pixabay
While Jan Dhan account customers have received good news in the form of no GST tax slabs on their any form of transactions, the attention has now shifted towards banking services. It needs to be noted that, the services given to Jan Dhan Bank account members are similar like the ones provided in normal current account and savings account. Yet, only the services given by banks in Pradhan Mantri Jan Dhan Yojana are exempted from Goods and Services Tax (GST) which has been in inception since July 2017. Even bank saving bank deposits (BSBD) accounts and any other form of accounts created under Jan Dhan Yojana have received this benefit. 
This means, that customers having a normal bank account with lenders like SBI, ICICI Bank, HDFC Bank, Yes Bank, Axis Bank, BoB and many more, have to pay an extra sum for their services like NEFT, IMPS, RTGS and even ATM withdrawals. Simply put, your financial transactions are costly, because of an extra tax you pay as GST for your services. Also, notably there are already fees and charges levied by banks to their customers in these form of transaction apart from GST as well. This just adds another woe to your services. 
V. G. Kannan, CEO of Indian Banks' Association told Zee Business on Monday that, just like services in Jan Dhan Account are exempted from GST, then the normal bank accounts must receive the same relief. 
The IBA chief further demanded to make 12 services of bank exempted from GST. It was also known that GST burden is being borne by banks. 
Kannan said, "We have been demanding in regards to GST since four to five months with DFA and revenue department." Adding Kanan said, "The interpretation that the balances being maintained by customers is a consideration for the services by banks. Therefore, services rendered by banks will be subject to GST."
IBA ने ATM से कैश निकासी या चेकबुक के इस्तेमाल जैसी बैंकिंग सर्विसेज पर लगने वाली GST से राहत की मांग की।@IBA_org_in pic.twitter.com/Nwq2TCOJoR

— Zee Business (@ZeeBusiness) 15 January 2019
"We have to give more information on which services should GST be exempted. Otherwise, every customer will have to pay GST, but we are hopeful that the government may free customers common services from GST," said Kannan.
When asked about which services should be exempted from GST, Kannan explained that even on draft there is GST levied, even some banks charge on cheque book issuance hence we recover GST from that as well. 
But there is service like passbook printing, statement of account, debit card, ATM services, internet banking, Kannan, "like this such services we demand to free from GST."
Coming back to some of the major services done by customers in banks. Mostly, in day-to-day life, customers in heavy amount carry services like NEFT, IMPS, RTGS and ATM withdrawal, where up to a certain limit the transactions are free but if breached soon they fall under the bracket of charges including GST. 
According to RBI's data, there were some 10.97 million transactions carried in RTGS valuing up to Rs 130,030.07 billion alone in November 2018 month. Not only this, even in the same month, about 194.21 million transactions took place worth Rs 18,246.68 billion, whereas 149.94 million transactions took place in IMPS services aggregating up to Rs 1,347.57 billion. Also, debit card usage at ATMs stood at 838.92 million worth Rs 2,778.69 billion. 
Simply put, these are the services which need to be free from GST. Let's understand what are the charges levied by major lenders like SBI, HDFC Bank and ICICI Bank on the services like IMPS, RTGS, NEFT and ATM. 
SBI! 
The NEFT and RTGS transactions carried via online banking are not much chargeable as they range between lowest Rs 1 to maximum Rs 10. However, transactions made at branches, then on NEFT charges are between Rs 2.50 to Rs 25, and that on RTGS the fees are ranging from Rs 25 to Rs 50. These are exclusive of GST.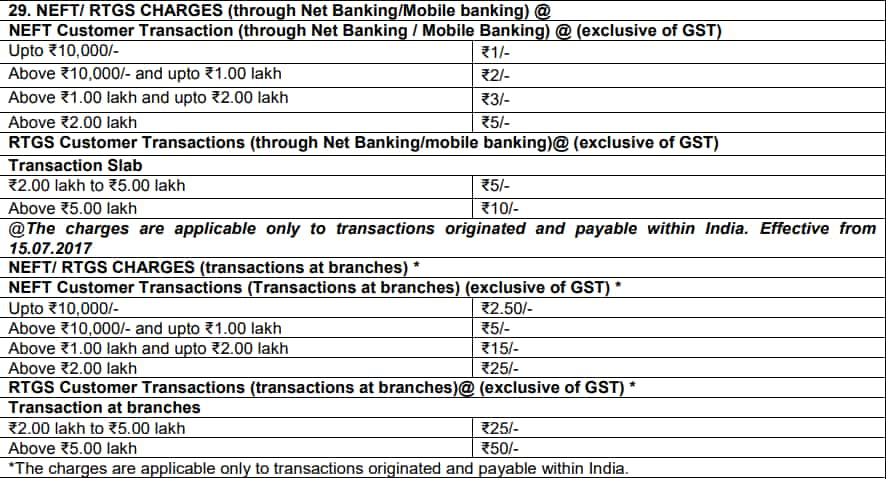 (Image source: SBI)
As for IMPS transactions up to Rs 1000 is free from any charges and GST. But between Rs 1,001 to Rs 1 lakh transactions especially via online, then Rs 5 plus GST is levied. As transaction above Rs 1 lakh but up to Rs 2 lakh has charges of Rs 15 plus GST. 


(Image source: SBI)
There are different form of charges on ATM - for instance Cash withdrawal from Wallet Balance through ATM (Rs 25 per transactions), balance enquiry at ATMs (Rs 25 plus GST), ATM Cash withdrawal transactions (Rs 100/- min. + 3.5% of Txn. amt. + GST), ATM transaction decline due to insufficient balance (Rs 20 plus GST) and Cardless Cash withdrawal at ATMs (Rs 22 plus GST).
There are about 3 transactions free at other banks ATMs in 6 metro centres, 5 free on other centres. As for SBI ATMs, 5 transactions are free. If exhausted the limit then between Rs 5 to Rs 20 charges will be levied plus GST. 
ICICI Bank! 
A somewhat similar pattern is followed by this lender. 

(Image source: ICICI Bank)
5 first transactions are free on ATM of other banks in a month. Thereafter, Rs.20 per financial transaction and Rs. 8.50 per non-financial transaction
Also, ICICI Bank says anywhere cash withdrawal - will see no charges for the first cash withdrawal of a  calendar month. Thereafter in the month, Rs.5 per thousand rupees or part thereof, subject to a minimum of Rs.150 (Maximum withdrawal limit – Self: Any Amount, Third party: Rs.15,000 per day).
HDFC Bank! 
NEFT - Upto Rs 10,000 - Rs 2.50 + Applicable GST; Above Rs 10,000 and upto Rs 1 lakh - Rs 5 + Applicable GST; Above Rs 1 lakh and upto Rs 2 lakh - Rs 15 + Applicable GST and Above Rs 2 lakh - Rs 25 + Applicable GST.
RTGS - Above Rs 2 lakh upto Rs 5 lakh - Rs 25 + Applicable GST and Above Rs 5 lakh - Rs 50 + Applicable GST.
IMPS - Above Rs.1 to Rs 1 Lakh - Rs.5 + GST and Above 1 lakh to 2 Lakh - Rs.15 + GST. A customer can transfer maximum amount as per the TPT limits. However per transaction limit for IMPS using Account number is Rs 2 Lakhs.
ATM - Balance enquiry free,  5 free cash withdrawal transaction per month at Non-HDFC Bank ATM, Rs 20/- per transaction (Per transaction limit will be Rs 10,000/-), Rs. 25 per transaction (plus taxes) for transactions declined at other Bank ATMs anywhere in the world or at a Merchant outlet outside India and HDFC Bank debit card transactions free. 
Considering the above, the GST in banks services comes at 18% as against 15% service charge which was earlier. 
Hence, it would be quite interesting to watch on whether what will be these services that IBA will forward before the centre for GST exemption. However, a no GST on NEFT, RTGS, IMPS and ATM transactions will be like achhe din for customers. 
 
Get Latest Business News, Stock Market Updates and Videos; Check your tax outgo through Income Tax Calculator and save money through our Personal Finance coverage. Check Business Breaking News Live on Zee Business Twitter and Facebook. Subscribe on YouTube.
Updated: Wed, Jan 16, 2019
12:41 pm
Mumbai, ZeeBiz WebDesk