Over 8 lakh transactions done at ATM via credit cards, HDFC Bank, SBI sees most cash advances; Is it safe?
Surely, credit cards do help you in times of need when your salary does not stretch far enough, but they also give you sleepless nights when you fail to make timely repayments.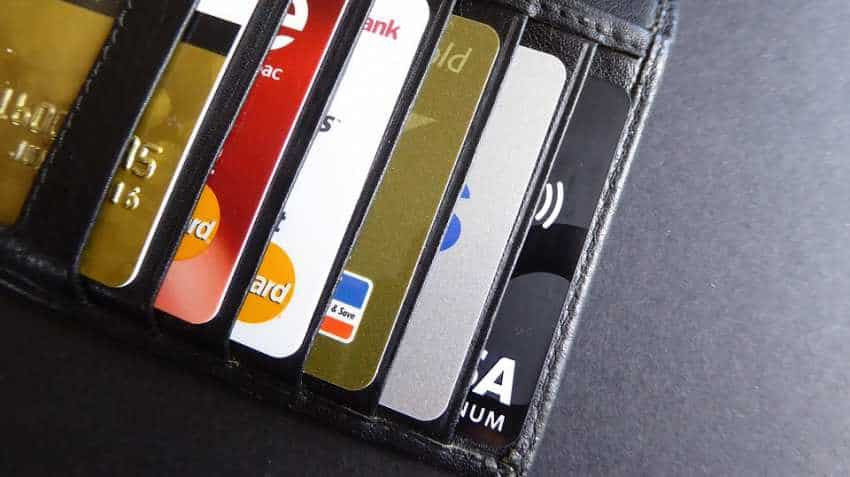 Representational Image: Photo: Pixabay
Updated: Mon, Oct 08, 2018
05:11 pm
Mumbai, ZeeBiz WebDesk
The Reserve Bank of India (RBI) recently released the data of credit card and debit card usage at ATM and POS machines. The numbers were presented for the July 2018 month, revealing some interesting facts and habits of a citizen while using credit cards especially at ATMs. This also comes as a cause of concern, as withdrawing cash using credit card is not entirely a wise thing to do. However, emergencies have their own role to play, but it is always advisable to avoid using credit cards at ATM. Surely, credit cards do help you in times of need when your salary does not stretch far enough, but they also give you sleepless nights when you fail to make timely repayments.  
According to RBI data, number of outstanding credit cards as at the end of July stood at 40153868. Among these, a total of 804,212 transactions were made using credit cards at ATM amounting to Rs 3,723 million. 
It was largest private lender HDFC Bank where the number ATM transactions using credit cards were highest at 182,882 worth Rs 988.5 million. This was followed by another largest lender state-owned SBI where about 133,257 transactions were made at ATMs totalling to Rs 503.8 million. 
Axis Bank took third spot when it came to heavy usage of credit cards at ATM with 86,494 transactions amounting to Rs 357.3 million. 
Interestingly, Ratnakar Bank (RBL) was one such bank to even surpass some major private lenders like ICICI Bank, Kotak Mahindra Bank, IndusInd Bank and Yes Bank, when it came to withdrawing cash using  credit cards through ATMs. 
RBL Bank recorded about 79,489 transactions at ATM, where the credit card usage value aggregated to Rs 391.3 million. 
ICICI Bank had witnessed only 42,668 transactions at ATM worth Rs 146.4 million, while Kotak Bank saw 44,345 transactions at ATM worth Rs 171.3 million. 
Furthermore, Citi Bank was another such bank to see credit card ATM transactions of somewhat 40,848 worth Rs 235.7 million. 
Among state-owned ones, Bank of Maharashtra and Bank of Baroda were in the list of among most credit card transactions at ATMs. As on July 2018, Bank of Maharashtra had 38,442 transactions worth Rs 189.3 millions, while Bank of Baroda had 30,424 transactions worth Rs 165.1 million. 
From the above data, one thing is clear that customers are using credit cards in heavy amount at ATMs. Why making a cash withdrawal using credit cards is risky, is because of its interest rates and fees levied on performing such transactions. 
This one should be taken very seriously. Always remember not to make cash withdrawal using credit cards, if you want cash then debit cards are what you should use. 
It needs to be noted that cash withdrawals made on credit cards are charged interest from the day of withdrawal. Not only this, some credit cards charge an additional interest for cash withdrawals.
For instance, HDFC Bank on its website mentions that cash advance charges (cash withdrawal at ATM using credit cards) is about 2.5% on amount withdrawn or Rs 300 whichever is higher. There is an initial interest rate at card issuance will be 3.4% per month which would be 40.8% per annum. 
If you fail to clear the payment within the time frame, then HDFC Bank levies late fee charges as well. For bills up to Rs 100 there are no late payment charges, however for bills between Rs 100 to Rs 500 - Rs 100 is charged as late fee, for bills between Rs 501 to Rs 5,000 - late fee charge of Rs 400, as for bills between Rs 5,001 to Rs 20,000 - Rs 500 late charge fee is levied and lastly for bill above Rs 20,000 there are late fee charges of Rs 700. 
Let's understand to how will be trapped in the game of cash advances.
Let's suppose you withdraw a cash of Rs 10,000 from an ATM on June 29, 2018, then your bill generation date of this card would on 1st of every month. An immediate transaction fee of Rs 300 would be deducted  along with service tax in this case let's take 15% which would be Rs 38. 
First possibility: 
The moment you make a cash withdrawal, an interest rate of 3.40% will be levied which is about Rs 340 on your amount Rs 10,000. If you paid the amount before deadline July 23, 2018, then you only attract interest rate of Rs 395, transaction charge of Rs 300 and service tax of Rs 38 on your withdrawal amount. This would be about Rs 10,678. 
Second possibility: 
If you pay the amount on the same day on June 29, then only cash handling fees ranging from Rs 250-700 will be applied. No interest charge is applicable. 
Third possibility: 
In case, you failed to clear the payment before the first billing cycle July 23, then 3.40% basic interest, along with compound interest penalty will be levied in the subsequent bill amount till the time final payment is received. 
Generally, banks preset the withdrawal amount from an ATM using credit card. Most of the bank cap it between 30% to 40% of the card limit. 
Just in case, if there is an emergency and no other option is left but to withdraw cash from credit cards, then always make sure to clear the debt amount as soon as possible. As interest rate will be charged on a daily basis, however, by making balance payment soon, the interest rate charged on balance outstanding will get lowered. 
Lastly, don't fall for reward points on credit card usage at ATMs. 
Apart from this, RBI data also highlighted that, about 14.500 crore transactions were made at Point of Sale (POS) using credit cards worth Rs 477,585 million. 
Get Latest Business News, Stock Market Updates and Videos; Check your tax outgo through Income Tax Calculator and save money through our Personal Finance coverage. Check Business Breaking News Live on Zee Business Twitter and Facebook. Subscribe on YouTube.