How to invest in Mutual Funds: Want to put some money through SIPs but don't know how to begin? These tips may make you crorepati
As on February 2019, average Assets Under Management (AUM) of Indian Mutual Fund industry stood at Rs 24.3 lakh crore. Indian mutual funds continued to receive stable SIP inflows.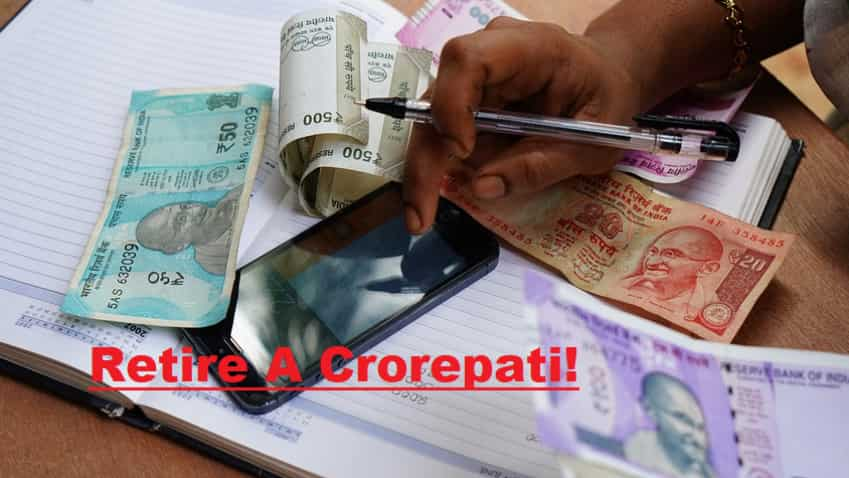 One of the most common ways to begin a mutual fund investment is via Systematic Investment Plan (SIP). Photo; Pixabay
Updated: Wed, Apr 03, 2019
07:02 pm
Mumbai, ZeeBiz WebDesk
Mutual Funds: If not equities, then one of the best and highest returns providing investment would be mutual funds. The mutual fund market is different as compared to traditional stock exchanges. The former has much more stability and less volatility for investors income, and at the same time, it allows one to enjoy the heights and rallies of the stock market. There are various type of mutual funds and is managed by Asset management companies (AMCs). One can store their money in mutual funds in a variety like equities, debt, bonds and many other schemes. One of the most common ways to begin a mutual fund investment is via Systematic Investment Plan (SIP). The best way to describe SIP is that it is disciplined, can be opened at a minimum Rs 500, diversifies your portfolio and good money making returns. 
But not many are aware of how exactly they should make an investment in mutual funds. Considering it is also a market-linked investment scheme, there is always a terror of risk in the back of investors' minds. However, one needs to note that, with great risk comes great return. 
If you are planning to invest in mutual funds, then here are few tips that you can note. 
Firstly remember your financial goal. These can be your budget, how much to invest, how to long to stay invested and how much risk you can bear. With this, you can decide your mutual funds investment plan and risk appetite. One reason to stay invested in mutual funds would be to have a purpose. For instance, if you only want to opt for mutual funds, so that you can buy your dream house or car or marriage purpose in future ahead. This will also help in understanding what you need for mutual funds. 
One should note that mutual fund gains are better if kept for at least five years time. You should keep factors like manager's credentials, expense ratio, portfolio components and assets under management. 
Never put your money in one bucket. Hence, diversify your mutual fund investment. There some seven common mutual funds like fixed income funds, equity funds, tax-saving funds, debt funds, balanced funds, index funds, speciality funds and money-market funds. By diversifying your mutual fund, you balance out your risk factor. What happens is that, if one section of the market is witnessing downtrend it is not necessarily that, the negative reaction will be witnessed in all. Hence, your losses are recovered from other buckets. 
Choose for SIPs rather than lump sum investments. SIP is an easy step to negotiate and it also ensures discipline in your savings. All you have to do is open SIP account with a financial institution, and link it with your bank account. Depending upon your investment strategy, money will automatically get deducted from your bank account on a weekly, monthly or quarterly basis. 
Have updated KYC documents available with you while investing in mutual funds. The NDA government has been very serious about maintaining KYC norms across all levels of financial transactions in India, to bring in transparency and eliminate terror financing. You should have proper Aadhaar card, PAN card and valid address proof. 
Going ahead, to invest in mutual fund you should have bank account. The scheme allows investment to be carried via debit cards, credit cards and cheques. However, it needs to be noted that, a net banking account aka online is one of the easiest option, because you can operate it anytime. But for net banking you will have to link your bank account with mutual fund company. 
When you decide to opt for mutual fund, you will always be handed over to a group of expert from AMCs. Always seek their advice, and make sure you have conveyed your risk factor to them. These experts can guide you in smart and safest way of being with mutual funds. Not only this, they will even monitor your mutual fund account, and will give you best options on timely basis. 
#ZBizExclusive | #SkyMet ने इस साल सामान्य से कम बारिश का जताया अनुमान, देखिए मॉनसून के पूर्वानुमान को लेकर स्काईमेट के MD जतिन सिंह से #ZeeBusiness की खास बातचीत।#MonsoonForecast2019 @SkymetWeather @JATINSKYMET @sameerdixit16 pic.twitter.com/CR3MdcOv5q

— Zee Business (@ZeeBusiness) April 3, 2019
Here's how you can invest in mutual funds! 
If you are doing it online, then you can visit the broking firm website and sign up as new users. Add personal details like name, date of birth, address, Aadhaar number, phone number PAN card number and bank account information which are part of KYC norms. A verification will be sent to you on your registered mobile number, once feeded that, you will be green signal to make investment. Then search for your mutual fund scheme, select and invest. You can monitor your mutual funds online. 
If you are investing it through an app, then you will have to download the fund house's mobile application on your phone. But first you must register on it like above mentioned pattern. Through app, you can buy and sell funds and view your account details among others. 
If you are visiting directly the fund house, then visit the nearest branch with your KYC details. Generally, an application form will be given to you - fill and submit it. 
In case, if you are opening a mutual fund investment through a broker, then an expert will be given to you for carrying the entire process. They will give you services like best schemes, documents needed, broker charges, how to monitor your account, etc. In broker or distributor case, any transaction you do either buy or sell in mutual fund scheme, a fee will be deducted. The same for total investment. 
Which scheme should you invest?
Well if you do not want to visit broker or fund house, then we have brought expert views for you which can help you in choosing best mutual funds. 
Expert at IIFL Securities say, "Equity is the best way to create wealth in long term vs. other asset classes like debt, gold, real estate, etc., since historically it has been seen that equity based investments have given inflation-beating returns over long term despite short term volatilities. Equity mutual fund is a right way for investors to invest in equity market who do not have time and/or knowledge to understand the equity market."
They added, "The Indian mutual fund industry is well regulated, transparent and mature. Instead of timing the market, investors can regularly invest in the market and can reap the benefit of 'Rupee Cost Averaging' via SIP."
Thus, IIFL present some mutual fund recommendations to create wealth in the long term.

Calculate your gains! 
For instance if you begin an SIP of Rs 5,000 on monthly basis for a tenure of 5 years. Taking in consideration, IIFL's L&T India Value Funds which give 21.2% highest among other mentioned. Then in 5 years, you have invested Rs 3 lakh as SIP and your gains are nearly Rs 2.4 lakh, means Rs 5.4 lakh is what you take home. 
If tenure kept for 10 years, then gains are Rs 20.7 lakh on just Rs 6 lakh SIP. Meanwhile, if kept for 20 years, then your gains come in total Rs 1.9 crore, for 25 years the wealth would be Rs 5.5 crore and finally for 35 years tenure your money in kitty will multiply to the tune of Rs 45 crores.
However, note staying invested in SIP for 35 years, would mean your principal investment would be Rs 21 lakh.
(Image source: SIP Calculator)
Hence, why not just retire a crorepati!
IIFL says, "The objective of the strategy is to generate long term capital appreciation for investors from a portfolio of aggressive equity oriented mutual funds. The strategy takes a concentrated position in mutual funds across different market-cap and sectors and endeavours to strategically change allocation between different market-cap and sectors depending on change in the business cycles."
As on February 2019, average AUM of Indian Mutual Fund industry stood at Rs 24.3 lakh crore. Indian mutual funds continued to receive stable SIP inflows. In the same month, SIP inflows were at Rs 8,095 crore (up 0.4% MoM), indicating that retail investors' awareness about mutual fund investments and the importance of sticking to asset allocation.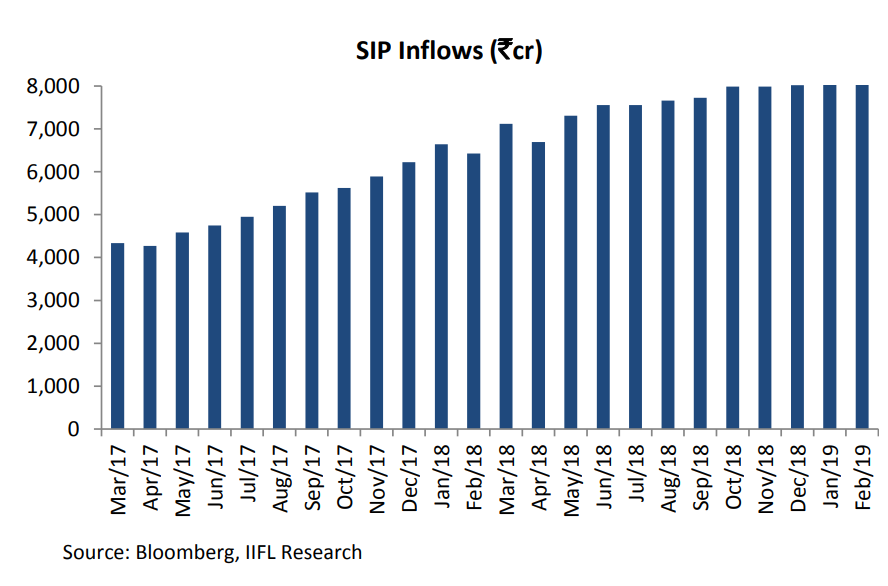 Get Latest Business News, Stock Market Updates and Videos; Check your tax outgo through Income Tax Calculator and save money through our Personal Finance coverage. Check Business Breaking News Live on Zee Business Twitter and Facebook. Subscribe on YouTube.