Want to become a crorepati? Invest Rs 500, Rs 1000, Rs 5000 per month in SIP, earn between Rs 1 cr to Rs 11 cr
A mutual fund SIP is the most basic, flexible and easy way of earning big money for your hard-earned investment.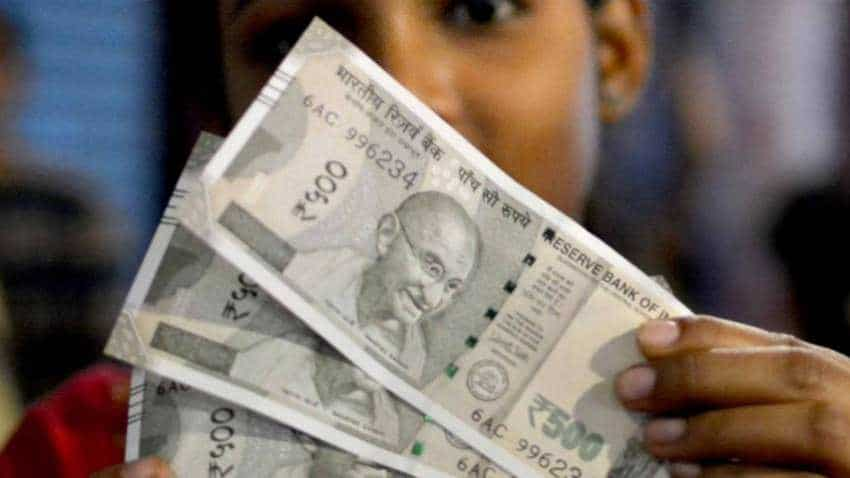 Representational Image: Photo: IANS
Updated: Tue, Oct 23, 2018
02:57 pm
Mumbai, ZeeBiz WebDesk
We always want to make best of everything. And what would be better if by a little investment we can make sufficient money to last a lifetime that keeps us immersed in a luxurious lifestyle well into old age. However, investment is all about time, discipline, patience and sometimes, luck. But the main job is to find out how much should we invest and in what option. The Indian economy is vast and there are numerous pools of investments, which can confuse the investor about what is the best option for you. There are a section people who prefer a traditional form of investment like savings accounts, fixed deposits, while there are some who look for guarantees against risk and then there are those who want much higher returns even if it goes hand-in-hand with risk. Those people who plan an easy retirement invest more in savings plans like in government-owned PPF and NPS. However, there are options available where people can actually chose to avail higher returns that are available in markets with minimum risk. 
There is a saying with higher risk comes higher returns and this is surely a true fact when it comes to having an appetite for equities. But not all have massive funds, and not all are capable of taking heavy risk. 
For these people, Systematic Investment Plan (SIP) comes as best pick. The best way to describe this investment mechanism is  - little drops of water make the ocean. SIP is the most basic, flexible and easy way of earning big money for your hard-earned investment. 
Mutual Fund SIP is at currently at a booming stage, and is seen as the most convenient, hassle-free and smartest way of investment. One can invest a certain amount in SIP at regular intervals namely weekly, monthly or quarterly. 
SIP is an easy step and also ensures discipline in your savings. All you have to do is open an SIP account with a financial institution, and link it with your bank account. Depending upon your investment strategy, money will automatically get deducted from your bank account on weekly, monthly or quarterly basis. 
There are four types of SIP. 
Top-up SIP - Under this, your investment increases periodically. Such implicates that you can make your SIP investment by contributing in well-performing mutual fund schemes at certain intervals. One can also increase their investment amount, as their income increases. 
Flexible SIP - As the name suggest, this allows you to increase and decrease your investment amount as per the cash flow you have. By doing this, you can skip one or more payments during the time of cash crunch. Also, when you have hefty money in your hand like bonus or additional income, you can likewise increase your investment amount. 
Perpetual SIP - Usually, SIP has a fixed tenure like 1 year, 3 year or 5 years. However, by investing perpetual SIP, you do not have to mention the end date in your mandate and let your investment increase. Such helps in redeeming your fund whenever needed, or when you have achieved your financial goals. 
Trigger SIP - This one for investors with limited knowledge of the financial market. One is allowed to set NAV, index level, SIP start date or event, etc. 
Pros of investing in SIP involves: 
The pressure is not on you for speculating or focus on timing the market - such is not the right way for generating returns over long term. 
Considering there are intervals of investment like weekly, monthly or quarterly, you tend feel very little impact of market volatility. 
It is highly disciplined, passive and automated. Funds get deducted automatically from bank, which makes you more committed to guaranteed saving/investment. 
Hassle-free and flexible. Any citizen can create/update/cancel SIP anytime. 
Investment amount in SIP starts to as low as Rs 500 per month, which eliminates the burden of managing your overall expenses on monthly basis, as very little is deducted. 
There are two methods which greatly help investors earn big through SIPs. 
Firstly is rupee-cost averaging. As we are aware that market is sentiment driven and unpredictable, this creates an issue on when is the best time for investment. With rupee-cost averaging, an investor with its invested SIP amount earns more units when the price is low and earns less units when the price is high. 
Second would be power of compounding. Every amount you invest, you earn interest on it. This interests get compounded and accumulated over a period of time. The higher the SIP tenure the higher would be your return. 
That said, if you are planning to reap benefits of SIP, then this is what you should know. 
Broking firm Sharekhan in its report Mutual Fund finder, has listed out schemes which are best picks. 
In large cap, schemes like ICICI Prudential Bluechip Fund, Reliance Large Cap Fund, Aditya Birla Sun Life Frontline Equity Fund, SBI Bluechip Fund and Kotak Bluechip Fund are best picks with growth ranging from 16% to 20%. 

If you do not want to just avail benefit of large cap, then you can also enjoy a combination with a midcap as well. Under large cap and midcap funds, schemes like IDFC Core Equity Fund, DSP Equity Opportunities Fund, ICICI Prudential Large & Mid Cap Fund, Aditya Birla Sun Life Equity Advantage Fund and SBI Large & Midcap Fund are best bet with growth ranging from 15% over 21%. 
In case you are comfortable with only midcap, then schemes like DSP Midcap Fund, HDFC Mid-Cap Opportunities Fund, Franklin India Prima Fund, Kotak Emerging Equity Scheme and Aditya Birla Sun Life MidCap Fund are one good options. These schemes have compounded annualised growth rate ranging from 22% to nearly 27%. 

While if you are among the investors who are fond of small caps, then schemes like HDFC Small Cap Fund, Aditya Birla Sun Life Small Cap Fund, Franklin India Smaller Companies Fund and Kotak Small Cap Fund are exactly the tool you need, as they have given compounded annualised growth ranging from 22% to over 26.4%. 
There are many other funds in different categories like Focused Fund, Multi Cap Funds, ELSS and Thematic/Sector Funds which can also be a good option for investment. 

Let's understand, how much do you earn if you invest Rs 500, Rs 1000 and Rs 5000 per month. 
If you invest Rs 500 per month at an interest return of 24.5% and keep it for 25 years, then you are bound to earn over Rs 1 crore. 
Your investment amount stands at Rs 1.5 lakhs, you gain Rs 1.1 crore over the investment. The higher the year of investment, the more return you are going to earn.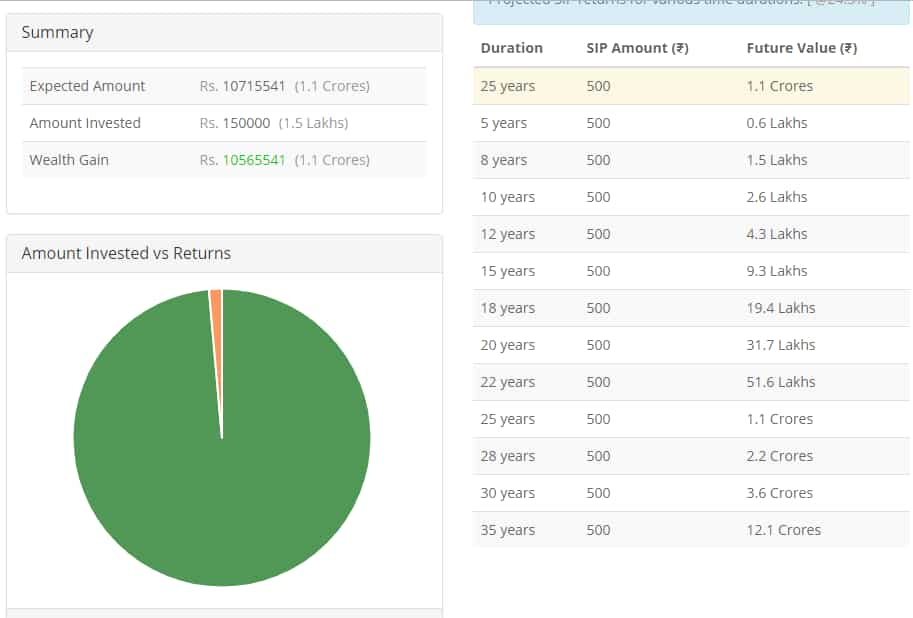 (Image Source: SIP Calculator.in)
For instance, if you decide to invest about Rs 1000 per month at the same projected interest rate and tenure, then you will gain more than Rs 2 crore. 
Your investment value would be about Rs 3 lakh for a period of 25 years, and your gains would be 2.1 crores over the amount invested in SIP.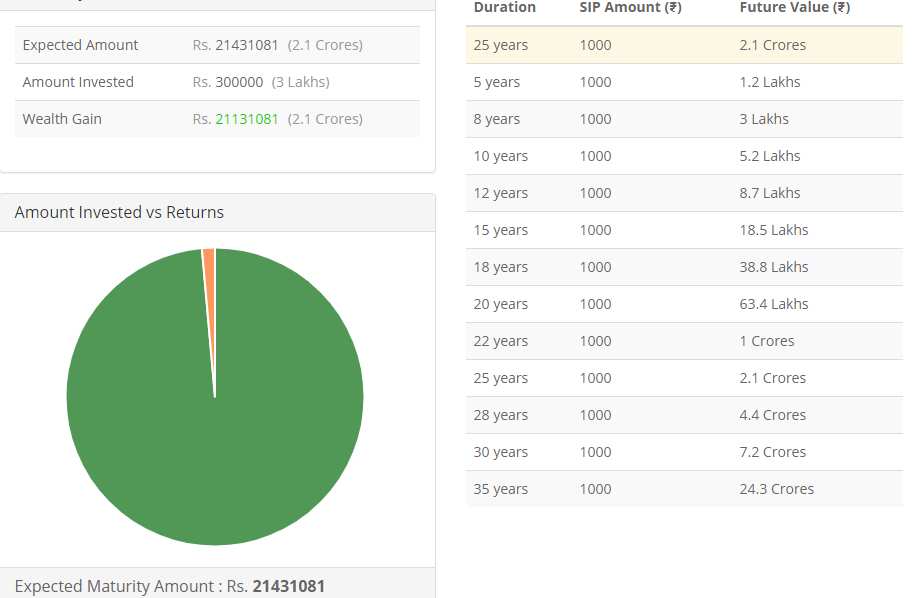 (Image Source: SIP Calculator.in)
And for investment of Rs 5000 per month at projected interest return of 24.5% for 25 years, you will earn whopping nearly Rs 11 crore. 
At Rs 5000 per month, you have invested somewhat Rs 15 lakh for 25 years, and your gains would be Rs 10.6 crore on your investment.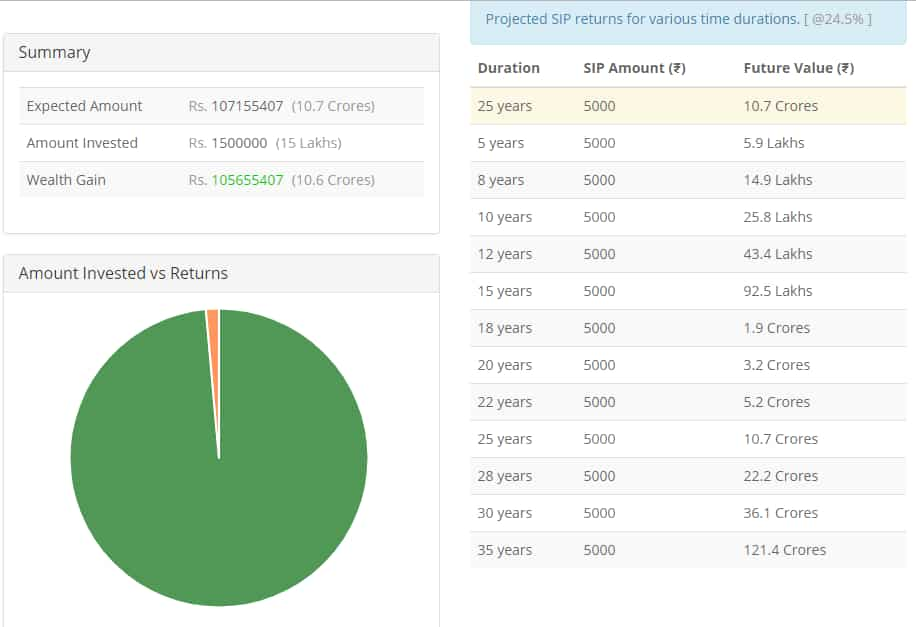 (Image Source: SIP Calculator.in)
Hence, SIP can turn your little investment into mammoth gains too. Anything can happen when it comes to market. Although being very volatile, markets are still better placed when it comes to make heavy money. It has always shown a growth every five years and touched new levels. Imagine what level it will be in next 25 years, that definitely would be breathtaking. 
Last year in November month, in conversation with Zee Business, Ridham Desai, Morgan Stanley's Head-India Equity Research & India Equity Strategist, said that renewed hopes of India resuming its high GDP growth trajectory has increased prospects of a bull run in the market.
He said that strong policy reforms along with positive momentum can push Sensex to 1,00,000 level in next 4-5 years.
Get Latest Business News, Stock Market Updates and Videos; Check your tax outgo through Income Tax Calculator and save money through our Personal Finance coverage. Check Business Breaking News Live on Zee Business Twitter and Facebook. Subscribe on YouTube.