Did your ATM fail to dispense cash even when you had sufficient balance? This is what must have happened
Currently, a debit card plays major role in any individual's life. They are linked with your bank account, and are used for carrying financial transactions like payment, withdrawals and deposits among others.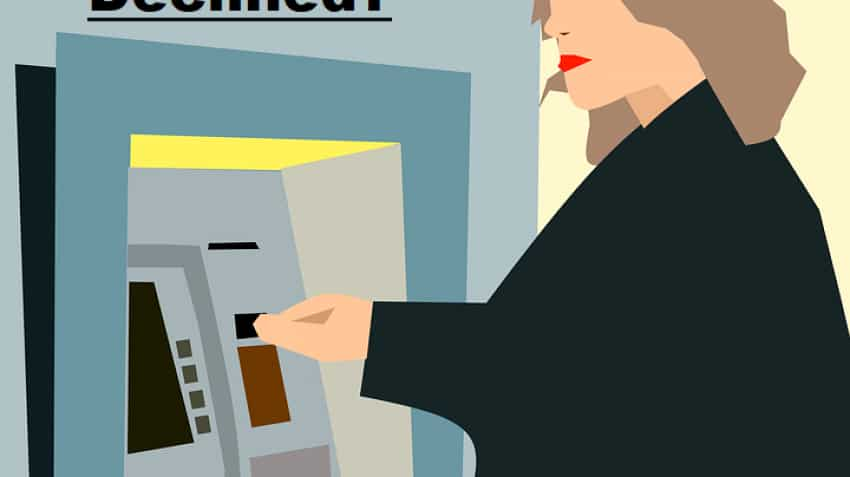 Even if you have done everything right, sometimes your bank can't process a transaction because of internet connection, power failure, among others.Image source: Pixabay
Updated: Wed, Apr 03, 2019
09:33 am
ZeeBiz WebDesk
On Tuesday morning at around 9 am, I went to withdraw cash from my ATM. However, it was not able to dispense cash and I had no option but to use my debit card on other bank's ATM. But things got frustrating, when five other ATMs of different banks stated various issues and refused to dispense cash. These issues included: unable to transact your amount, transaction declined, sorry an error in the amount, etc.
When I complained to the ATM security guard, he asked me to wait and check if similar issue occurred with other customer as well. This was just to check whether there is an issue in my debit card or in the ATM. However, the other person was able to carry their transaction successfully. It was clear that there is a problem in my debit card, which was despite having sufficient balance in bank account. After having no answer from bank customer service, i had to visit the bank branch. They issued me a new debit card with a reason that my existing one is a basic card. 
But, the real question was why even a basic debit card could not help in withdrawing the amount. Why did not ATM machine approve the transaction. The question remain why did it happen despite having sufficient balance. 
Watch this Zee Business video here:
Even in basic debit card, generally, a customer can carry cash withdrawal at an ATM for a limit of four transactions per month. Considering April has just begin, and this would be my first transaction for that particular month, I should have been able to receive the money. However, there are certain loopholes which block the debit card during the time of withdrawal. If you have faced similar problems, then this is what must have happened either in your debit card or ATM. 
Firstly, if you have sufficient balance and have entered the right PIN number, then you can rule out these possibilities for a decline in ATM transactions. But if you fall in any of the two, well then always check your balance first or recollect your real ATM Pin. One good tip is that, save your ATM pin in your mobile phone, and hence it can help you in knowing this mistake. 
Apart from that, here's a list of issues that must have happened. 
1. Technical error: This one is very common, and can happen with anyone. Even if you have done everything right, sometimes your bank or merchant are not able to process the transaction. This is because of internet connection, power failure, too many transactions processed in one go, among others. You can either wait for sometime and try again using your debit card, or visit another terminal. Or else, you can rectify the error with your bank. 
2. Joint account holder: Joint bank account can be opened with anyone you have relation with like spouse, business partner, children and family members. They have the equal right to use your debit card, and also have the power to deactivate the card. 
3. Suspicious transactions: Majority of lenders have the right reserved, to decline a debit card transaction, if they believe it is a suspicious one and can lead into a fraud. This can be either too many PIN feeding at once in an ATM, or different than your normal spending habit. In fact, some banks have a whole new security system in place, which can play role of being way too much safe and block your card. 
4. Debit card expired: Currently, banks have been asking customers to link their debit card with EMV chips, which not only ensures transparency but is highly secured as per them. Hence, in a basic or outdated card, it is normal that at certain level they will become inactive, as a whole new security is placed in ATM and banks debit card. Apart from this, debit cards expiry must have also concluded, which means you cannot use them anymore. 
5. Withdrawal limit: For instance in Bank Savings Bank Deposit account, you cannot carry more than 4 transactions in a month, until special provisions are made by your bank with respect to RBI guidelines. Apart from this, in general debit card as well, there are daily spending limit and one should not exceed that amount, or else you will face decline status. Have a knowledge of your debit card and banks financial transaction limit thoroughly. 
6. ATM issue: When your ATM does not dispense cash, despite sufficient balance, chances are your card is getting penetrated by scammers. What you can do is, get a quick details of the ATM, time and amount you were trying to remove. Visit your bank notify the problem to them. They will immediately block your debit card and issue you new one. 
7. Mismatch in AVS and CVV: A transaction can also be declined due to error occurred between AVS and CVV. The Card Verification Value (CVV) which is three-digit number, is set at the back of your debit card and referred as a security code. The Address Verification System (ADS) is developed by banks to detect suspicious transactions. Hence, when you put in your debit card at an ATM, when these two security systems are having mismatches with the data stored at bank, they will decline your transactions. 
Hence, when you come across declining transactions, immediately visit your bank branch. It is most likely advisable to block the existing one and avail a new debit card.
 
Any individual account holder having Savings Bank or Current Account, single, or joint account operated as Either or Survivor / Former or Survivor / Later or Survivor/ Anyone or Survivor / Pensioners, NRE account holders can avail ATM card. 
Currently, a debit card plays major role in any individual's life. They are linked with your bank account, and are used for carrying financial transactions like payment, withdrawals and deposits among others. They are currently issued in Mastercard, Visa and RuPay card from banks. There are also various levels of debit card with different services, and is given depending upon an individuals income. 
Get Latest Business News, Stock Market Updates and Videos; Check your tax outgo through Income Tax Calculator and save money through our Personal Finance coverage. Check Business Breaking News Live on Zee Business Twitter and Facebook. Subscribe on YouTube.