Are you doing cash deposits at your bank? Know cash limit and charges - SBI vs HDFC vs ICICI Bank vs PNB
Banks have also launched their own machine in various branches where a customer does not even need to fill a piece of paper. However, for those who are not familiar with cash deposit machine, can always opt for traditional method at banks.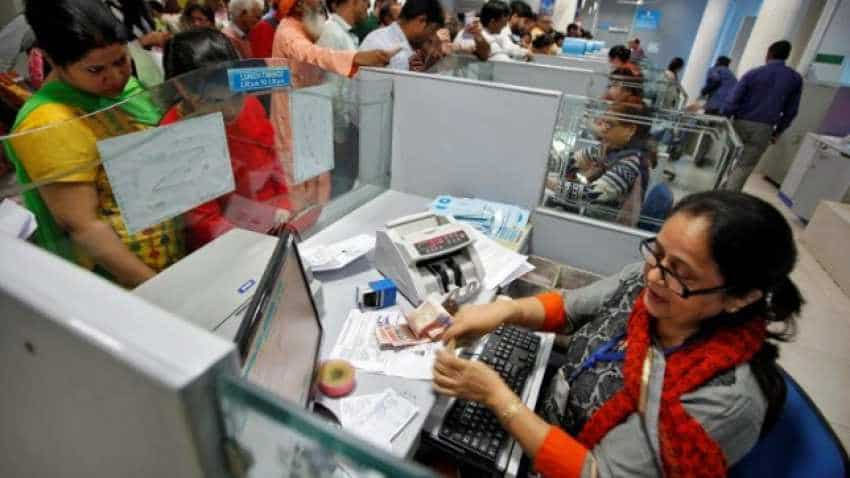 Either be a third party person or yourself, majority of banks levy service charge on the money you put in a bank account. Photo: Reuters
Updated: Tue, Apr 23, 2019
04:57 pm
Mumbai, ZeeBiz WebDesk
Have you ever come across a situation, where you went to deposit cash in your account at bank branches, but did not really receive the entire amount deposited. This happens because a marginal sum is deducted during cash deposit from banks as part of their service charges. Either be a third party person or yourself, majority of banks levy service charge on the money you put in a bank account. Third party would be you, if the cash deposit is made in someone else's account. Same is the case if somebody is depositing money in your bank account at your bank branches. Making cash deposits have become quite easier, in fact, banks have also launched their own machine in various branches where a customer does not even need to fill a piece of paper. This is more of a digital pattern. However, for those who are not familiar with cash deposit machine, can always choose to opt for traditional method at banks. 
Not many are aware of how much charges does a bank generally cuts from your cash deposits. Hence, here's a list of four major banks in India and their cash deposit charges!
SBI! 
At SBI, a total 3 transactions are free on cash deposit made in a month. Beyond three cash deposits, the bank will charge Rs 50 plus GST on every transactions. This is meant for deposits made in savings account including SURABHI Savings Bank account. 
But the case is different for current account. SBI customers whose minimum average balance is up to Rs 10,000, they can make upto Rs 25,000 cash deposit per day free of any charges. If the limit is more than Rs 25,000, then you will paying Rs 0.75 on per Rs 1000 you deposit plus GST. Depending upon the amount you deposit, the charge can go minimum Rs 50 or maximum Rs 20,000 plus GST. 
SBI's customers whose account are defined as power gain and have MAB of Rs 2 lakh, they can deposit up to Rs 15 lakh per month for free. While customers having power pack account which generally has MAB of Rs 5 lakh, can deposit upto Rs 60 lakh per month for free.  If the limit is exhausted in both power gain and power pack, similar charges like current account will be levied. The charges are similar for SBI's other accounts as well.
If you are doing a non-branch deposit, then maximum limit of cash for deposit is set at Rs 2 lakh per day. Deposit of cash free of charges within the overall monthly limit for Power gain and Power pack customers would include both Home and Non-home Branch.
For cash deposit made at machine, then Rs 22 plus GST each is levied on using debit card to third party account, cardless transactions, SME and Business debit card. There are no charges for debit card to card linked account cash deposits. 
HDFC Bank! 
In regular savings account, 4 free cash deposits are allowed per month. On 5th deposit, Rs 150 per transaction plus taxes will be levied. Here customer should note that, deposits of up to Rs 2 lakh is free per account per month in home branches. However, cash deposit up to Rs 25,000 per day can be deposited in non-home branch, but beyond this limit there is Rs 5 per thousand charged subject to minimum Rs 150. 
If you are a third-party person, then upto Rs 25,000 per day cash deposit is allowed. If limit exhausted then, Rs 150 will be levied. Notably, for senior citizen, kids or minor accounts, the cash deposit limit remains the same, however, no charges will be levied. 
In case of regular current account, Rs 2 lakh or 25 transactions are free per month. If cash deposit in excess to the limit, then Rs 3 per thousand will be charged with minimum Rs 50 per transaction. Such is for deposits made in home branch location. Cash deposit at non home Branches within home branch city subject to maximum of Rs 10,000 per account per day, however, Rs 3.5 per thousand subject to minimum Rs 50 will be levied. 
Notably, the free cash deposit limit will lapse, if a customer's average monthly balance is less than 75% of requirement. Then, customers will be charged from 1st transaction of cash deposits.
Watch Zee Business TV live streaming video below:
ICICI Bank!
Here cash deposits in the same city, will see no charges for the  first four transaction in a month. If you are doing cash deposit in your own account, then there is no value limit, however if it is a third party then Rs 50,000 per day. Similar is the case for deposits made in branch of other cities. There are also no charges for first cash deposit of a calendar month, if you are using the machine mode.  If limit exhausted, charges are similar like HDFC Bank. 
Punjab National Bank (PNB)!
Unlike HDFC,SBI and ICICI Bank, PNB's minimum service charge on cash deposit is much lower. Cash deposits at base branch, is free for up to Rs 2 lakh per day. While, deposits at all branches within same city or outside which are other than base branch,  involves no charges up to Rs 5,000 per day. If limit exhausted that, Re 1 per thousand subject to minimum Rs 25 per transaction. A maximum limit of Rs 25,000 per day is allowed for deposits of cash at non-base branches. 
Similar charges are applicable for cash deposits at PNB machine. 
Apart from above mentioned comparison, if your cash deposit is of Rs 10 lakh, then banks will have to follow a prescribed pattern by RBI. The central bank has asked banks to report all cash deposits of Rs 10 lakh nd above with full details in fortnightly statements by bank branches to their controlling offices. Transactions of suspicious nature to be apprised to Head Office. RBI to look into these statements at the time of inspections. Hence, compared to lower value, Rs 10 lakh cash deposit will take a certain amount of time. 
How to make cash deposit!
Using a cash deposit machine is among the most simplest tool. A CDM is launched almost in majority of bank branches. The procedure is somewhat similar like removing money at an ATM. For cash deposit at machine, you have to insert your debit card, enter PIN for authentication. An option like savings or current account will be asked. Once selected, add the amount of money you plan to deposit. The machine will present details of denomination which will be deposited. If correct, then select the option deposit. 
If there are no CDM available at bank, then you can opt for a slip from bank. Fill in the blanks with information like name, bank account number, branch, rupees in words, signature, and denomination you are depositing. Once filled the form, you can submit it with money at bank's collecting window. You will be given a receipt as a proof of your deposit. Keep it safe!
Therefore, remember the above mentioned charges, and avoid exhausting the limit. Get entire cash deposits amount in your bank account.
Get Latest Business News, Stock Market Updates and Videos; Check your tax outgo through Income Tax Calculator and save money through our Personal Finance coverage. Check Business Breaking News Live on Zee Business Twitter and Facebook. Subscribe on YouTube.