Tata Motors shares undeterred by market-wide weakness; can you still join the party?
Tata Motors shares fared better than the benchmarks on Wednesday amid a market-wide sell-off on Dalal Street, as investors globally awaited a key rate decision from the Fed.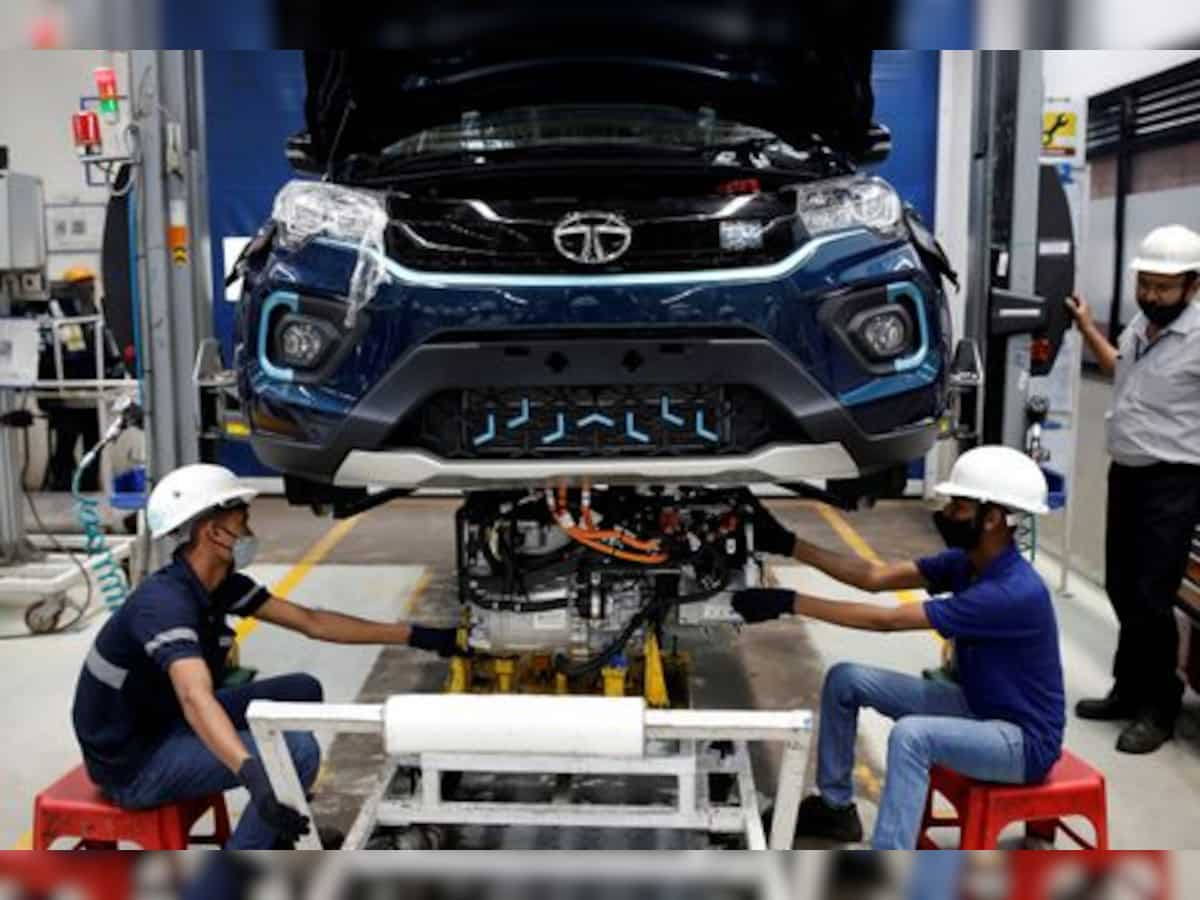 Tata Motors shares have grown 65% so far this year.| Image: Reuters
Tata Motors shares held on to the green for much of the session on Wednesday, shrugging off market-wide weakness on Dalal Street, after the Tata group auto major announced an increase in the prices of its commercial vehicles. The Tata Motors stock gained by as much as Rs 6.4, or one per cent, to Rs 647 apiece on BSE, before settling 0.4 per cent weaker for the day at Rs 638.3 apiece. Yet, the stock fared much better than a 1.2 per cent fall in the headline Nifty index amid a sell-off across sectors, as investors globally turned cautious ahead of a key rate decision by the Fed due late on Wednesday. 
In a regulatory filing post-market hours on Monday, Tata Motors announced its decision to raise the prices in its commercial vehicle (CV) segment by up to 3 per cent, with effect from October 1. That was the carmaker's third upwards revision in the prices in 2023 so far.
The company said the hike was "to offset the residual impact of the past input costs". The hike will be applicable across the Tata group company's entire range of commercial vehicles, it said.
"We anticipate the price hikes are likely to have an impact on the Indian commercial vehicle market, which is factoring in normal volume growth for the fiscal year. The company has already increased the prices by 6.2 per cent from January onwards, citing a number of factors, like the need to offset the residual impact of past input costs, comply with more stringent emissions norms, and introduce new features and technologies," said Saji John, Senior research Analyst at Geojit Financial Services.  
Earlier, Tata Motors raised prices by five per cent in March and by 1.2 per cent in January to ensure its vehicles comply with the new emission norms.
The government implemented a second phase of its Bharat Stage 6 emission norms on April 1. The stricter regulations include testing of real-time driving emissions, inflating the costs for auto manufacturers.
Meanwhile, credit ratings agency Fitch said this week that the country's sales volume in the commercial vehicle segment will slow down to low-to-mid-single digits due to rising ownership costs. It also said that the latest emission norms will lead to nearly a 5 per cent rise in CV prices. Read more on how Fitch views India's CV market
Should you buy, sell or hold Tata Motors shares?
Most analysts are upbeat on Tata Motors on all timeframes. 
"Tata Motors remains in a short-, medium- and long-term uptrend. Recently, it has exhausted a 7-8-week time-price correction on the weekly chart, indicating its intention to appreciate further," Hemen Kapadia, Senior VP-Institutional Equity at KR Choksey Stocks & Securities, told Zeebiz.com.  
"The stock looks good from a medium-term point of view, but since it has moved up from Rs 595-odd levels in just a few trading sessions, it will be prudent to buy it on declines for targets of Rs 665 and Rs 690," he said.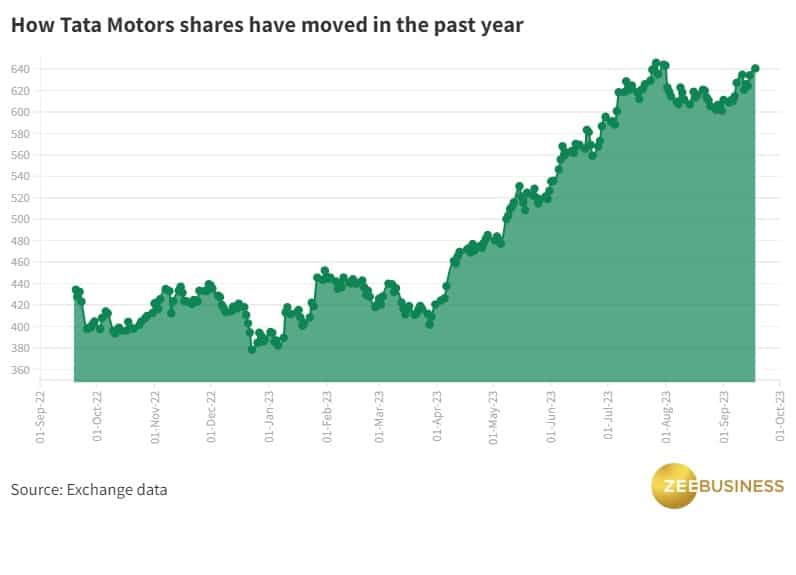 Can existing investors hold on to their positions in the stock? 
"Tata Motors remains a good buy as its commercial vehicle and electric vehicle businesses are expected to propel growth," AK Prabhakar, Head of Research at IDBI Capital Markets, told Zeebiz.com. 
Meanwhile, Geojit maintained a positive outlook on the stock given the company's strong growth prospects driven by its commercial vehicle and Jaguar Land Rover businesses. 
"Ashok Leyland and M&M have increased the prices, but Tata Motors remains the market leader... The company has lined up multiple launches to meet the demand expectations for future growth," added Geojit's John.
What should near-term investors do?
Zee Business analysts Kushal Gupta and Varun Dubey like the stock from a short-term view.
Earlier in the day, Dubey suggested buying the Rs 640 call option ('at the money') of Tata Motors for a target of Rs 15 with a stop loss at Rs 10.  
How Tata Motors fared in Q1
Tata Motors staged a strong show in the first quarter of the current financial year.
Its consolidated net profit for the April-June period stood at Rs 3,090 crore, in stark contrast to a consolidated loss of Rs 4,987 crore for the corresponding quarter a year ago, according to a regulatory filing. The company's quarterly revenue expanded 42.1 per cent on a year-on-year basis to Rs 1,02,236 crore, and margin improved sharply to 13.3 per cent. 
The company's overall performance was much better than Street estimates on all fronts. 
According to Zee Business research, Tata Motors' quarterly net profit was estimated at Rs 2,000 crore, revenue at Rs 1,01,500 crore and margin at 11.4 per cent. 
Tata Motors reported Rs 13,559 crore in earnings before interest, taxes, depreciation and amortisation (EBITDA) for the quarter ended June 30, as against the analysts' estimate of Rs 11,550 crore. 
While announcing the results, the company's management expressed optimism about its demand prospects despite expectations of a moderately inflationary environment in the near term. 
Tata Motors shares: Past performance 
As of Monday, Tata Motors shares have rewarded investors with a return of 65 per cent so far in 2023, while the headline Nifty has risen 11.2 per cent.
Catch latest stock market updates here. For all other news related to business, politics, tech, sports and auto, visit Zeebiz.com.
Updated: Wed, Sep 20, 2023
04:48 pm
New Delhi, ZeeBiz WebDesk