Housing finance segment looks robust; three stocks analysts are bullish on
Housing finance stocks: In 2021, the affordable housing segment made up 90 per cent of the market in terms of volume and about 60 per cent based on value.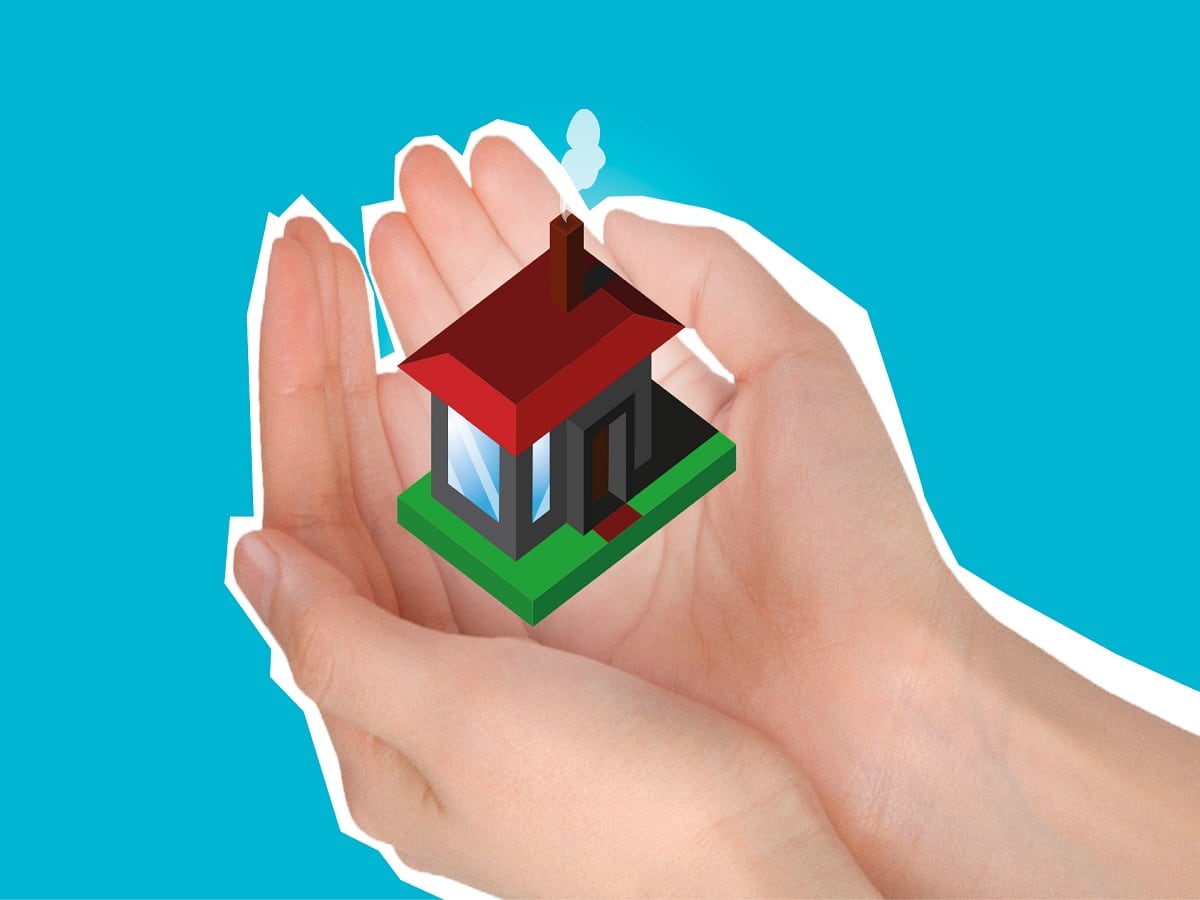 Millennials and young borrowers (below 36 years) are potential consumers for home loans. Representative image. Source: Pixabay
Housing finance stocks: The housing finance market is expected to expand at a compound annual growth rate (CAGR) of 20.58 per cent during the FY 2022–FY 2027 period, according to a report by MarketResearch.com. The report adds that increasing urbanisation and affordable mortgage rates are the two key factors propelling the growth of the market. In 2021, the affordable housing segment made up 90 per cent of the market in terms of volume and about 60 per cent based on value. Millennials and young borrowers (below 36 years), with high disposable incomes and an increased need for urban accommodation, are potential consumers for home loans. They account for 27 per cent of borrowers, the report says further. 
Given this scenario, it makes huge sense to invest in the housing finance segment, particularly in affordable housing finance companies (AHFCs), as it provides a strong growth runway due to lower competition given the customer profile (informal income and low ATS) and operation-intensive nature of the business. ATS stands for average ticket size.
Sonal Gandhi, a research analyst with Centrum Broking, notes that the AHFCs have registered five-year assets under management (AUM) CAGR in the range of 28 per cent to 40 per cent with a return on assets or ROAs >3.5 per cent and low credit costs (0.2 per cent-0.5 per cent 5-year average). 
The analyst, in a report dated September 26, further notes that AHFCs have faced multiple challenges in the form of slow economic growth, the NBFC liquidity crisis, and COVID-19 over the last few years. However, write-offs have been controlled due to strong underwriting practices, a granular book, and low loan-to-value (LTVs) in the underlying property.
"Credit costs remained below 0.8 per cent during COVID-19 and have now reverted to pre-COVID levels for Aavas and Home First. Exposure to developer finance has been minimal (only Home First) and is running down," the report added.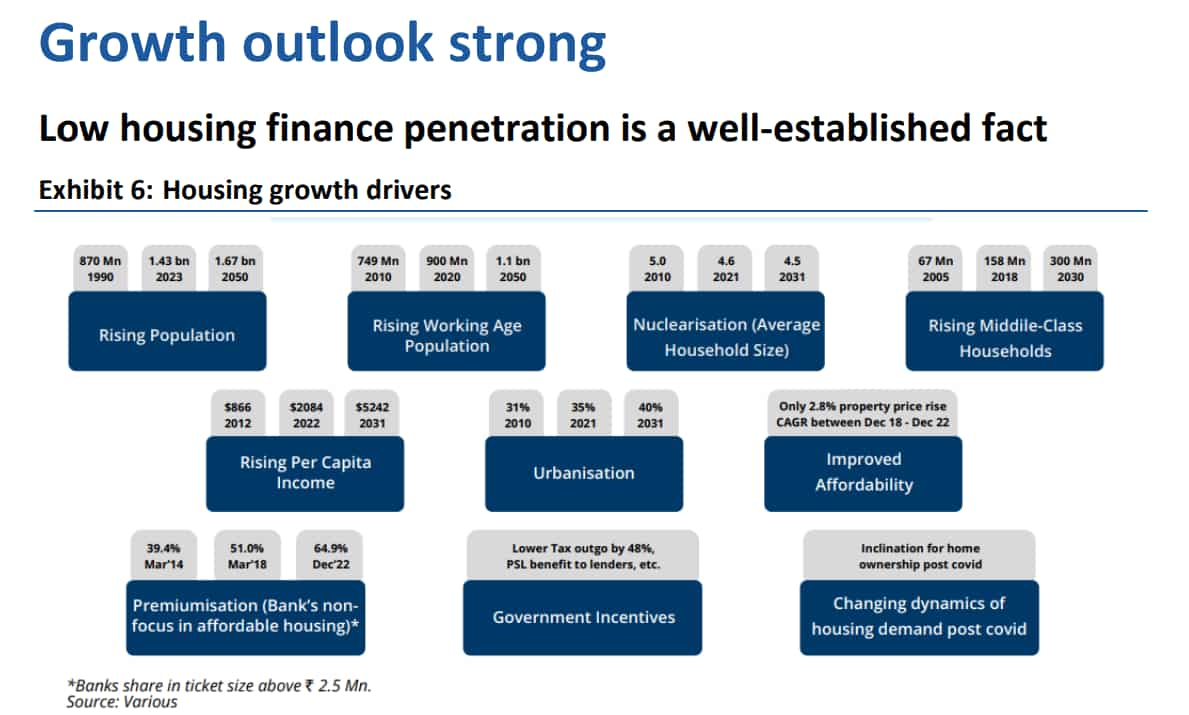 Source: Centrum Broking
Housing finance penetration in India remains low as compared to other developed and developing countries. Banks and large NBFCs catered to prime and above customers due to ease in underwriting and collections. According to GOI estimates, there is a shortage of 100 million units with a large gap witnessed in housing for EWS & LIG customers. This provides financing opportunity to the tune of Rs 58 trillion, the report adds.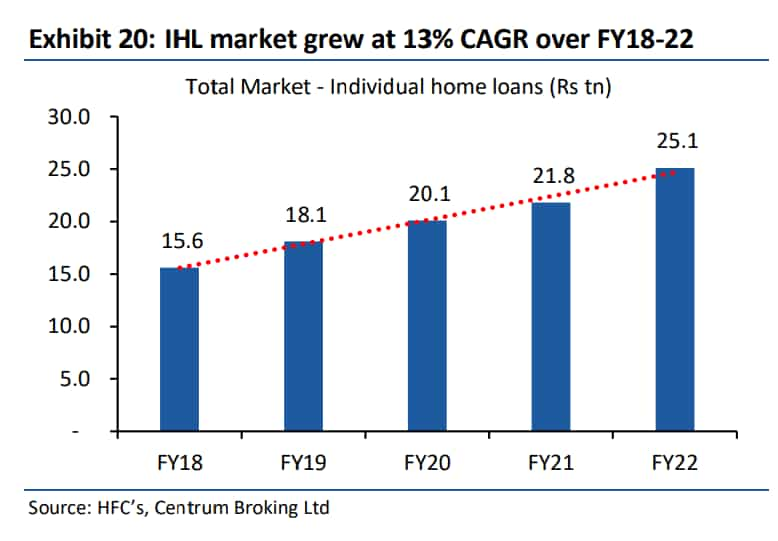 Stocks to bet on
Centrum Broking has initiated coverage on three AHFCs with a buy rating. They are Aavas Financiers, Aptus Value Housing Finance, and Home First Finance.
The brokerage has built-in average RoE at 15.3 per cent /18.6 per cent / 15.9 per cent for Aavas, Aptus, and Home First for FY24E–26E as leverage improves. "We expect earnings CAGR of 22 per cent – 25 per cent for these companies over FY23-26E. The AHFCs are well capitalised with Tier I capital in the range of 46 per cent to 77 per cent, suggesting a remote dilution probability in the near to mid-term," it added. 
AHFCs valuations
The brokerage notes that AHFCs are trading at an FY25E (price-to-adjusted book value ratio) P/ABV in the range of 3.0x to 3.3x, for 22 per cent – 30 per cent AUM CAGR and 20 per cent – 26 per cent earnings CAGR over FY23–26E. "We value Aavas/Aptus/Home First at 3.5x/4.0x/4.0x P/ABV multiple (H1FY26E) to arrive at our target price of Rs 2,070, Rs 380, and Rs 1,130, respectively," it added.
Nirmal Bang Securities, too, is bullish on Aavas Financiers. "We expect AUM to clock a CAGR of nearly 22 per cent over FY23-FY25E and expect FY25E ROA/ROE at 3.4 per cent / 15 per cent. We maintain BUY on Aavas with a target price (TP) of Rs 2,000 (3.4x September 2025E ABVPS)," it said in a report issued on September 25.
Updated: Thu, Sep 28, 2023
04:49 pm
ZeeBiz WebDesk