Market Guru in talk with RJ Salil Acharya of Radio City: People can buy private banks, pharma and real estate stocks
RJ Salil started the podcast, 'Kadak Currency' by saying that uncertainty is back in the world with this new variant.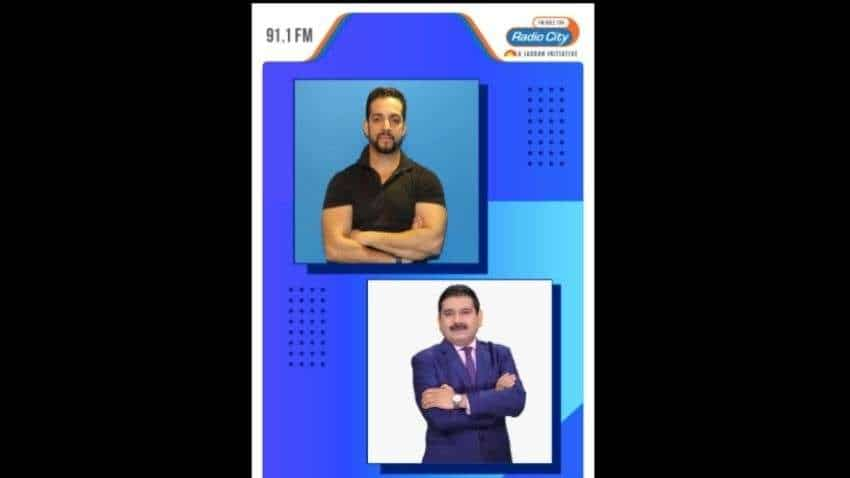 Singhvi said a good correction has occurred in banking stocks so people can buy good private banking stocks.
Anil Singhvi, Managing Editor, Zee Business, says that he believes that the market will fall a lot and it will stop around 16,600-16,700 mark and then it will bounce back where you can book profit and buy again when there is a fall. During a candid radio podcast, 'Kadak Currency', with RJ Salil Acharya, Radio City, 91.1 FM, Mumbai, Singhvi said a good correction has occurred in banking stocks so people can buy good private banking stocks.
RJ Salil started the podcast, 'Kadak Currency' by saying that uncertainty is back in the world with this new variant. In our talks some two years back, you said that liquidity will be very high as long as CORONA is there. Do you think that it will not have a deep effect on the stock markets? Replying to the question Mr Singhvi said it is so that CORONA came, we got a solution to it. Later, it was followed by Delta and Black Fungus, which came and went off. So, it is not such that there is a need to be very much scared of this Omicron. But still, people are more afraid of the fall of the market instead of the CORONA. The major reason for the fall is that there is a risk of decline in the liquidity situation across the world and there is a risk of a slight increase in interest rates. These factors together led to a slight correction in the American markets and its effect was visible on everyone. But I feel that there is no need to be worried a lot about CORONA in terms of the market. If there is any reason to be worried then it is that the FIIs are continuously selling the foreign funds, which has created more problems in our markets. But, otherwise, the sentiment that has spoiled or changed due to CORONA will be fixed soon.
WATCH | Click on Zee Business Live TV Streaming Below:
Continuing the chat further, RJ Salil said, generally, there is a reason for the fall of the market and just not now. However, heavyweight stocks like Reliance and HDFC Bank among others - just because of this variant of CORONA - have corrected around 10-15% in the last 10 days. Do you think that it is the right time to buy these heavyweights? To which Mr Singhvi said, 100% and especially the good private sector banks that have corrected the most in the banking sector which led to huge losses. It is the right time to create a portfolio. Certain things should be kept in mind (i) it will not make money immediately, (ii) it won't grow as much as before and (iii) wherever you buy, you will have to look down from there, believe this. Keeping these three conditions in mind, keep investing small amounts systematically. Invest more money with every fall of 2-3% in Nifty. I don't think there will be a huge fall and I believe that it should stop at and around 16,600-16,700. Book profit when there is a bounce and then buy when there is a fall. So, overall, if you are an investor then continue to be here and stay. Continue buying good quality stocks where good corrections of 15% to 25% have happened and prices have fallen. There is something called Black Friday Sale and generally, you go there to shop not to sell your products.
In his next question, RJ Salil said, there is a big sector that is making a lot of movement and that is the telecom sector. Firstly, Bharti Airtel rose the tariffs which were followed by others. So, do you think that in the coming few years, this can become a very strong sector, otherwise, there was only one stock here, namely, Airtel which used to run a lot but now all can be involved in this? Mr Singhvi said, in years, yes but if you will ask in the next few days or weeks or months then I will say no because the good news like price hike maybe it be for Bharti Airtel or Vodafone Idea or Reliance Jio then it has arrived and its impact has been seen in the prices. Now, the performance that will come in the next two to three years will depend on the kind of increase in its revenue, profits based on the price hikes undertaken by them. It will benefit them. So, for investors, there is still a yes for buy but no for traders.
In his next question to Mr Singhvi, RJ Salil asked for Mr Singhvi's stock or sector recommendations for his listeners? To which, Mr Singhvi said, banks, especially private banks and I am like them because good corrections have happened in them. My second recommendation is something where there is a lot of chances of incurring losses as well as making money. The segment is pharma. If there is a panic of CORONA and there is a fear of a new wave then pharma and diagnostic shares will start running. So, in a way, it is defensive. But, if there is no fear of CORONA and this variant also passes off like the other waves then the rest of the market will run but these stocks will remain a bit cool. So, in a way, it will be hedging for you. Thirdly, real estate shares are correcting a bit in this fall of the market, so, buy these stocks. You can also buy textile stocks as well as a government-owned company. So, these are the spaces that I like.
 In his last question of the podcast, 'Kadak Currency' RJ Salil asked a lot of liquidity was brought in America in the last two years due to CORONA but now they were talking about closing the purse. But now with the existence of this third variant do you think that America will lead again the world and what would be the strategies? Mr Singhvi said, 100%. At the time, when we are talking there are some 125 cases across the world and what does it mean for the world. In South Africa, where vaccination is almost negligible and how many people from the country roam around the world. This means, there is no point in fearing excessively. The ups and downs of the market have their place and the fear of CORONA is separate from it. I can just say that a good price and a good time never come together. If you want shares at low prices then you can get it only in the bad time and at a good time, you will get shares at high prices. So, you have to decide when you what to buy it.
Get Latest Business News, Stock Market Updates and Videos; Check your tax outgo through Income Tax Calculator and save money through our Personal Finance coverage. Check Business Breaking News Live on Zee Business Twitter and Facebook. Subscribe on YouTube.
Written By:
Jitesh Kumar Jha
Updated: Mon, Dec 06, 2021
04:01 pm
New Delhi, ZeeBiz WebDesk