TELL-ALL INTERVIEW: Dassault Systemes on big developments in Indian Railways, Aatmanirbhar Bharat vision, train passengers' benefit from new technologies and more
PM Narendra Modi-led government is heavily focussing on its 'AatmaNirbhar Bharat' vision for making India a self-reliant nation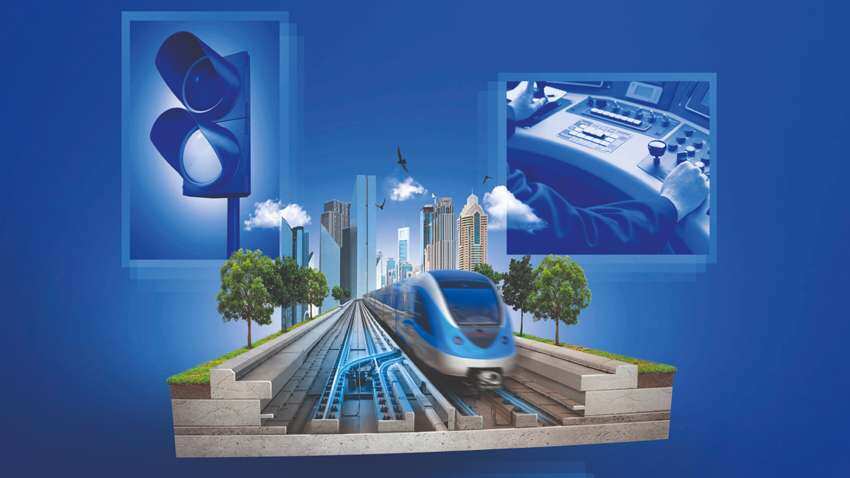 When we talk of infrastructure in India, it doesn't reach its conclusion well if Indian Railways is not a part of it.
Updated: Sun, Nov 22, 2020
06:20 pm
ZeeBiz WebDesk
PM Narendra Modi-led government is heavily focussing on its 'AatmaNirbhar Bharat' vision for making India a self-reliant nation. It goes without saying that building a solid infrastructure will surely give a major boost in making 'AatmaNirbhar Bharat' dream come true. And, when we talk of infrastructure in India, it doesn't reach its conclusion well if Indian Railways is not a part of it. To understand how Indian Railways is moving towards self-reliant India vision, how Indian Railways is witnessing big improvements with its technology, how passengers will benefit from these big developments, Henri Beringer, Transportation and Mobility Business Consulting Director, Dassault Systemes and Krishnan Balasubramanian, India Director, Dassault Systemes, have more to share. Edited excerpts:-
How Dassault Systèmes is giving momentum to Indian Railways towards self-reliant India (Atmanirbhar Bharat)? 
Technology is playing a major role in achieving government's Atmanirbhar Bharat Abhiyan or Self-Reliant India Mission. As being self-reliant has always been the policy of Indian Railways. The time has come to modernise the Indian Railways, make it world-class, and a key driver of the country's growth in the post-Covid era. The overall travel experience of the common man needs to be transformed; high-quality in-transit experience needs to be supplemented by best-in-class trains and railway stations.
DASSAULT SYSTEMES, with its vast experience of working with the leading Rolling stock manufacturers like Alstom, Bombardier, CRRC and others would like to work closely with Indian Railways to design and develop indigenously the Railway Coaches including Metro. Based on 3DEXPERIENCE solutions and with the sophisticated technical capabilities, railway industry-proven tools, and integrated processes to pursue new complex opportunities; optimize design, engineering, and manufacturing performance; enable asset re-use and modularization; and ensure profitable, on-target delivery.
With the 3DEXPERIENCE, the solutions at Dassault Systèmes can accelerate innovative engineering and manufacturing in the Indian Railways industry. The solutions help break the silos between discipline and establishing strong collaborations between various Indian railway stakeholders such as rolling stock manufacturers, train operators, infrastructure managers and various stakeholders and help them to Imagine, Design, Simulate, Deliver & operate " The Trains, The Infrastructure and The network." 
For instance, our solutions can significantly improve the self-reliance and the autonomy of India in the maintenance of rolling stock, by facilitating the exchange of knowledge and expertise between the manufacturers and the operators. Our Advanced Planning & Scheduling and Supply Chain Optimization Solutions for Rail Freight Logistics Integrates different resources such as locomotives, train crews and wagons, with different planning horizons into a plan which is crucial for achieving Operational excellence.
How Dassault Systèmes is reinventing the Indian Railways with its technology?
For the Indian Railway industry, digitalization plays a significant role to enhance the infrastructure services and systems while improving operational efficiency. The Indian Railways had received a budgetary allocation this year, to modernise and improve railway stations, metros, logistics, passenger experience etc. 
Keeping in line with this objective, the solutions by Dassault Systèmes help reinvent the Indian Railways by having an easy access to a portfolio of powerful applications to efficiently design, simulate and operate the overall railway systems. With the integration of our 3D Simulation technology into infrastructure, rolling stock, signalling systems, traffic management and workforce management are being re-designed and delivered for to meet the industry needs. 
The solutions on our 3DEXPERIENCE Platform, incorporate subsystems components and assembly information that lead to an informed strategic, commercial and technical decision-making. The signalling systems and coach designs are accurately modelled, analysed and improved using our technologies, to correct the faults and inefficiencies in order to avoid costly mistakes. The solutions also provide project-wide access to information in order to synchronise the tasks. 
Additionally, with our stakeholders operating within a unified software platform, freight and passenger rail operations can be planned and optimized to best use the infrastructure capacity and deliver high service quality.  
For example at Eurostar we integrated the Delmia Quintiq solution, which is powered by the 3DEXPERIENCE platform, with its existing systems to assist with optimising the planning of train drivers, managers and control room staff in three countries. The system will also streamline the scheduling of detailed train maintenance plans that comply with highly complex rules and legal regulations across all time zones.
Dassault Systèmes will reduce the time Eurostar planners spend on data entry or administrative work, guarantee the quality of Eurostar's long-term planning capabilities, and improve productivity. The solution will be hosted on the cloud, and accessed by Eurostar staff via a mobile app. We are keen to work on similar initiatives in India. 
What is 3D simulation technology in railway engineering and passengers will benefit from it?
Various rolling stock manufactures across the country have deployed our 3DEXPERIENCE Platform  that help transform the Indian railway industry. 
By incorporating 3DEXPERIENCE Platform with Simulation applications, the manufacturers focus on strength analysis and system design of the railways. Our technologies are also applied at various levels to accelerate the operational efficiencies for new products and services, thus improving the capacity, safety, comfort and reliability. 
With our Model based system engineering (MBSE) technologies, service/system requirements can be modelled and simulated to ensure their consistency and avoid late and costly revision of the design of some components such as to expediting the revision of the design of an embedded software in an automatic metro. The technology also enables real time simulation of all the components of a rail metro for accelerated commissioning of new hardware and new software. These simulations include the tracks, the signalling, the interlocks, the rolling stock, the behaviour of the driver, the control room, and the hardware and software ensuring Automatic Train Supervision (ATS), Operations (ATO) and Control (ATC). 
The safety and comfort of the passengers can also be optimized through simulation of crash, multi body dynamic of the unit, noise and vibration, Air flow and temperature in the cabin etc. The quality of the passenger experience can be also be checked early because of the immersive rendering of the trains and the future train stations. While designing a new rail car, the engineers have a significant need for simulation in order to best address safety questions. In the event of a crash will the welds hold, particularly if the train is in its later years of service? Will the passenger portion of the coach retain its shape? Also important: Will the internal components and assemblies of the passenger area remain in place and be relatively un-deformed? These are the topics which we helped during our project at Stadler rail and I am sure Indian railways would like to address similar challenges. 
What's the role of technology in passenger management and passenger experience at railway stations?
The Indian Railway Industry is using various innovative solutions to enhance the passenger experience and manage operations revolving around safety and interoperability issues, timing locomotive maintenance. The technologies at Dassault Systèmes help to optimize railway timetable and enable better connections at junctions to transfer customers from one train to another with least waiting time. With the integration of our solutions, the service timetable and path is enhanced for better usage of available infrastructure, facilitate connections and minimize the overall travelling time.
Our DELMIA QUINTIQ solutions surpasses the capabilities of traditional operations planning solutions by considering all railway constraints and optimizing the decisions according to real time KPIs. This delivers  excellent operational performance without compromising safety nor service quality. It also allows swift management of the many disruptions in rail operations and efficiently adjusts the schedule of the services and well as the corresponding fleet and crew to minimize the effect for the passengers. 
Our DELMIA QUINTIQ Workforce Scheduling solution transforms the scheduling and process of the rail workforce such as manpower planning, rostering, employee self-service, task assignment, time and attendance. The solutions result in getting real-time insights to drive efficiencies, increase first-time fix rates, thus ensuring employee satisfaction. 
Passenger load forecasting is another area where Dassault Systèmes' solutions can help to be valuable in transportation planning, operation management. 
What's the role of technology in Logistics, Freight Management?
The rapid digitalisation in Logistics and Freight improves the efficiency ranging from customer service to maintenance and repair work. The digital logistics and freight ecosystem optimises asset utilisation, accelerate asset velocity, reduce unit cost, ensure speed, timeliness, reliability of deliveries, and ease of doing business
The DELMIA QUINTIQ solution provides full visibility of the rail operations to enable rail freight optimization and real-time management. It optimizes the freight route to find out the fastest path between the source and destination considering the constraints. The rising network capacity for more freight trains to run in the same network, increases the freight revenues and profits for Indian Railways. The dynamic pricing of freight is another area that could be taken up by the Indian Railways Industry.
Also, the freight logistics/ multi-modal logistics that enables the trains to carry trucks is picking up in India. The optimization of routes, loads on freight trains is becoming beneficial to Indian railways to increase the freight revenue.  
What's your overall growth strategy for 2020 and upcoming plans to grow your market share in new emerging trends?
We at Dassault Systèmes have a strong focus on transportation and mobility industry, with railways being a key sub-segment. Our overall growth strategy has been to evolve our innovative solutions at 3DEXPERIENCE platform for the Indian Rail industry to help achieve greater capacity, better safety and faster speed. The privatisation and modernization in Indian railways and metros is a great opportunity for us to expand our solutions and services to provide end-to-end support for informed, goal-based decision-making at all planning levels i.e. strategic, tactical, operative and service execution. In overall, we would like to support, 
-Enhanced Glocal Collaboration for Design to Specification of rolling stock
-Virtual Coach – Simulate behaviour very early in the design process and throughout the development cycle and ensure better communications.
-Support complex product design. Capture requirements from Indian Railways, define and validate the systems architecture, then simulate and virtually validate systems performance.
-Support systematic processes with railway industry-proven checks and methodologies + enable an innovative environment for designing and validating critical control software applications, minimizing costly production delays
-Technology support to validate manufacturability to deliver on target: From model and tooling design and simulation, to manufacturing and assembly processes
"With its sights on the right goals—customer service, safety, network expansion and financial sustainability—Indian Railways could be on the fast track to growth. India's lifeline and the world's largest passenger carrier, the Railways faces a variety of challenges. Overcoming these to achieve growth may be difficult, but it is not impossible and we will be happy to be partner of choice in this great transformation."