New Vande Bharat Express Train Features: Things you need to know about 25 new upgraded features
The new trains will have a number of new features like extended footrest and an increase in seat reclination angle which are set to make passengers' journeys more comfortable.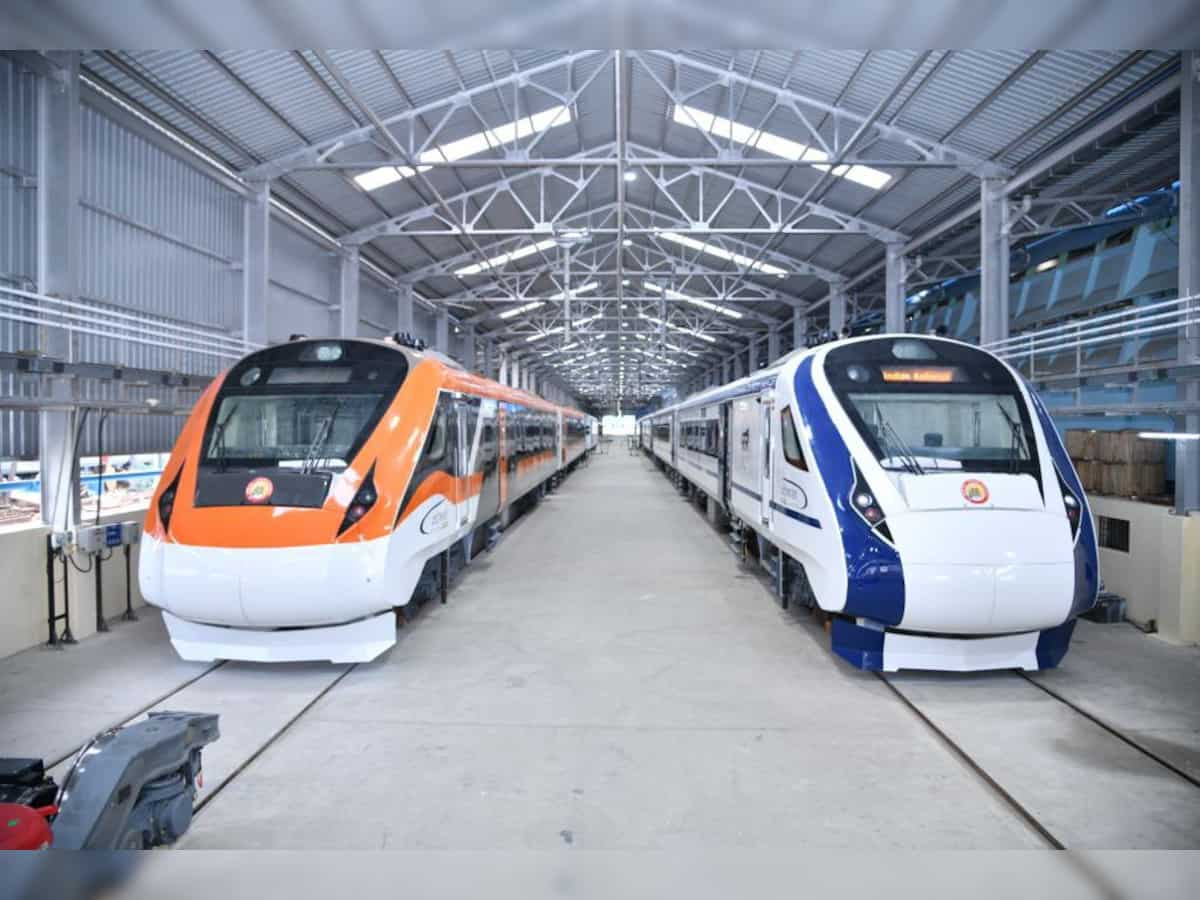 Prime Minister Narendra Modi is set to flag off nine Vande Bharat trains via video conferencing on Sunday (September 24). Photo: Twitter/Representational
New Vande Bharat Express Train Features: Prime Minister Narednra Modi will flag off nine new Vande Bharat trains on Sunday at 12:30 pm through video conferencing. The trains will connect religious and tourist destinations in 11 differet states. The states where new Vande Bharat Express trains will ply are Rajasthan, Tamil Nadu, Telangana, Andhra Pradesh, Karnataka, Bihar, West Bengal, Kerala, Odisha, Jharkhand and Gujarat, as per a press release from the PM Office.
25 improved/upgraded Vande Express Train Features
The new trains will have a number of new features which are set to make passengers' journeys more comfortable. The upgraded features are as follows: 
Increase in seat reclination angle from 17.31 degrees to 19.37 degrees.
Optimisation of hardness of cushion (reduction from 290 N to 250 N - 25% deformation).
Colour of seat in ECC changed to red to pleasant blue.
Improved accessibility of mobile charging point under the seats.
Extended footrest for seats in ECC (reduced to 530mm from 670 mm).
Magazine bags for ECC class end seats as well.
Increase in wash basin depth to avoid splashing of water in lavatories.
Lighting in toilets improved from 1.5 watts to 2.5 watts.
Toilet handle given additional bend for improved grip.
Water tap aerator to better water flow control.
Standardised colours for toilet panels with similar colours all over.
Provision for securing points for wheel chairs of Divyangjan passengers in Driving Trailer coaches where provision for Divyangjan is provided.
Improved upper trim panel for better aesthetics and firmness of panel in coaches.
Improved hammer box cover for easy access in case of emergency.
Borderless emergency talk back unit (to interact with driver in case of emergency) to match with panel background.
Hinged transparent door assembly for the fire extinguisher in coaches to have better visibility in case of emergency.
Modified panels of single piece construction for FRP panels to improved aesthetics inside the coaches.
Improved air tightness for better airconditioning with insulation over panels.
Improved roller blind fabric with more tear strength with less transparency.
Hatch doors for electrical maintenance doors in trailer coaches for easy maintenance.
Smooth touch controls for luggage rack lights by changing from resistive touch to capacitive touch.
Uniform coloured driver desk in Driving Trailer Coaches for better visibility and aesthetics.
Interchange of emergency stop push button in driver control panel for easy operation and access for loco pilot.
Improved aerosol based fire detection and suppression system inside the coaches.
High Rise pantographs in areas where the landscape and OHE are in higher position.
List of new Vande Bharat Express Trains
The new trains that will be flagged off on Sunday are Udaipur – Jaipur Vande Bharat Express, Tirunelveli-Madurai- Chennai Vande Bharat Express, Hyderabad –Bengaluru Vande Bharat Express, Vijayawada – Chennai (via Renigunta) Vande Bharat Express, Patna – Howrah Vande Bharat Express, Kasaragod - Thiruvananthapuram Vande Bharat Express, Rourkela - Bhubaneswar – Puri  Vande Bharat Express, Ranchi – Howrah  Vande Bharat Express and Jamnagar-Ahmedabad  Vande Bharat Express.
Updated: Sun, Sep 24, 2023
10:51 am
New Delhi, ZeeBiz WebDesk